Summit High School robotics team looks to build on recent success.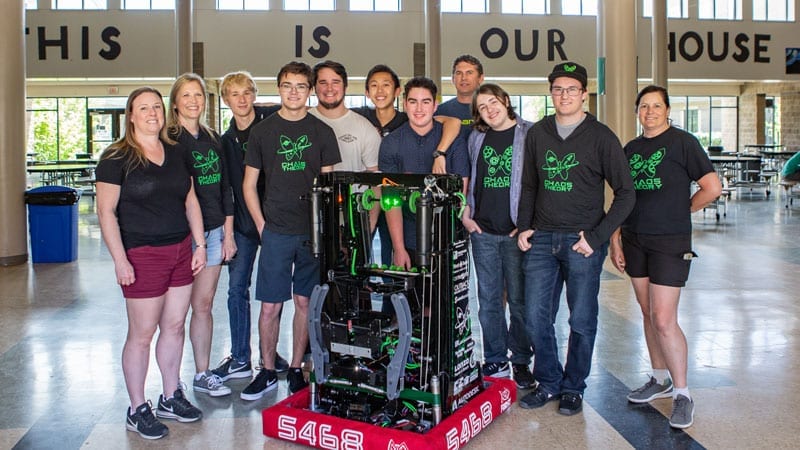 Bend, Oregon is making headlines again, but not for the great outdoor activities, or the last Blockbuster store, or the incredible micro-breweries. It's on the map because of sixteen Summit High School teens who problem-solved their way to The World Robotics Championships in Houston, Texas earlier this year.
But like all great teams, they aren't content to rest on success. Chaos Theory, as the SHS team is known, hopes to improve and advance even farther this coming competitive school year. Recruitment for engineers and programmers is well underway.
"We've qualified for The World Robotics Championships three years in a row, but this was by far our most successful year," explained volunteer head robotics coach, Charlotte Van Valkenburg.  "It's very competitive in Houston; you have more than 15,000 students from more than 33 countries all vying to have the best performing robot."
Returning junior Jacob Zhao says he's already thinking about how he wants their robot to perform, though FIRST (For Inspiration & Recognition of Science and Technology) Robotics, the organizer of World's, won't be sending the new parts to build the new 2020 robot until later this school year. Once the parts arrive in January, the team will have just eight weeks to build it.
"When we get the parts for the build, the instructions will tell us what tasks and operations the robot is supposed to do once it's completed. There's a lot to think about, with the vacuums, the rotating wheels, the pincher arms," says Zhao, who hopes to be an environmental engineerin the future. "World's was great. We got to meet people from all over the world and see their new ideas. There are famous teams that qualify every year; these teams have amazing reputations."
An architect by trade and training, Coach Van Valkenburg has grown Chaos Theory team from a fledgling five-person team to more than forty contributing members.  Van Valkenburg said she taught herself everything she knows about FIRST robots through trial and error.
For her persistence and undying enthusiasm, she was awarded the Pacific Northwest Robotics coach of the year. Each region in the country selects one coach that exemplifies the mentoring and ideals of one of FIRST's founders, Woodie Flowers. Flowers, a Massachusetts Institute of Technology (MIT) Professor Emeritus, is perhaps best known for designing an MIT curriculum to build robots that had to accomplish different and complex challenges.
The students, who nominated their coach for the prestigious award, say without Van Valkenburg there would be no team. She's mentored these budding engineers and scientists. She organized fundraisers to get the team to regional competitions in Portland and Washington, and to Houston each year they've qualified.
"It's exciting to see the kids grow in so many ways, not just in design and engineering and programming, but in public speaking and being able to work in a team with one another," said Van Valkenburg. "It's a great learning tool for life."
Chaos Theory programmers Aidan Beery and Owen Wheary agree with their coach about the life skills they're learning.
"Robotics is real world experience," said Beery. "We were challenged by design and engineering constraints, and deadlines to get the robot done on time. And like an engineering company, we had to figure things out as a team, so social skills were important to hear everyone's ideas."
With 155 teams in the Northwest alone, the Summit High team must place in the top third in local and regional robotic competitions to even get a shot at World's.
Future engineer Jake Enos is excited for the new 2020 robot to come on line, and says there's so much to consider when building it.
"It's everything from maximum robot weight of 125 pounds to the precision of the drive train, where we used a brushless electron magnetic field," explains Enos. "We also used copper wires, which are two times stronger, and half the weight. The weight adds up fast on a robot."
Last school year, the Chaos team named their robot "Betelgeuse" after the brightest star in the Orion, which emits 7,500 times as much energy as the sun.
Like a heavy weight boxer, Betelguese had to be weighed in at each competition; and like a fighter, according to Enos, the robot stepped up its game when it teamed up with the Australian team's robot, setting up a run into the playoffs. Strategy is key as the robots race to place hatch panels, which are round disks, onto an imaginary spaceship, along with balls representing cargo.
If you think robotics is just a guy's game, you'd be wrong. Every year, Van Valkenburg says she sees more and more girls joining the team, even if the guys still outnumber them.  This year, they have six women on the team, and for the past three years she's taken them to an all-female robotics competition, where they run the robot. No guys allowed, except for the cheerleading section.
Alexis Dinges is one of three lead Chaos Theory engineers, and though she was a dancer before joining robotics, she says Chaos Theory soon replaced her dancing, and became one of her favorite high school experiences. As a result, she'll be attending Oregon State to study Mechanical Engineering this fall.
"I love to create things, and seeing things through from start to finish," says Dinges, who worked on the design and mechanical teams. "You start with a box of parts, and at the end you've created this robot [that] can perform all these games and tasks; it's pretty amazing."