A day trip to a gorgeous alpine lake, a stroll through charming downtown, a float through one of the West's best wave parks, sigh, yawn. Do Bend's best outings have you a little bored? Here we offer a collection of hidden gems to spice up your season. This roundup offers tasty tidbits from culture to adventure–places and experiences that are not exactly secrets, because we do believe that some places deserve to remain hidden. And yet we hope this smattering of off-the-beaten-path options will brighten your days and enliven your senses as summer takes hold. Have fun exploring!
Outdoor / Adventure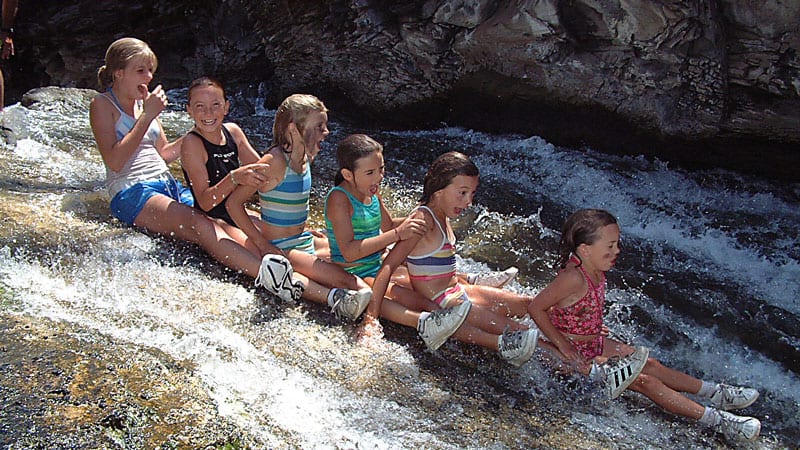 Paulina Plunge ▲
The Paulina Plunge Downhill/Waterfall Mountain Bike Tour combines mountain biking, hiking and natural waterslides in one big adventure. This guided adventure takes off from Sunriver and includes shuttle service to and from Newberry Crater, mountain bike, helmet and even a backpack. Head out with a guide and explore six miles of forest trails by bike—stopping to jump in waterfalls and slide down natural waterslides in Paulina Creek.

Tumalo Rapids ▲
These waters are perfect for any river-floater looking for more adventure and privacy. With sections boasting rapids big enough to flip a tube, come prepared! The adventure begins on the corner of Cline Falls and Tumalo Road where you can park cars and put your floaties in the water, and ends when the river crosses the Twin Bridges. There are some sections of the float that are so remote and undeveloped that you get to experience the same views of the landscape that early explorers had. Wear a lifejacket, plan for a shuttle and have fun!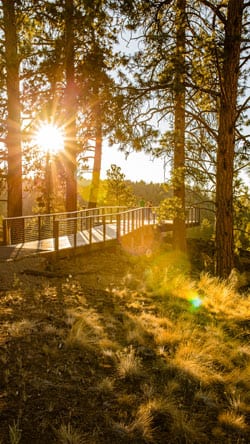 ◄ Riley Ranch Nature Preserve
Tucked away along the northwest edge of Bend, this 184-acre nature preserve features thirty-five acres along the meandering Deschutes River and another thirty acres along jagged rimrock cliffs. Unlike most parks in and near Bend, neither dogs nor bikes are allowed here, offering a unique opportunity to soak in the landscape and look for wildlife.
Lava Cast Forest
Lava Cast Forest is a little bit difficult to understand until you've seen it, but basically it's a collection of fossilized trees, or really the fossilized absence of trees. Here's how it works—lava flowed from the northwest flank of Newberry Crater 7000 years ago around a forest of living trees. The hot lava incinerated the wood within, but hardened into a mold of what had been there. An interpretive trail winds past several tree casts, and makes for an easy and interesting family hike.
Wizard Falls Fish Hatchery
Originally constructed in 1947, this hatchery is used for incubation and rearing of fish including kokanee salmon, rainbow trout, spring chinook and summer steelhead. See the fish from a viewing platform, bring a picnic to enjoy in the park-like setting and keep an eye out for Canada goose goslings in May and June. Closed in 2020, hopes are high that the hatchery will reopen this summer.
Caving
There's a lot going on underground. Formed by lava flows many moons ago, underground caves remain to be discovered. Tour Lava River Cave, operated by Newberry National Volcanic Monument near Lava Lands Visitor Center in the summer or book a tour with Wanderlust tours. If you go out on your own, please respect these delicate environments, home to native bats and fragile ecosystems.

Stargazing ▲
Astronomy enthusiasts are spoiled in Central Oregon; wide open spaces combined with very low levels of light pollution make most of the region perfect for stargazing. There are a few observatories in and around Bend (even in a local brewery), and even more places to park a car and gaze out into the universe. Try the top of Pilot Butte, the Sparks Lake camping area or any other place with some elevation. 
Food and Drink
Downtown Redmond 
The city of Redmond has invested in it's downtown, and the transformation is notable. Try an award-winning Whoopty Whoop Wheat on the sunny patio at Wild Ride Brewing, and make it a brew tour with stops by Kobold Brewing's The Vault Taphouse or Initiative Brewing. Enjoy a world of flavor at Diego's Spirited Kitchen or grab a burger at the Redmond Burger Company, sister restaurant to the Bend Burger Company.  
Cowboy Dinner Tree
It's a bit of a drive south into the Oregon Outback, but the trip and the meal are as memorable as it gets. Cowboy Dinner Tree is a destination in itself. The reservation-only restaurant provides a generous meal—think a whole chicken to a plate and steaks bigger than your head—all without using electricity. It's a family-friendly dining experience, where you'll leave on a first name basis with the owners and chefs. Bring your to go box and you'll be eating for days.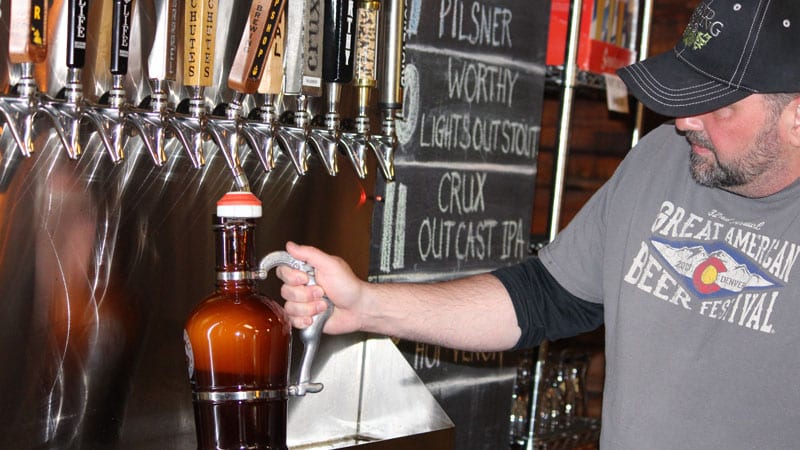 The Mountain Jug ▲
One of Bend's best brewers and her husband opened this little beer drinking joint six years ago. It's still under the radar, and still very cool. The Mountain Jug has 12 regional craft brews on tap to drink there or take home in a growler. There isn't much in the way of food, but other charms prevail. Check out their vintage arcade console (isn't it high time you taught the kids to play Donkey Kong or Pacman?), AC/DC pinball machine and catalog of over 1,000 vinyl records to choose from.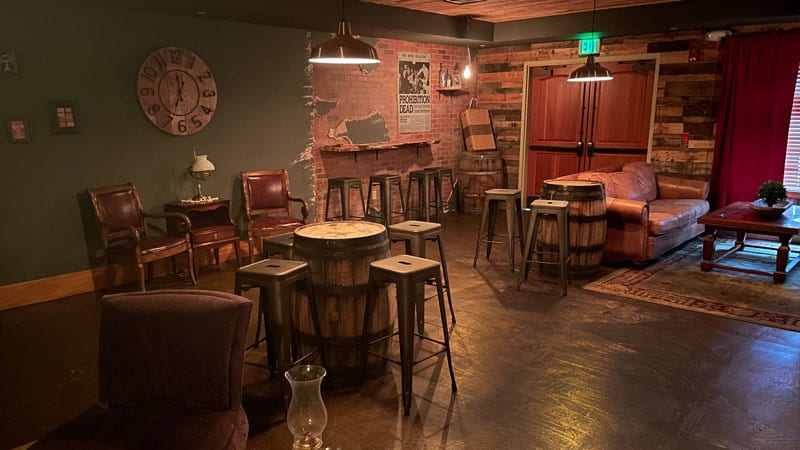 Hidden Bars ▲
At McMenamins, it's the Broom Closet. At Seventh Mountain Resort, it's the Speakeasy. We're not going to tell you any more. Go and seek out these hidden joints for cocktail sipping in secret for yourself.
Authentic Food Finds
Bend has a wide variety of international cuisine that aims to be innovative, but if you look hard enough you'll find a few places where tradition and old cooking styles remain king. EsTa BiEn offers some of the most authentic tacos around, Hola! has a traditionally Peruvian menu, and Phở Việt & Café boasts a menu that contains traditional Vietnamese recipes. 
Culture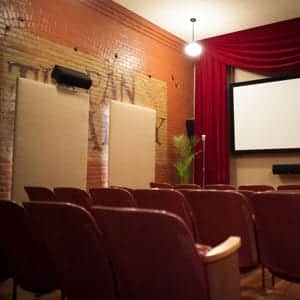 ◄ The Tin Pan Theater
This sweet little theater is tucked away in an alley in downtown Bend. Seating only 26, guests can grab a snack and a beer and kick back with friends for a very intimate showing of independent films. The pandemic didn't stop this little spot, and owners BendFilm began showing films outdoors in the alley–a fun idea that just might stick.
Iron Horse Antiques
A decades-old Bend gem tucked in a neighborhood near downtown, you never know what you're going to find at Iron Horse. Seek out relics of Bend's logging and mining past, to furniture to clothes to kitchenware and much more. Novelty items are varied and add to the sense of discovery. Eddie, the owner and founder, is usually on duty and definitely part of the charm.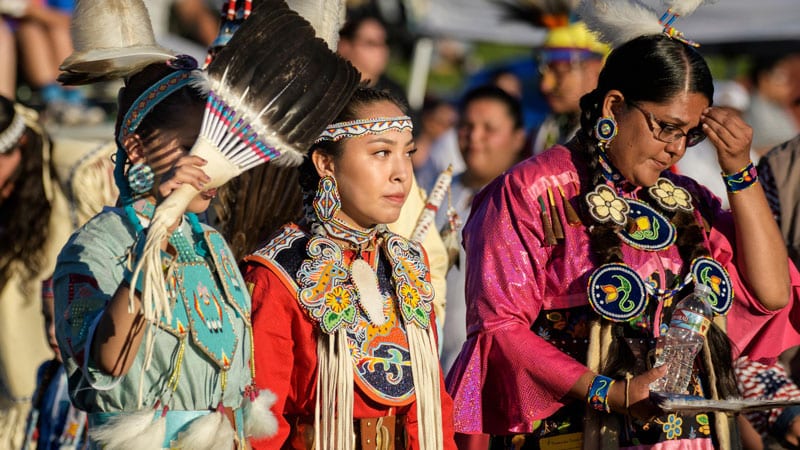 Museum at Warm Springs ▲
Head north for a visit to the 25,000-square-foot Museum at Warm Springs, the first tribal museum in Oregon. See one of the largest artifact collections of any Native American museum, with family heirlooms and tribal keepsakes from the Warm Springs, Wasco and Paiute tribes on display. Discover Native American paintings, ceremonial clothes and beadwork, as well as more than 5,000 photographs dating back to the 1850s. 
Downtown Murals
An award-winning collection of public art can be found throughout Bend, much of it visible downtown and in the Old Mill District. Take an exploratory tour to find colorful tunnels under the parkway, stairs and walls in the Old Mill and the Tin Pan Alley art collection. Much of the art is accompanied by artist's statements to enrich your viewing experience.
Fun for the Family

The Madras Aquatic Center ▲
Like an oasis in the desert, the Madras Aquatic Center is the perfect place to cool off when the high desert sun is high in the sky. The beautiful facility has a lazy river, a rope swing and a 300 foot slide, all with panoramic views of the nearby Cascade Mountains.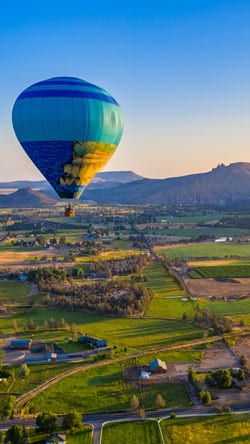 ◄ Hot Air Ballooning
There is nothing like the feeling of floating on air beneath a huge colorful balloon. Based out of Culver and launching near Smith Rock, Big Sky Balloon Co. books private flights for two to six people. Float gently over the high desert terrain of juniper and sage, volcanic rim rock, deep river canyons, and rural farmland. It's dreamy.
Pond Fishing
Remember tossing your first line in a pond when you were a kid? Bend kids can get that same thrill at two local parks, each featuring ponds stocked by Oregon Department of Fish & Wildlife. Shevlin Park's pond is open to youth, 17 years and under, and anglers with disabilities. At Pine Nursery Park's pond, all ages can cast a line. Limit two fish per day. Fish on! ▼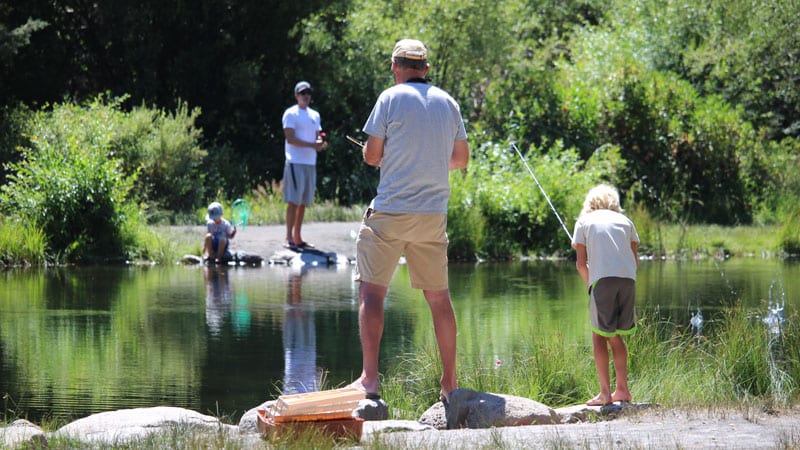 Rockhounding
Rocks are all around us in Central Oregon, but most of the time we pay them no mind. Take the kids and go searching for thundereggs at public digging areas outside of Prineville or north of Madras. A bit further afield is the Sunstone Public Collection Area, north of Plush and the Warner Mountains in Southeast Oregon, where the Oregon sunstone is sparkling and there for the picking. 
Elk Lake Party/ Barge
There are day trip boat cruises, and then there's the Elk Lake Scenic Cruise, otherwise known as a ride on the Party Barge. The two-masted, 35-foot wooden vessel accommodates 20 passengers and cruises around Elk Lake to explore the shoreline dotted with beaches, campgrounds, cabins, hidden coves, and stretches of quiet forest. Elk Lake Resort also rents floating day docks for chilling with your peeps just offshore. Welcome aboard!