For one glorious summer fifty years ago, the computer who wore tennis shoes played second base for Bend's first minor league baseball club.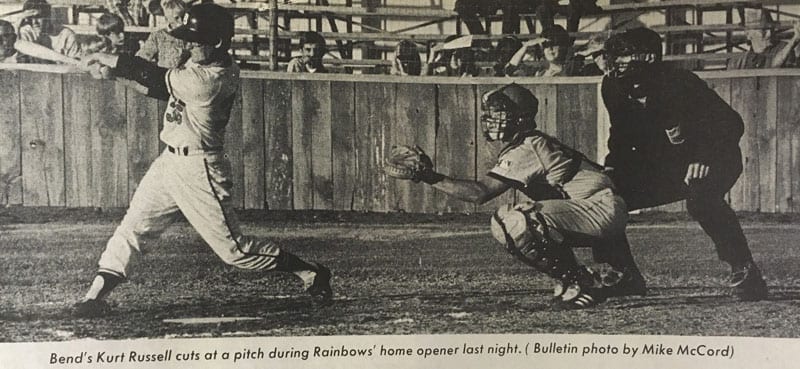 Yes, before he escaped from New York as Snake Plissken, before he got into big trouble in Chinatown as Jack Burton, before he led the charge against the Soviets as Herb Brooks, and before he teamed up with Doc Holliday as Wyatt Earp, Kurt Russell hit .285 over fifty-one games as a 20-year-old infielder for the Bend Rainbows in 1971. 
"He was a lot like me…just a smart player," Russell's Rainbow teammate Tom Trebelhorn, who went on to manage seven years in Major League Baseball, told
MiLB.com in 2019. "Kurt knew the game, he played it well and was a good teammate."
The son of longtime Hollywood actor Bing Russell, Kurt grew up in the business and appeared in more than a dozen TV shows as a child actor, including classics such as Gilligan's Island, Lost in Space, The Fugitive, The Virginian and The Man from U.N.C.L.E. By the time he made his first appearance at Vince Genna Stadium in June 1971 (it was Municipal Ball Park then) Russell was a household name, starring in a series of charming but forgettable Disney teen movies, most famously The Computer Wore Tennis Shoes. Russell missed the first game of the Rainbows' 1971 season finishing up production of The Barefoot Executive, a film whose plot revolved around a beer-chugging chimpanzee who could predict TV ratings. Released the same year as The French Connection, The Last Picture Show and A Clockwork Orange, somehow The Barefoot Executive was shut out at the 1972 Academy Awards.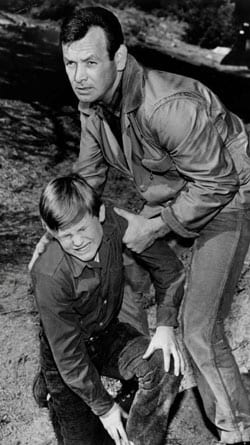 "The local theater won't be the only place that will showcase Hollywood actors in Central Oregon this summer," the Bend Bulletin wrote on May 6, 1971, announcing Russell's signing. "Young Russell's decision was not a complete surprise. Baseball has been his 'first love' for years, and he even had a stipulation put in one of his television contracts that he be through work early enough in the day to play baseball."
While Russell's signing absolutely wreaked of a publicity stunt—the Rainbows had struggled with attendance in 1970, their first year in Bend, and would eventually leave for Walla Walla, Washington after the 1971 season—Russell more than held his own in his first season of pro ball in a league that included Trebelhorn and multiple future big leaguers. Arriving directly off the set of The Barefoot Executive with no pre-season preparation, Russell led off and started
his first game with Bend at second base, promptly going 2 for 5 with a double
and two runs scored. A switch hitter with a good eye but not much power—he walked almost as much as he struck out and finished with a .385 on-base percentage—Russell made the Class A Northwest League all-star team in 1971, a league made up mostly of recently drafted high school and college players, and helped Bend go 42-36, the best record in the NWL's South Division.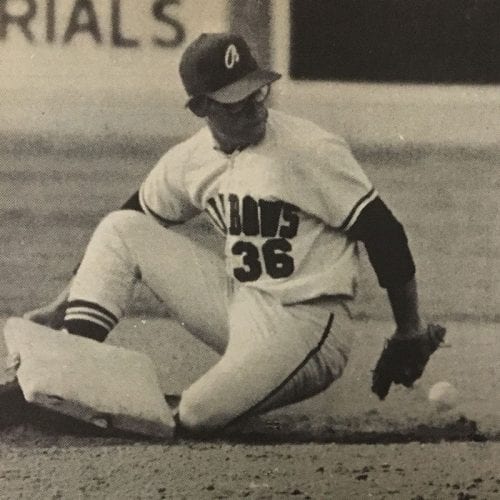 "If I could have everything my way, I would play pro baseball and produce movies," Russell, who in his teens played competitive semi-pro baseball in southern California, told The Oregonian that summer.
Batting first or second most of the year for manager/pitcher Ed Cecil, a Bend native who went on to coach American Legion baseball in the area for decades, Russell built off his solid 1971 season in Central Oregon and hit .325 in twenty-nine games for Walla Walla in 1972, again earning a spot on the NWL all-star team.
"My picture commitments at Disney now revolve around my playing ball," Russell told The (Louisville) Courier-Journal in 1972. "I'm really lucky to have so much freedom in my filming schedule." That same year Russell starred in Now You See Him, Now You Don't, a Disney comedy in which a college chemistry student invents an invisibility spray that a local crook tries to steal. One of the unintentionally hilarious taglines Disney used for the film was, "It's the invisible vapor caper of the year!"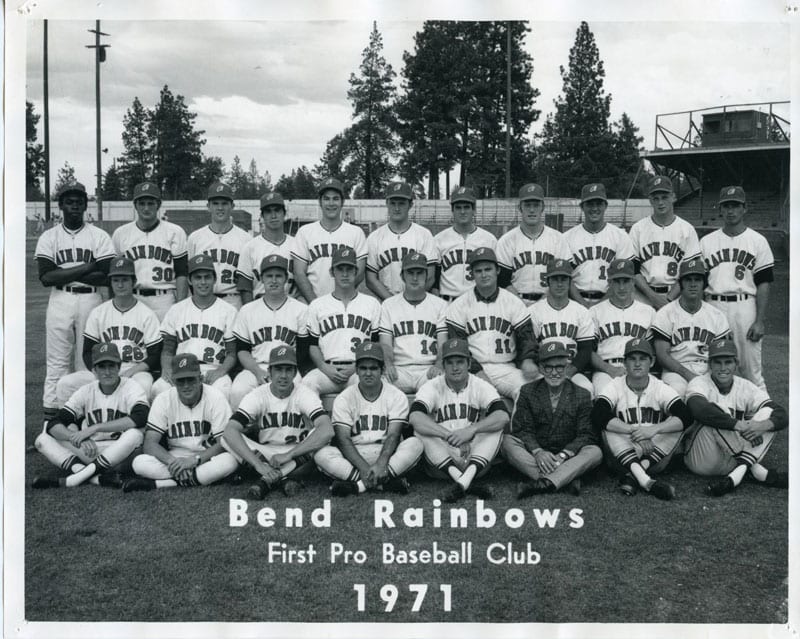 Russell opened the 1973 season at Class AA El Paso, just two rungs below Major League Baseball, and was hitting a blistering .563 over six games before tearing his rotator cuff turning a double play, effectively ending his baseball career. Later that summer he played twenty-three games for the Portland Mavericks, a club his father owned, as a designated hitter, but his days in the field were behind him. 
Russell continued his string of Disney teen comedies for several years after he injured his arm before earning widespread acclaim in the 1979 TV biopic Elvis, which was helmed by the up-and-coming director John Carpenter of Halloween fame. Carpenter cast Russell as the lead in Escape from New York in 1981 and again in Big Trouble in Little China in 1986, by which time the former Bend middle infielder was a bonafide action star. Despite playing just 110 games over four seasons, Russell's pro baseball experience left a lasting mark.
"I still look at the world through the eyes of a ballplayer," Russell told the baseball history organization Society for American Baseball Research in 2019, more than forty years after his last at-bat in the minor leagues. "On a (movie) set, I want to make the team. If necessary, I'll carry this team."