Oregon Adaptive Sports was born twenty-three years ago, when members of the Central Oregon skiing community sought to create opportunities for members of the community with disabilities. Today, OAS, led by Executive Director Pat Addabbo, carries on that legacy by providing opportunities to people with disabilities in both summer and winter sports, such as skiing, mountain biking, rock climbing and others.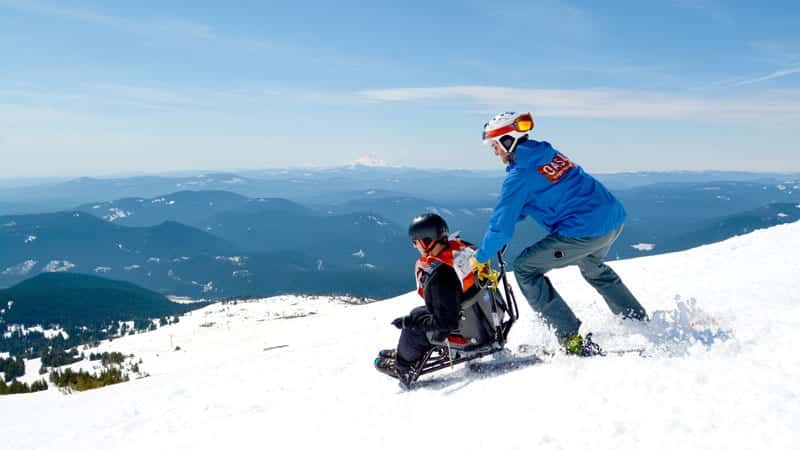 In an outdoor mecca like Bend, there are boundless ways to enjoy nature. It just makes sense that OAS would focus on sharing Bend's natural bounty, because there is so much to share. Through OAS, athletes can rent the adaptive equipment they need for a huge discount, and they get to train with a volunteer in their respective sport.
The mission to bring a love of sports and the outdoors to people with disabilities is one that is driven by passion and personal experience. Addabbo's first experience with adaptive sports happened when he was in college. He recalls a ropes course that was accessible to people with varying disabilities, partly because people with disabilities were included in the planning process. This experience showed Addabbo that with effort, inclusion was not just a vague possibility, but an achievable reality.
This mindset drives Addabbo to this day. "When you approach things with the right mindset, access to the outdoors can be the key to a healthy and thriving life," Addabbo said.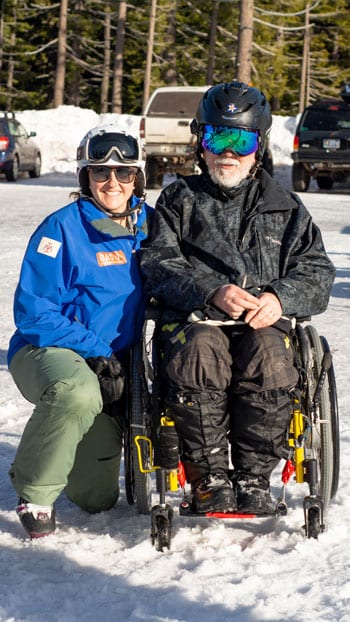 Two people who have benefited greatly from OAS and their services are George Hamilton and Julie Hackbarth. Hamilton spent 20 years with the Air Force before retiring and picking up skiing. Hackbarth is a winter volunteer who works with Hamilton and skis with him on a tether system. This means that when Hamilton uses his sit down bi-ski, Hackbarth is tethered behind him to help control his speed.
Hamilton has a brain injury that makes him a wheelchair user as well as impairing his hearing and eyesight. He recalls his time before OAS when the mountain seemed less accessible. "I was the world's biggest lodge-sitter, and I simply did not want to sit anymore," he said.
Hackbarth's passion for adaptive sports comes from high school where she was part of a program that paired her with students who had disabilities to help them around campus. Her teacher gave her a list of things that her partner could and could not do, and that did not sit well with her. "People with disabilities can do a lot more than what most people expect of them," she said.
Together, Hamilton and Hackbarth have created an incredible bond through years of skiing together. Hamilton even claims the only time his wife won't worry about him is when he's with Hackbarth.
The adaptive part of OAS is so much more than just finding the right piece of equipment for an affordable rate. Volunteers constantly adapt their coaching style to best fit the needs of their athlete. "I have so much confidence when I'm out with Julie, and I'm grateful because it has truly changed and improved me," Hamilton said. "There is nothing I could tell you about what we do together that isn't special."
Speaking to Hackbarth, Hamilton said, "You have empowered me, and OAS was a huge part of it. Your encouragement has helped me reach out and go after more than I thought was possible."
To Hackbarth, the joy of volunteering for OAS comes from seeing someone achieve something they worked so hard for; something they may have previously thought impossible. "You go out there and want to give back, but the experience makes you so happy that you feel like you got just as much out of it as they did," Hackbarth said.
The work OAS does is made possible by the community. Generous donors as well as more than 250 annual volunteers make life changing experiences like Hamilton's come to life. OAS continues to support the Bend community by providing these opportunities and increasing accessibility to this outdoor paradise, one person at a time.