Years after first meeting at work in the tech industry in San Francisco, Brittany and Kyle Lindquist were married and eyeing a move to Oregon to raise their growing family. Brittany, a native Oregonian from Newport, and Kyle, who grew up in Chico, California, initially chose Portland for their new home base, moving to Oregon's largest city in 2019 with their first son, Jack. They found a beautiful house they liked without fully considering how the surrounding neighborhood would play into the quality of living. "We learned from that experience that it's more about choosing the neighborhood, and less about the house," said Brittany of the ten months the family spent in Portland. After bouncing back to the Bay Area in 2020, the Lindquists zeroed in on Bend, the Central Oregon city where Brittany's brother lived. "Every time we would come visit, we knew this is where we wanted to be," Brittany said. By fall 2020, they had moved to Bend as renters and identified northwest Bend as the area where they'd like to purchase a home. During a home tour on Awbrey Butte in 2021, the couple watched as a yellow school bus drove by, sensing they were in the right neighborhood for the next chapter of their lives. "You don't see yellow school buses in San Francisco," said Brittany, who explained that kids take public transit, are dropped off by parents or nannies or take a ride-sharing service for kids. Because both Kyle and Brittany grew up in smaller communities where riding the bus to school was a part of life, they loved the idea of living in a community of families where kids would do the same. "We wanted a neighborhood that you could see kids running around in," Kyle said.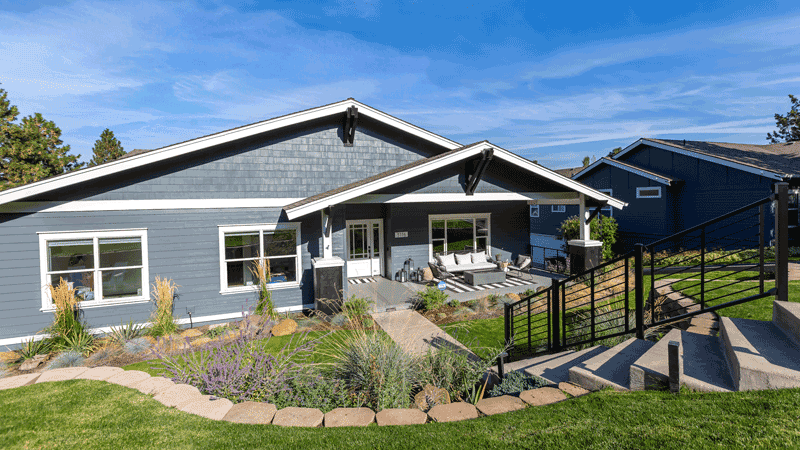 Moving In
The Lindquists closed on their new home in the spring of 2021, knowing they would have their work cut out for them. The 1998 Craftsman-style home was in need of some modernizing, after spending years as a rental property. "We've never been bombarded by more brown in our entire lives," Kyle said. "But it had great bones." Before moving in, the couple removed the shaggy brown bedroom carpets, which were stained from past tenant pets, including cats and turtles, replacing the floors with luxury vinyl plank. Hardwood in the main living areas and kitchen were kept, but the entire home was refreshed with new paint, new outlets and lighting fixtures, door handles and appliances. While Kyle led the way on initial updates in the house, Brittany packed up the family's Bend rental, with toddler Jack and newborn son Beckham in tow. "It was a good example of what not to do—having a baby and buying a house at the same time," Brittany said.
Project Mode
Once moved into the new home, the Lindquists set their sights on more significant updates, tackling the kitchen, laundry room and smaller projects throughout, such as painting the tile around the living room fireplace and reimagining the front yard landscaping. In the kitchen, the cabinets and island were painted, and a new hexagon tile backsplash added character. In the laundry room, white subway wall tile, repainted cabinets and accessories brought new life into the space. Kyle did many updates himself, along with the help of Brittany's dad and brother, who were passed down carpentry skills, specifically electrical work, from Brittany's grandfather, a craftsman and former chief electrical inspector for the State of Oregon. "We did the work to modernize the home, little by little," Kyle said.
Tucked below the laundry room is the garage, which the family has converted into a downstairs living space and hangout zone. There's a couch, workout equipment, a makeshift wine cellar and kegerator. Off the "garage" is a home office with space for Kyle, who works remotely for a farming technology company, and Brittany, who works remotely as a marketing director. Back upstairs, now 5-year-old Jack has settled into his bedroom at the front of the house, which is furnished with a Hot Wheels bed and plenty of race car toys. "Hot Wheels are life for that kid," Brittany said.
As a heatwave blazed through Bend this summer, the Lindquists were busy with outdoor projects, including fresh exterior paint and a complete rebuild of the upstairs deck and front porch. Dated wood boards and railings were replaced with Trex decking, and the back deck wood railings were swapped with sleek glass panels. 
Remodel Reflection
With much of the remodeling behind them, the Lindquists are able to reflect on their style and the updates made over the past eighteen months. "The remodel itself was about simplifying, and having a neutral palate on the inside, allowing us to build upon the design in a few years," Brittany said. Kyle said his biggest lessons from the process were that remodeling is really problem solving, and that it always takes longer than expected. "I use the 'times three' rule," Kyle said. "If you think it's going to take an hour, it will take three hours. If you think it's going to take a week, it will take three weeks." Despite the frustrations that come with more than a year of home renovation projects, the Lindquists said the work has helped them build a relationship with the house, which now feels more like home. The couple will spend the coming years personalizing, and they have a shortlist of projects for the future, including a remodel of both bathrooms.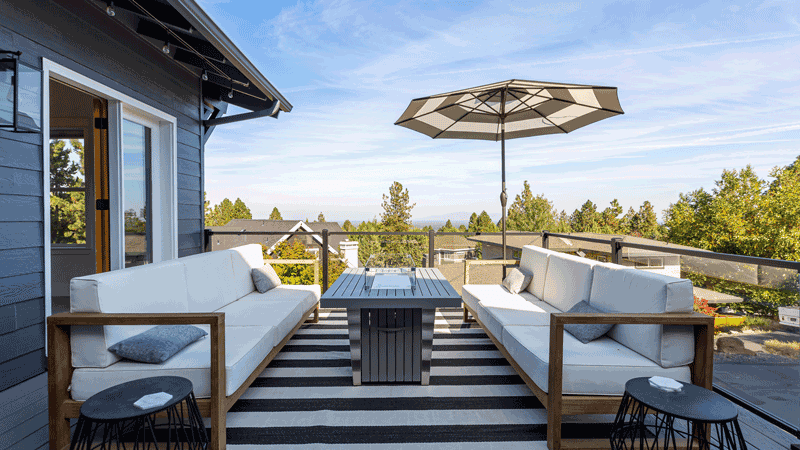 After a health scare with Jack that had the family at St. Charles Medical Center for more than a week last fall, Brittany said the family was even more grateful for having their home, and all the quiet, mundane moments they're able to enjoy in it. "I want to roll out of bed, snuggle my kids, go downstairs to work, come back up, do dinner, bedtime routine, rinse and repeat daily," she said. That everyday routine lately includes activities such as listening to records (Disney tunes, The Beatles and Elvis are favorites), tending to a growing collection of plants and the unpackaging of the latest Hot Wheels offerings. And when the winter snow rolls around, the family will be found at the side of their house, which they learned is home to a popular sledding hill, packed with children who call their neighborhood home.
RESOURCES
---