Emily Cathcart was born into a life surrounded by fine art. Her father, a gifted painter, took her to Santa Fe, New Mexico, throughout her childhood for his gallery art shows on Canyon Road. At a young age, Cathcart was able to pick up on people's connection with her father's work. This inspired Cathcart to focus on a career path that would enhance others' lives through a different medium of art, interior design and eventually her specialization in kitchens and baths.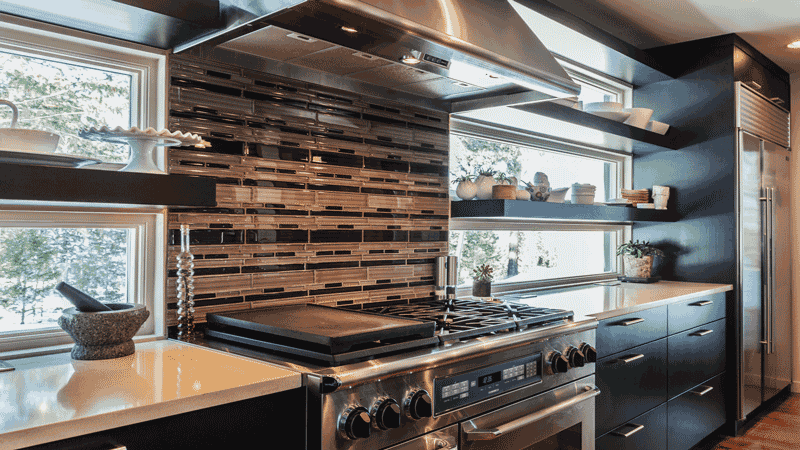 Cathcart graduated with a bachelor of science in interior design from Colorado State University and her first job out of college was at a kitchen and bath dealership in Denver, Colorado, doing computer-aided design, or CAD, for other designers. It was at this point, she realized she wanted to specialize in the kitchen and bath industry for which she had little educational experience. Cathcart continued her education with the National Kitchen and Bath Association. In 2008, Cathcart became a Certified Kitchen Designer, and in 2016 she became a Certified Master Kitchen and Bath Designer, the highest distinction in the kitchen and bath industry. Cathcart brings more than twenty years of education, experience and certification to her clients. In addition, Cathcart traveled to Germany last fall with the NKBA on a buyers tour for kitchen and bath products.
Bound for Bend
Years after developing her own business, Emily Cathcart Designs, and starting a family in Colorado, Cathcart and her family began to contemplate a move to Central Oregon. As longtime residents of Fort Collins, Colorado, and second homeowners in the ski resort town of Steamboat Springs, Colorado, the family was seeking a community that offered a mix of the two areas. They began to visit Bend regularly, and grew fond of the town's outdoor amenities, size and clean mountain air. "We moved for the quality of life, and I know that's what a lot of people say, but it's really true," Cathcart said. "We wanted a healthier lifestyle in general." They were planning their move in 2019 and made their trip out west permanant in the spring of 2020.
Business Refresh
After settling into her new home, Cathcart returned her focus to kitchen and bath design, relaunching her business in Oregon with plans to serve the Pacific Northwest. As part of the business's second iteration, Cathcart now offers direct sourcing of cabinetry through ECD Cabinetry, which she launched in 2021. Cathcart works directly with a family-owned custom cabinet manufacturer in Vancouver, British Columbia, acting as a dealer for clients looking for cabinetry for their kitchens, bathrooms, laundry rooms, pantries and adjacent spaces. "Homeowners who are looking for design are often also in need of cabinetry. It works seamlessly to handle the complexities of a cabinet order with a designer like myself who's spent the majority of my career in the cabinet industry. The intention of my designs can be followed through in precise detail this way," she said. Clients who work with Cathcart go through a step-by-step process that takes them from dream to design. It begins with a complimentary discovery call to discuss a potential project. From there, clients can book an in-home design consultation. "I'll go out to that person's home for a tour—we'll talk about their ideas, we'll talk about my ideas and I'll share my process with them," Cathcart said. For clients who give the green light to a project, the process continues and typically includes technical drawings, product selections and support through purchasing, installation and construction as you work with a builder.
Personal Style
As Cathcart builds her new business in Bend, she's keeping an eye on trends in home design and cabinetry and incorporating that knowledge into her consultations. Among the trends she's seeing lately are pencil shaker cabinet doors, large format tile slabs on floors and walls, through-body porcelain slabs for countertops, natural stones such as marble and quartzite and more warmth in color choices, including warm whites, blues and greens.  Trends aside, Cathcart is happy to see more homeowners embracing their personal styles, versus choosing design strictly on the basis of what's popular right now. "I encourage people to discover their personal taste, and not worry about what everyone else is doing," she said. Cathcart said her hope with each project is that in the end, the homeowner is satisfied with the process, and feels better in their space. "My priority is always the outcome, and to give a client more than they asked for," Cathcart said, "And providing the client with a positive experience along the way."
Emily Cathcart Designs | 626 Northwest Arizona Ave #5, Bend (by appointment)  | 541-508-9204 | emilycathcartdesigns.com
---