Central Oregon is not only growing, it is also becoming more diverse, and local entrepreneurs believe the same is true of the community's demand for international foods. That's stirring up the launch and expansion of markets aimed at satisfying this yen for global ingredients. Business owners are relying on hard facts, market data, anecdotal evidence and years of local experience to support their hunches—and business plans. For example, U.S. Census data for Deschutes County shows that between 2010 and 2020, the total population went up almost 26%, to nearly 200,000 residents. During that time, the Hispanic or Latino population increased nearly 50 percent, the two censuses show the county's number of Asian residents increased nearly 72 percent. Alongside this data are local trends that entrepreneurs said prompted them to open new markets. The nearest Asian grocery store is 139 miles away in Salem, social media sparks young consumers to want trendy, exotic treats that pop up in their feeds, and since the pandemic, more people are cooking an expanded range of cuisines at home, they said. Here's how they are seizing a market opportunity.
Colima Market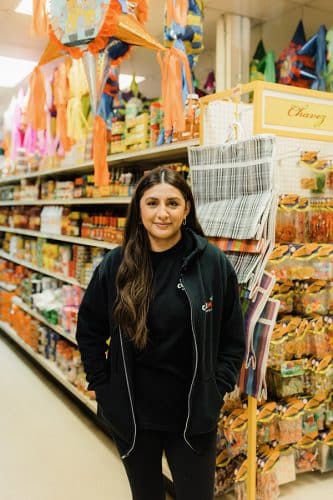 Colima Market, which offers authentic Mexican products, has experienced significant growth in the past three years and plans to open its third location in Redmond by fall. Sales have been increasing since 2020, when revenue went up about 40%. "I think it was because everyone stayed home for coronavirus—everyone cooked at home," said CEO Yamely Chávez Kennedy. 
Her family opened its first local market in Madras in 2009 and a second in Bend in 2016, and is bootstrapping the expansion, relying on hard work that is finally paying off, she said.
Over the years, family members put revenue back into the business, upgrading equipment, adding a bakery, expanding their meat department, and offering a wire service which residents use to send and receive money from Mexico. Top-selling items include meats such as longaniza sausage and al pastor pork prepared in-house by her father, Guillermo Chávez, fresh and dried chilies that customers say they cannot find elsewhere, vegetables and fruits from Mexico, and Mexican sour cream and queso fresco, staples of the Mexican kitchen, she said. 
The growth since 2020 also allowed them to hire four employees. Before that, Chávez Kennedy, 35, relied on two employees and herself. For seven years, she worked from 9 a.m. to 8 p.m. six days a week, including when her son was born, and she had little time to spend with him and her husband. Since her sister moved from Portland to manage the Bend location last year, Chávez Kennedy said she can leave at 5 p.m. to make dinner and have weekends off.
She emulates her father, whose unrelenting work ethic and versatility, from forging strong relationships with customers and vendors to making Mexican specialties, laid the foundation for success. "My only mentor is my father," she said.
Bendite Market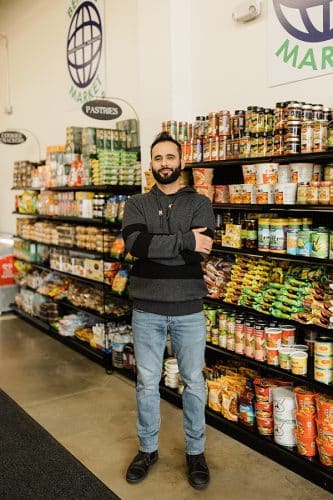 At the new Bendite Market at The Hixon Westside Yard Apartments off Century Drive, owners are counting on the flavors of the Middle East, Asia, Europe and South America—not just convenience-store sundries—to draw customers from the complex's more than 200 apartments and beyond.
Snacks, candies, beverages, spices and packaged goods, from Turkish iced coffee, Thai milk tea and Japanese matcha Kit Kats to Tunisian harissa spice paste and Moroccan sardines line the aisles. Co-owner David Sayidi springs from behind the register to guide visitors, explaining the healthful properties and soothing effects of saffron tea. The 29-year-old moved to Redmond from Afghanistan a decade ago to join a cousin here after serving as a translator for U.S. forces in his homeland.
A friend introduced him to Haseeb Shojai of Redmond, who came to Central Oregon from Afghanistan in 2004 and built his business MHTS, which owns and operates gas stations, grocery stores, restaurants and bars throughout Central Oregon, from the Parkway Chevron in Bend, to Saffron Grill, a Persian restaurant in Redmond.
"With the college [OSU Cascades] being right around the corner, and with the diversity that's happening with a lot of people moving in from California and Washington and from other states, we thought we should give it a try," said Shojai. "You can find unique snacks in Bend instead of having to order them online or having to go to a bigger city to try an international market."
Shojai said he tapped savings generated by MHTS to launch the independent retail space of about 1,800 square feet. He relied on his business sense and his own information gathering rather than market analysis. He talks with vendors and customers daily about product requests, and when he cooks for guests at home—Persian dishes such as marinated lamb kebabs and rice with raisins and almonds—they always ask how to make it, but can't find the spices.
Shojai aims to fix that. "We are proud to call Central Oregon home and to be able to be part of a change that will diversify Central Oregon in a good way," he said. 
Tomi Mart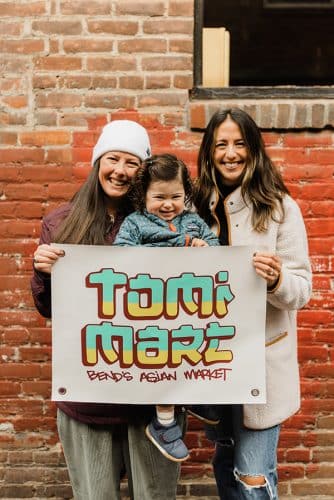 Growing up in Bend, Jesi Scott, 36, and Natasha Dempsey, 35, had mutual friends, but just last fall discovered their shared passion for Asian culture and cuisine. In October, Scott launched her plan to open Tomi Mart, hosting a table of Asian dry goods at Bend Moonlight Market at Open Space event center. The pair realized they shared the same vision and values—a desire to create a community hub celebrating Asian culture and food products. 
They knew Central Oregon had a pent-up demand for Asian grocery goods. Dempsey grew up with her Korean-born mother's cooking, and knew that locals needed to travel to Portland, Eugene or Medford to get ingredients. Scott taught English in China, lived in Japan and her partner, Adam Shick, is half Japanese and loves to cook. The market is named for their 18-month-old daughter, Tomiko Eddy, and Shick's great-grandmother, Tomi Hashizume.
Scott and Dempsey hope to open a 2,000- to 3,000-square-foot store this fall, and plan to offer dry goods and snacks, phasing in produce and a grab-and-go section of prepared dishes from local Asian restaurants.
In drafting a business plan, they leveraged local resources including the Small Business Development Center at Central Oregon Community College, SCORE, Central Oregon's free one-on-one business counseling service and Deschutes Public Library's Ask a Librarian service, through which they accessed Deschutes County consumer food purchasing reports. Dempsey gleaned data to find the percentage of locals eating out and cooking at home, plus population growth numbers. National food industry reports cited the rising popularity of Asian foods. For financing, they're exploring loans from the Small Business Administration and the nonprofit lender Craft3 in Bend, which considers community impacts alongside economic ones to lessen the racial wealth gap.   
 After selling out inventory at two Moonlight Markets, they gained newsletter subscribers and followers on Instagram. Keeping up the momentum, a Tomi Mart Takeover on May 19 at Open Space is a fundraiser for startup costs with music, food, drinks and a ramen-eating contest coinciding with Asian American and Pacific Islander Heritage Month "The amount of times I've heard people who've moved here from Seattle, San Francisco or California asking, 'Where's the Asian grocery store?' " said Dempsey. "I'm expecting to come to a town this large and have two or three Asian grocery stores, and there's not one." Yet. 
---