Contemporary artist Kelly Thiel's feminine mystique takes center stage in a new colalboration with Athleta featuring female athletes.
In her studio space on Bend's west side, artist Kelly Thiel puts on headphones, cranks up her music and begins layering paint on canvas. Because she's always short on time, she paints fast and intuitively. The resulting canvases are colorful, contemporary and express the mystery and mood of her subjects, often women.
"I'm obsessed with people's personal stories and experience," she said. "I want to know what they have to say and convey that through my art."
Thiel begins her paintings by "journaling," which involves writing words on canvas with translucent Copic ink. It's a way for her to organize her thoughts. Sometimes she covers the words entirely as she builds layers of acrylic ink onto the canvas. Other times, she allows the words to peek through. "Words infuse energy onto the piece," she said.
J.M. Brodrick, an internationally recognized Bend painter, said that her friend and colleague is "fearless and doesn't hold back. She'll attack any subject and dive in. She may struggle when she's first learning a new technique, but then she triumphs."
In a collaboration with Athleta, the sportswear company for women and girls, Thiel will create a series of paintings from photos her husband, Charlie, took of model-athletes striking various athletic poses. "I want to show the grace and elegance and strength of these women," she said. The seven to ten females featured in the series will complement Athleta's color line for 2019 and will hang in the store's retail space in the Old Mill District during June. Charlie will also exhibit his photos. A portion of any painting that Thiel sells will go to Saving Grace, a nonprofit that supports individuals experiencing violence and sexual assault.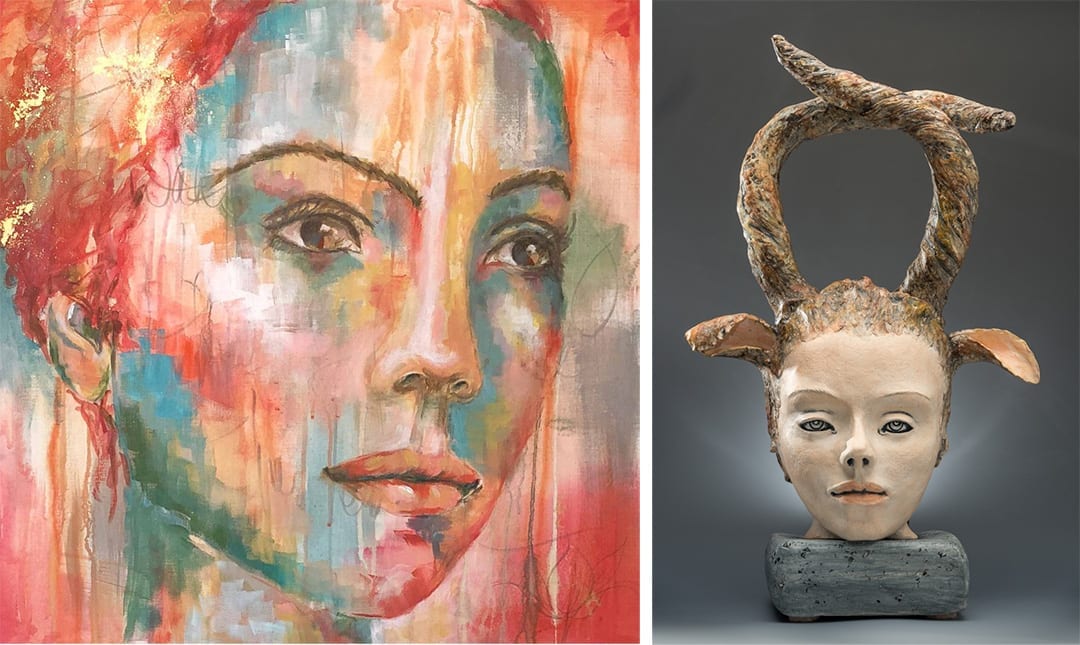 An interior designer by education, Thiel began her art career as a sculptor 1999 when she and her mother enrolled in a pottery course in Charleston, South Carolina, where Thiel was living at the time. She spent eight years making mugs, plates and cups from clay. When her mother died in 2008, Thiel shifted her attention to figurative work in clay and also began painting. Sculpture and painting inform one another, she said.
Today she splits her time equally between the two mediums. A common theme in her early work was birds, which her mother loved. She incorporated them into both mediums, often as human-bird hybrids. Horns, rabbit ears and even a small flock of birds adorn the heads of women. "It was art therapy, and started out as a way for me to 'fly away.' As I healed, I moved away from birds," she said.
In 2014, Thiel and her family moved to Central Oregon, and in 2015, she joined with two other women to open The Wilds— Coworking for Creatives. It functions as studio space for her and other artists and office space for people working in creative fields. On evenings and weekends, it's gathering spot and a place for art classes. It's also where she can exhibit her work; a series of abstract paintings currently hangs along one wall, perhaps signaling a new direction in her art.
Brodrick likes her friend's abstract work and notes that she is likely to continue to pursue both figurative and abstract impulses. "I admire Kelly's boldness in colors, and it's one of the things that stands her apart from other artists. She's got a lot of potential and pushes the edges. What she's doing now is not what she'll be doing ten years from now."
The 46-year-old artist exhibits paintings and sculptures across the country, and sculpture internationally at the Kunsthuis Gallery in Yorkshire, northern England. Her work has been on the cover of Handmade Business Magazine and in the 500 Figures in Clay, Volume 2, published in 2014 by in Lark Books, a publisher that showcases the best in the craft world. The public can sometimes see Thiel's artwork around town in such places as the Oxford Hotel, Franklin Crossing, Substance Coffee and Stellar Realty Northwest. She also does commissioned work, with prices for a painting or sculpture ranging between $1,000 and $3,000.