When Phil Geiger moved to Central Oregon in the late 1990s to snowboard, he held a few different jobs before signing on to be a driver for a small restaurant takeout delivery business. But before he even got comfortable in the new position, the company's owner told Geiger he was behind on payments to restaurants and planned to declare bankruptcy.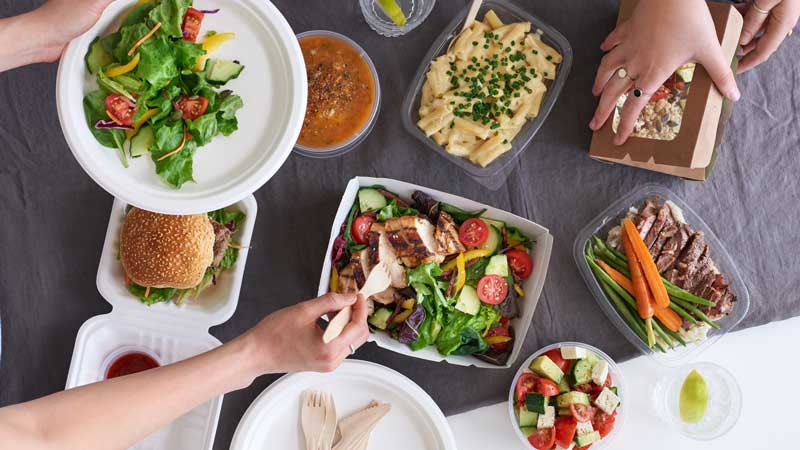 In an effort to keep the business running, Geiger bought the company for $1 from the owner (who had initially acquired the business from a previous, original owner), agreeing to slowly pay the restaurants back if they would continue working with him. "I went to every restaurant we delivered for, and said that I would take on his debt," Geiger said. All of the restaurants—about a dozen—agreed, and just like that, Bend TakeOut had a chance at survival, and success.
In those early days, Geiger was busy building the company's first website on dial-up internet, uploading copies of menus from the restaurants they worked with. It was years before a company like GrubHub would make its way to Central Oregon and a decade before DoorDash was even conceived, so not everyone really got what Geiger's company was all about.
"People didn't understand what we were doing—they would think they were calling the restaurant, even though it was our number on the site," he said.
Staff spent a lot of time on the phone, describing menu items to customers, placing orders and then using walkie talkies to relay directions to drivers. Drivers then used map books to navigate around town. Geiger remembers instructing his employees to "stand in a certain spot, and hold the radio above your head to get better reception."
To keep busy and continue growing their customer base, the company rarely said no to requests, even those that were a bit off the wall. "We'd never say no," Geiger said. "I was just trying to keep drivers as busy as possible."
Co-owner Angie Bove, who started with Bend TakeOut about ten years ago as a driver, said she remembers drivers stopping by the store to pick up extra things for customers on their way to deliver orders. Bove recalled one regular customer who loved ranch dressing and had requested it from a restaurant that was all out. "I remember the driver actually stopping at the store and getting a bottle of ranch for the customer," Bove said.
Over the years, the company has grown to serve more restaurants around the region, and technology, including tablets for restaurants and an app for customers, has evolved to make the process of ordering and delivering simpler. The company also launched its takeout delivery service in Redmond. "We've been in town fifteen years now, and we have a big customer base," said Bove, who worked her way up from a driver, to dispatcher, to account manager and part owner over the years.
Both Bove and Geiger agreed that when companies like GrubHub, DoorDash and UberEats started serving Central Oregon, they worried it might impact their business. But the company is local and does things a bit differently, Bove said. "We all have different models of business," she said. "And we think there is enough delivery business for everyone."
For one thing, Bend TakeOut works with a courier service to ensure someone is always on staff to deliver, unlike some of the apps that allow drivers to set their own schedules, risking having no one available on a busy night. Bend TakeOut also has a minimum order amount and sets delivery fees based on the distance between a restaurant and delivery address—an amount that goes directly to a driver.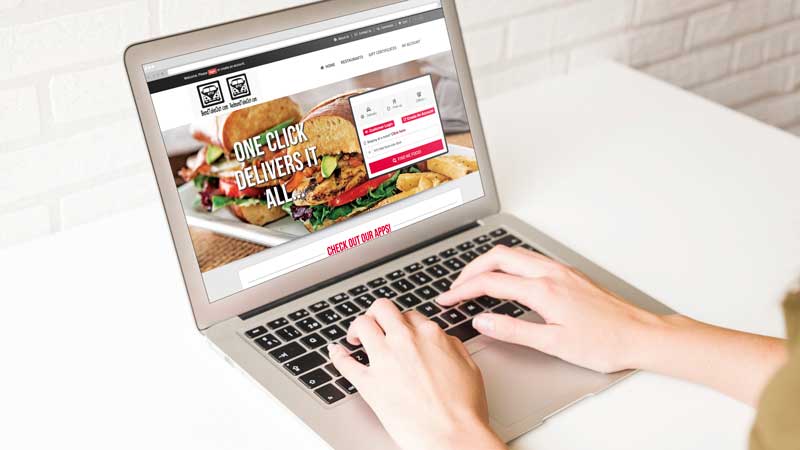 This spring, business was busy, but different, at Bend TakeOut, as restaurants navigated the impacts of COVID-19. The company started working with new restaurants and receiving more individual orders, but less big office orders, Bove said. Today, the company works with about fifty restaurants, many of whom also work with other delivery services, offering customers more options.
And while that competition keeps the takeout delivery space more competitive in Central Oregon, the owners say what sets Bend TakeOut apart from its competitors is that the company is local. "We've lived in Bend for a long time, and we love it here," Geiger said. "And if you have a problem, you can always pick up the phone and talk to someone."