Christine Pollard at OSU-Cascades FORCE Lab is at the fore of new running shoe research.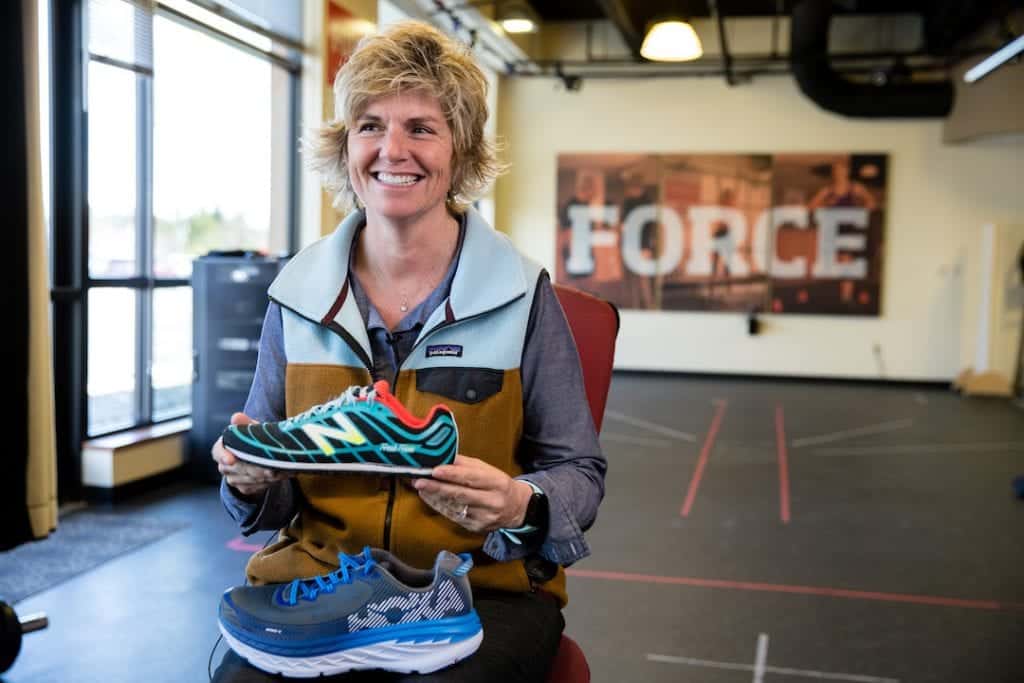 The world's oldest pair of shoes were made in Oregon. Crafted of oh-so-comfy sagebrush bark, perhaps it's no wonder someone left them in a cave in Fort Rock 10,000 years ago. We've been improving on footwear ever since, and so it fits that Bend is at the forefront of studying the latest technology in running shoes.
Maximal running shoes, with their marshmallow-like cushioning from heel to toe, are gaining traction with runners (particularly those over age 40), walkers, and others such as healthcare workers who are on their feet for hours and want to be comfortable and injury-free. Little is known, though, about how maximal shoes influence running biomechanics.
Bend's Christine Pollard stepped in to find out. She is associate professor of kinesiology at OSU-Cascades and director of the Functional Orthopedic Research Center of Excellence (FORCE) Lab, which does cutting-edge injury research and intervention strategies.
She brought women runners into the lab and used 3D motion capture and treadmills equipped with force plates to measure the impacts on their feet and legs after running 5,000 meters. First, each woman wore New Balance 880s, a "neutral" running shoe with more cushioning in the heel than the forefoot. Then Teague Hatfield, owner of FootZone, fitted them for a maximal shoe, the Hoka One One Bondi 4. They returned to the lab in about a week and repeated the test wearing those. None of them had worn a maximal shoe before.
"What we hypothesized is that the maximal shoe with more cushioning would be more of a shock absorber, but what we found was the opposite," said Pollard. She thinks that's the case because the new, super-cushioned feeling of the shoes unconsciously prevented the runners from controlling how hard they were hitting the ground.
So she sent the runners home with the latest Hoka One One Bondi 5 for six weeks to get accustomed to them, wearing them the first week for 20 percent of their runs and increasing gradually toward wearing them exclusively. Then Pollard will repeat the study and have the results by fall.
"I suspect the loading rate and impact peak will go down, but I don't know," she said. "No one has looked at it. We're excited to be the first."