What do a doctor, a math teacher, a diesel mechanic and an entrepreneur do when they want to change careers? Farm, of course. For a number of enterprising Central Oregonians, farming is a passionate second act.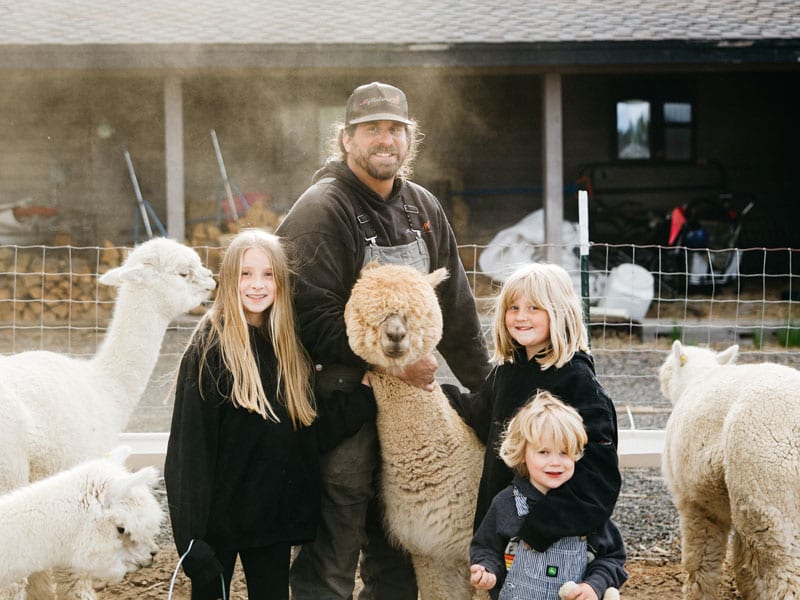 While an older generation of local farmers have "aged out," said Annie Nichols, farm and ranch support manager for the High Desert Farm and Food Alliance, younger (though not always young) farmers are emerging. Despite many challenges including the weather, the rising cost of land and contentious water rights, some people with big dreams and a spiritual draw to the land are changing careers and choosing to farm. 
"To get started, new farmers need to believe that they are helping their communities and the land," said Nichols. She noted that small farms "are an important way to combat climate change—and the new generation of farmers gets that." 
Here are the new farmers: romantics and realists, driven by a belief that cultivating something—amaranth or alpacas, honey or hay—is a meaningful way to contribute to Central Oregon's vibrancy and self-sufficiency.
Naftaland
From Entrepreneur to Hemp and Alpaca Farmer
Dave Naftalin is as comfortable in a boardroom as he is on a tractor.  
Naftalin came to Central Oregon after owning a Washington D.C. commercial real estate firm and working as a Maryland park ranger. Upon arriving in Bend, he became director of operations and director of the global supply chain for Humm Kombucha. After a few years, he looked around at his Tumalo land and asked, "What's next?"
The answer arrived in the realization that "my purpose in life is to raise children, plants and animals." Now in his third season, Naftalin's farm (five of his own and twenty-five rented acres) includes sixty alpacas and 5,000 hemp plants. 
"Central Oregon is the Napa Valley of hemp," Naftalin declared, noting that the climate, water and soil are ideal. While half of all hemp farmers who entered the market when the law changed in 2015 have already quit, Naftalin has gone all in, raising hemp that produces CBG (cannabigerol), one of more than 100 cannabinoids whose significant medical benefits are emerging through ongoing research. Recently, both Japanese and Swiss government representatives flew in to investigate Naftalin's approach to growing hemp which is, he said unapologetically, "producing some of the highest potency CBG crystals ever seen. When top European and Asian distributors are contacting a small farmer in Tumalo, you know this is huge."  
Naftalin and his full-time farm hand are "like mad scientists," tending each plant every day, piping in classical music and using drip lines to transport live bacteria and amendments to the plants. And while he initially got into alpacas for the fiber, he's now "breeding for the best genetics in the world." 
"I work this land and the land works me," Naftalin said, noting this is the hardest he's ever worked for the least remuneration. However, when the single dad takes a rare moment to look out on his flock, his fields and his three children, he says, "I'm living the life I'm meant to live." 
Lazy Z Ranch
From Math Teacher and Therapist to Historic Ranch Owners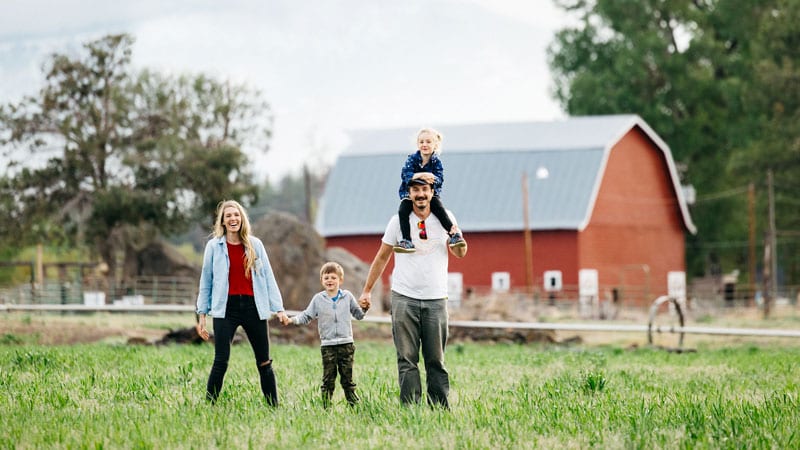 John and Renée Herman have run the Lazy Z ranch just south of Sisters since June 2020. Leaving behind their "cushy" (John's word) life in San Diego and coming to Central Oregon to care for the eighty-three-acre iconic ranch is the culmination of a long-held dream. 
"Farming was in our blood in different ways," Renée said. John grew up on a northern California ranch and Renée's Kirkland, Washington, parents were mad gardeners.  
While living in California and starting a family, John worked as a math teacher and Renée studied to become a marriage and family therapist. Still, they knew they "wanted to tie down into the soil somewhere." 
What are their hopes for the Lazy Z? "A mix of a plan and surprise," Renée said.
To create the plan, they spent months meeting with neighbors and experts to suss out practices to restore the soil, which John described as "compacted and dead" from years of flood irrigation, overgrazing and too many horses. They will spend their first growing season adding organic material to sixty-three irrigated acres, planting thirty different seeds for pollinators and waiting for the surprise. "We want to see what will grow here," John said.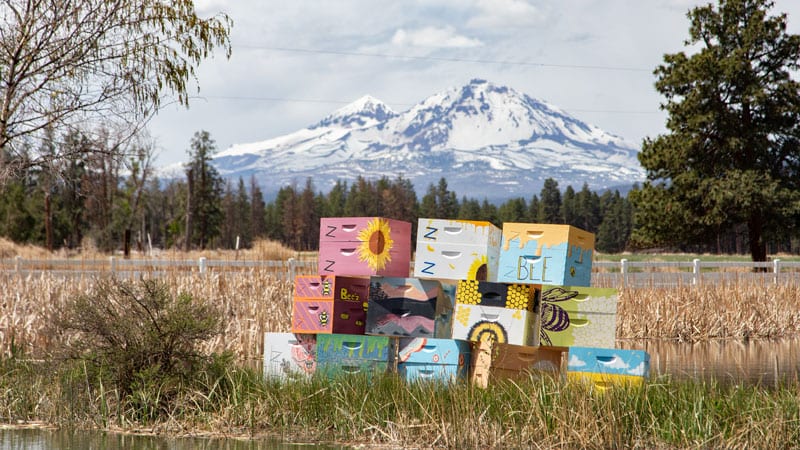 Their goal for the irrigated land? To create half a foot of organic material over the next five to ten years. They'd love to lease some land to other growers who share their farming and ranching values, which they describe as "regenerative." Also already in place are hundreds of bees and a dozen bee boxes, which were colorfully painted by art students at Sisters High School.
The scope of their dream echoes the hopes of 19th century homesteaders. "We describe ourselves as a regenerative nectar and pollen farm, focusing on bee products, u-pick and potentially, someday, a small winery," said John. They are already boarding horses, hosting cattle who are "massaging" and fertilizing the soil, planting berries and pumpkins, raising goats, and cultivating bee hives (John is the beekeeper). Soon they hope to brew honey mead, restore their impressive 100-year-old barn (could it become a farm brewery like those they saw in Belgium?) and, very importantly, turn the Lazy Z into a community resource for Sisters. "The reality of how the community has responded to our dream is so much more than we could have imagined," Renée said. 
They have no delusions about the Lazy Z supporting their family of four; Renée works as a therapist in Redmond. "Our goal is to have enough money to live and to give back to our community," John said.
Sakari Farms
From Natural Resource Manager and Diesel Specialist to Indigenous Agriculturalists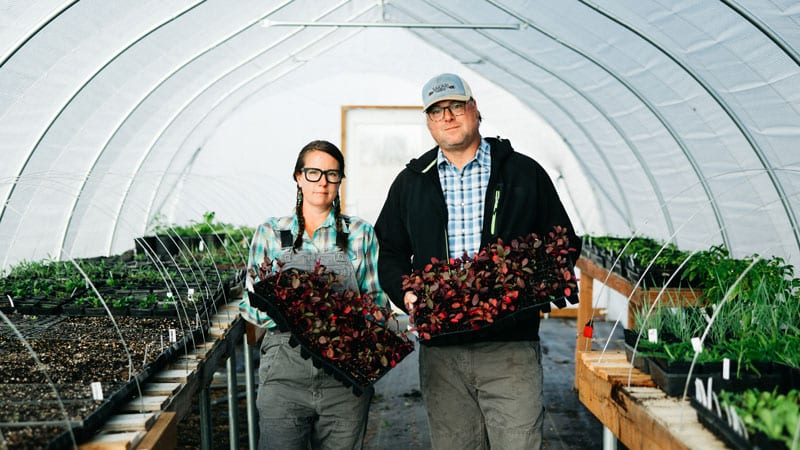 The sign on Highway 20 just north of Tumalo says "Sakari," which means "sweet" in Inupiat, the language of its owner's Native Alaskan tribe. "There aren't many words for farming or plants in the Arctic," said Upingakraq "Spring" Alaska Schreiner with a laugh, "but many words for snow, whale and walrus." 
Spring is the indigenous agriculturalist, seed keeper, farmer, owner and educator at Sakari Farms. Ten years ago, she launched the Central Oregon Seed Exchange, growing on rented plots across the county. In 2018, she and Sam Schreiner bought a six-acre farm, and their work shifted into turbo.
The compact farm is humming with activity. Greenhouses burst with vegetables and specialty tribal peppers (Sam's passion). Fields feature Native plants for ceremonial use as well as eating and dyeing. Flowers, squash and rows of lavender and thyme attract bees tended by a keeper. In the off-season, they prepare healing teas, hot sauces and other plant-based products and sell them through Sakari Botanicals. Additionally, the farm is home to a cold-climate seed bank, along with both educational courses and cooking classes. Outreach to Native populations throughout Central Oregon is part of Sakari's mission. Organic and biodynamic growing practices guide their work. They hold the Intertribal Agricultural Council's "Made by Native American" patent certification.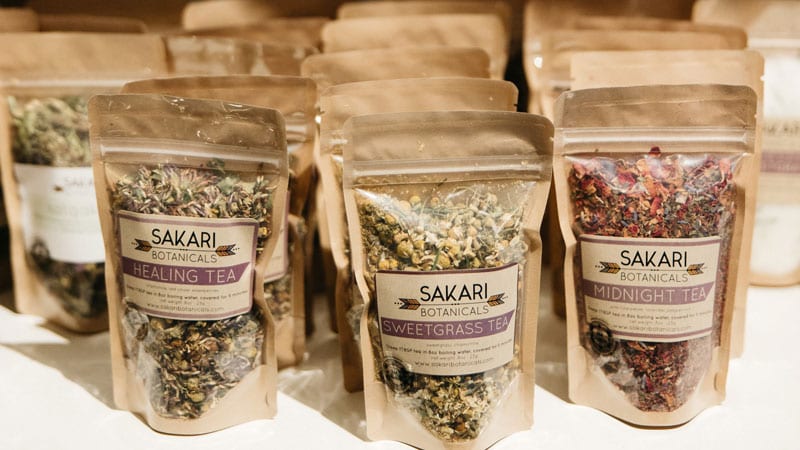 Before they turned all their attention to farming, Sam, a Camp Sherman native, was a diesel specialist, and Spring was working for the Deschutes Water Soil and Conservation District. In
the ultimate "meet cute," they were introduced while Spring was running the county's manure exchange program.   
For Spring, farming is both a way of making a living and an act of social change. "With the social unrest last summer, I had an 'aha' moment," she said. "Different voices were needed." Serving on multiple regional and national agricultural boards and educational committees as an advocate for local farmers and tribal members, Spring was awarded the 2021 Na'ahlee Tribal Fellowship and the 2019 National Association of State Department of Agriculture Women Farm to Food Award. To reinforce her indigenous products and practices, Spring says she "hires BIPOC employees," noting that her crew currently includes a turkey farmer with Navajo roots and a pig farmer from Peru. 
Serving her neighbors and surrounding communities is in Spring's DNA. "Farming is a brave act," she said. "The more we can show healthy food-growing success in Deschutes County, the better quality of life we're all going to have."  
sakarifarms.weebly.com | sakaribotanicals.com | seedexchange.weebly.com
The Scott Farm
From Doctor and Realtor to Hay Farmers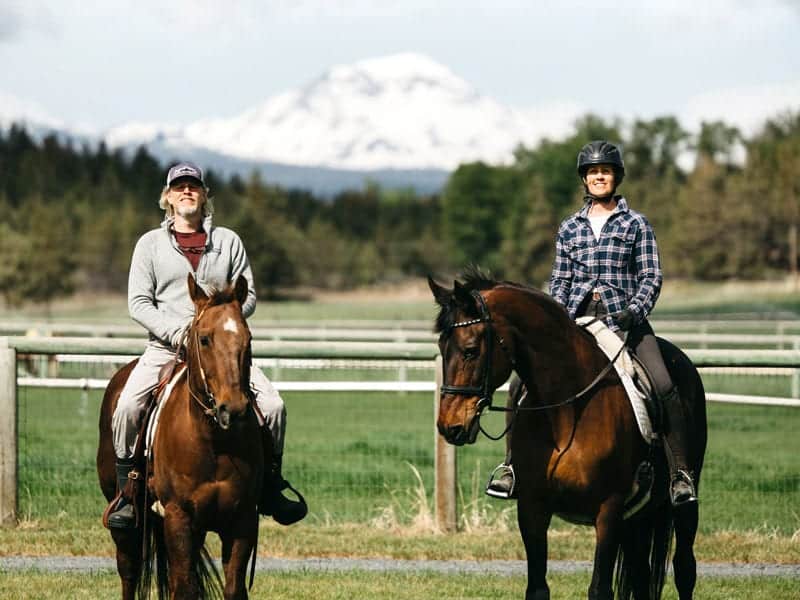 Dr. Yvette Scott, a Los Angeles internist, and her husband Frank, a commercial real estate broker, had only spent time in Central Oregon on vacation until 2011. Then, they became owners of twenty beautiful acres between Tumalo and Sisters. They hired a caretaker to tend the land until realizing, five years ago, that they wanted
to do it better—and do it themselves. 
"We were living to work in L.A.," Yvette said. "We wanted to be able to work to live." While Dr. Scott thought she would join the Central Oregon medical community after moving here, she reversed course. "Taking care of my family, the property and my animals became my new career, and I haven't looked back since."  
When the Scotts took over the land in 2016, locals said their hay fields were so neglected they would have to be replanted. Instead, Yvette—who had spent some time on her father's family farm in Georgia—tended the land with helpful input from nearby farmers, restoring the blue and orchard grass fields to health. Seeing the bounty from each cutting, and doling out flakes of her baled hay to her horses, gives her intense satisfaction. Still, she's aware of ecological issues. "Using up our precious water to grow hay is a source of conflict for me." 
With Yvette in the lead, the team does almost all the work on the farm themselves—moving wheel lines, caring for horses, repairing equipment. The lone exception: cutting and baling hay.
Unlike Naftalin, Scott doesn't consider farming her business. "We sell and trade hay, yes, but we are mostly stewards of this land." Stewardship includes caring for two horses. Her mother's family in Cuba were competitive horse jumpers, and she had boarded a horse in L.A. Now horses are integral to her life. 
"Who would have ever thought, me, a Cuban-American doctor who has lived her whole life in cities, is now doing what I do? I pinch myself every day."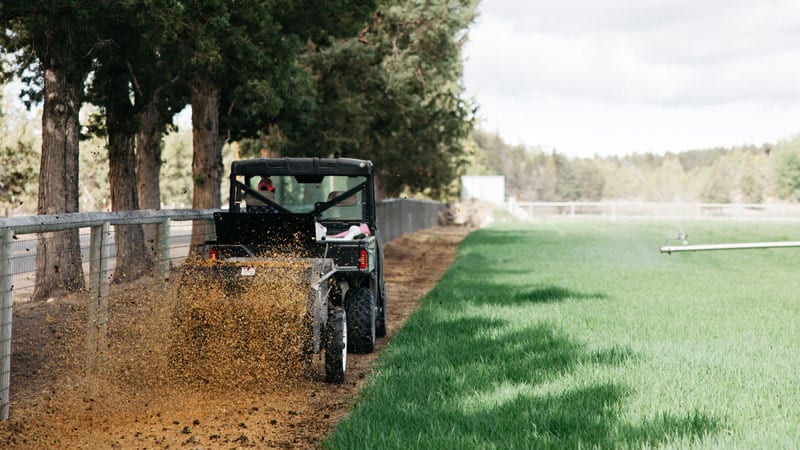 Support
 

LOCAL FARMERS

The High Desert Food and Farm Alliance has a great guide to buying local: getataste.org.