Sponsored Content
Take a tour inside this modern ranch retreat, a custom home built by Norman Building & Design in the new Bend neighborhood The Tree Farm.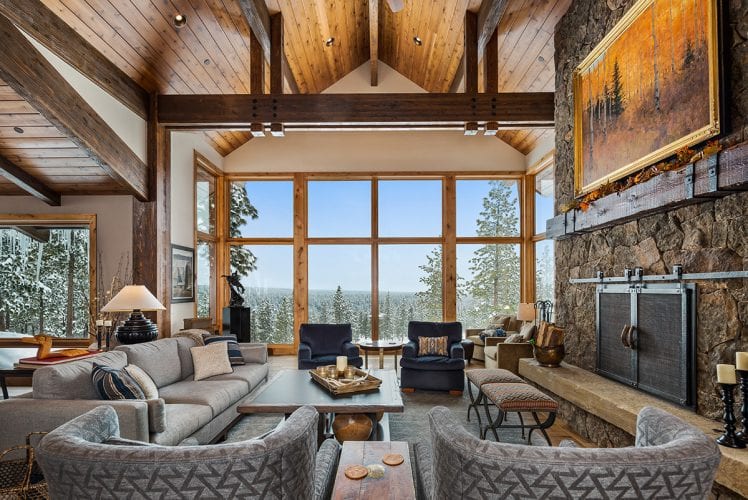 When Mac and Patti Douglas moved from Seattle to Bend four years ago, they bought a house in Broken Top. While they loved the large, refined-style home in the high-end development, and especially its very livable layout, the location wasn't quite right. "We wanted more privacy, and a view," recalled Patti.
They searched for some time for a new home, but the right place didn't materialize. What they found was either too dated, too large, or on too much land. Explained Patti, "We wanted more elbow room, but not too much property." Patti was interested in custom building a home, but Mac was hesitant. "We'd been through that process before," he said, referring to two homes the couple had designed and built in the past. "I wasn't ready for that level of involvement and intensity again."
Despite Mac's hesitation, the Douglases reached out to Bend company Norman Building & Design—the team that had built the Broken Top house that they liked so much. The match was instantly positive. The company's long history in Central Oregon made them knowledgeable and reliable, and the team was easy to work with. "It was convenient and stress-free to work with Norman," said Mac. "Everything was done in-house—they really hold your hand through the process." Patti added, "The relationship was so much fun."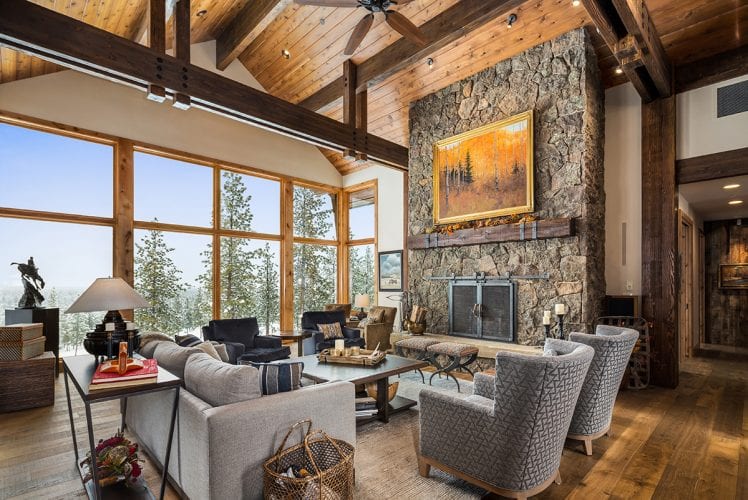 Central Oregon Ties
Patti was born in Bend, and the couple and their family had been vacationing during summers at Black Butte since the 1970s. The Douglases were familiar with the region. Once their thoughts shifted to building a home, the task turned to finding land.
After a thorough search, Mac and Patti bought a lot in The Tree Farm, one of Bend's newest neighborhoods. Located west of town off of Skyliner Road, on what was for many decades actually a tree farm owned by the Miller Lumber family, the development consists of 50 two-acre home sites on a ridge and in the forest. The Douglases secured a spacious lot with views of the Cascade Range, and began plans for their new home.
While contemporary design is trending now, the Douglases wanted a warmer style. "We knew we wanted many of the same elements as our previous home, but with a more rustic lodge-style." said Patti. The completed nearly-4000-square-foot house is in the style of a modern ranch home, or rustic lodge, with plenty of wood and stone accents. Their Tree Farm residence is a grand home that is also extremely comfortable, welcoming and warm.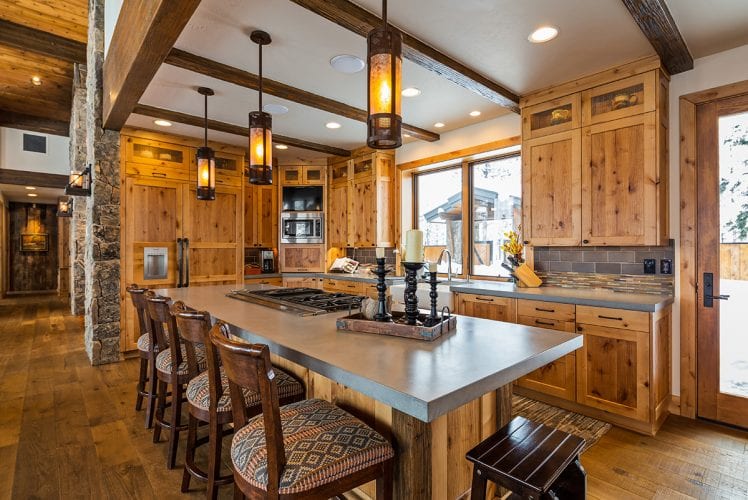 A Home By Design
As one approaches the home, a circular drive parallels a fence and gate which protect a spacious front courtyard. The home's exterior is cement shingles accented with rusted metal, for a rustic appearance that blends nicely with the forested landscape. The exterior of the home is entirely fire-safe, per the Tree Farm's strict requirements, as a Firewise community from the ground up.
The timber-framed front entry shelters a large alder door surrounded by two massive rock walls. Guests enter into the great room, facing huge windows framing a northwest view, taking in sights of a sloping hill, a Ponderosa forest, and Mount Bachelor, Mount Jefferson and Black Butte in the distance.
The great room, purposely, has no electronics or screens installed. "There are no distractions," said Mac. "We can just read here, or watch the views." The couple owns a large collection of Western art, from sculpture to paintings, which is subtly placed throughout the home, including a piece prominently displayed over the great room's massive rock fireplace.
To the southwest of the great room, the master bedroom opens into a den, enlarging that space when desired. "We wanted the home to be designed smart, with no wasted space,"said Patti. "Each room works for us." Patti's spacious, coveted sewing room is on that end of the home as well.
On the other end of the home is a family and media room, with two guest rooms, one with a bunk as well as a queen bed. "Every room has a reason for being," said Patti.
In the kitchen, a huge dish pantry contains everything cleanly, with easy access. "I have so much storage in this house," said Patti. Polished concrete countertops cover a large center island in the open kitchen space.
The theme of wood—purposefully compatible with a tree farm—appears throughout the home. One hallway wall is rugged reclaimed barn wood. Even some of the tiles in the bathrooms are designed to look like wood, in different grain appearance. The woods contribute to a rich and warm texture. Patti is a quilter, and several quilts and other fabric panels are hung around the home, also adding texture.
An outdoor patio off of the back is tucked into the shape of the house, designed for shelter from the elements, with an overhang inset with heat lamps. A full-size outdoor fireplace sits near several seating options. Off the patio is a round fire pit, perfect for roasting marshmallows on a summer night. "The fire draws people in and brings conversation," said Patti. "The patio brings us together."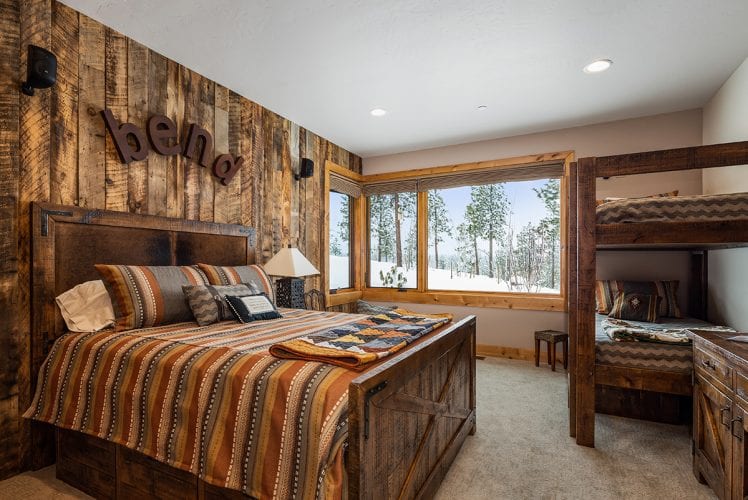 At Home in Comfort
Patti and Mac have three grown children as well as many grandchildren, and one desire for their home was that it would be welcoming for their family to visit. "We had fifteen people here at Christmas, and it worked out very well," said Patti. The guest wing closes off entirely, giving both guests and homeowners privacy.
The Douglases moved into their new home in April 2018. "We just love our home," said Patti. "It lives so well." Mac added, "And we have good memories of the process. The Norman team did a great job of listening to us."