Whether you live on a small lot downtown or on many acres in the country, an outside retreat adjacent to your home can be a place to rejuvenate and reduce life's stresses.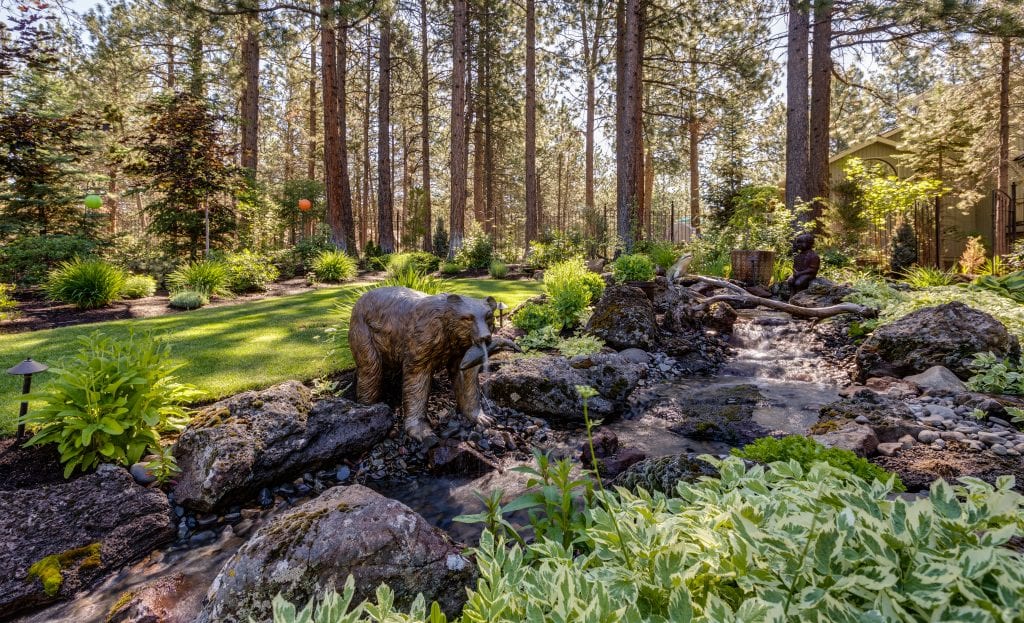 From March to October—and sometimes through the winter months—Central Oregonians seek sanctuary in the outdoors. You don't need to drive to the river or into the mountains to achieve the respite provided by a beautiful outdoor space. Cultivate a peaceful retreat right out your own back door.
Kathy DeGree and her husband, Butch, have spent three decades building and fine-tuning an outdoor oasis at their Awbrey Butte home. "We live a crazy life," said Kathy, who co-owns two Black Bear Diners with Butch. "We wanted a place to sit outside and enjoy the calming effect of water going over rocks."
Longtime Bend residents, the couple has incorporated into their yard many of the high desert's most popular features for outdoor living, wildlife viewing, star gazing, listening to music and hosting small intimate gatherings of friends.
Here are a few ideas from the DeGrees' yard, designed to regularly transport busy people from adrenalin-jazzed days to the calming zone of a private retreat.
Water
Humans naturally gravitate to water. Nearness to water can trigger feelings of tranquility, peacefulness and even happiness. Homeowners can incorporate a simple bird bath, a cascading waterfall, a meandering stream or a pond to reap these benefits. Water also connects us to the natural environment by attracting wildlife. The DeGrees installed a meandering creek that flows down a gentle slope into a small pond where Kathy says two goldfish they bought four years ago have grown into beautiful and large koi. Whether you do the work yourself or hire a local company, water features can be incorporated into both small and large spaces and on any budget.
Fire
The yin to water's yang, fire creates warmth, security and recalls our prehistoric roots. In Central Oregon where wildfires are a constant threat, firepits and fire features can be safely added with thought and care. Many homeowners' associations ban the use of open wood-burning firepits, but gas or propane-fueled features of every size, shape and cost create ambiance and an inviting place to unwind, share stories with friends and enjoy a warm spot to contemplate the universe.
Kitchen
A major trend in new homes, outdoor kitchens can involve elaborate features such as built-in cabinets, stoves, drink coolers, refrigeration, counter space and sinks, plus furniture for sitting and eating meals. Or they can be simple additions, such as a BBQ, casual seating and a portable drink caddy. The DeGrees created a covered cabana-style bar with a mini-fridge for drinks and snack food with stools arrayed around the bar for conversation. They also built a brick-and-mortar wood-fire oven that bakes a perfect pizza and roasts meats, including the Thanksgiving turkey.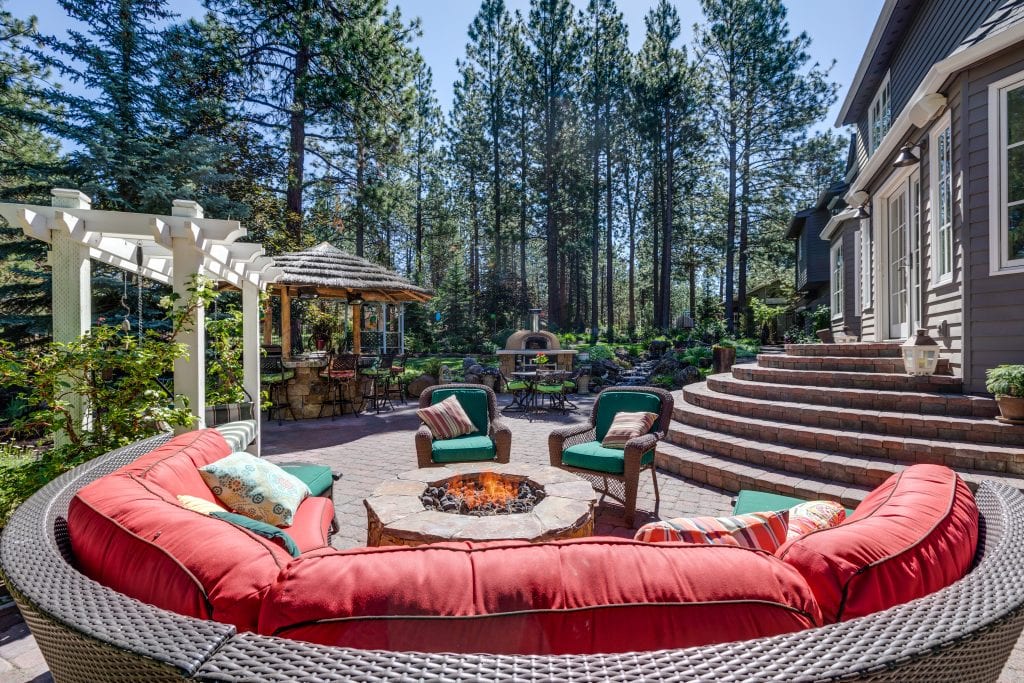 Furniture
Furniture can be a major part of any backyard retreat and also serve to partition space. For example, a homeowner may wish to have more formal furniture near sliding doors to enhance flow between the home's interior and exterior, with a more casual bench strategically placed some distance away under a shade tree or near a water feature. Side tables, ottomans, pillows and cushions add functionality and comfort. The DeGrees placed an adult-friendly swing near the bar with cushions and seating for two. It's one of the first places Kathy heads to after work. From there she can observe wildlife, including a pair of owls that return each year to raise their young.
Gardens
What's an oasis without a garden or attractive landscaping? It's almost a given that homeowners will want to incorporate living things into their Eden, whether that means native plants of the natural desertscape, potted plants, hanging flower baskets, special gardens for attracting butterflies, or trees and shrubs that create shade on hot summer days. With proper placement, taller plants and trees can double as privacy screens from adjacent properties. Newcomers to the high desert, though, might heed this warning: deer love roses, tulips, day lilies, dahlias and just about anything that costs a lot of money. So check with garden stores or the Oregon State University Extension Service for advice and a list of deer-resistant plants.