When it comes time to name a new startup, business owners look for something easy to identify and spell, check for originality, and often, look for names that reflect their personal experiences and the things that have inspired them to become entrepreneurs. For those starting a business in Bend, naming often involves taking a look around at the community—drawing inspiration from places like the Deschutes River, the Cascade Mountains, the volcanic landscape and the native plants and animals. For some emerging companies, the most logical choice is naming their venture after their home—Bend. Adding "Bend'' to a business name is nothing new, from long standing establishments such as Bend Brewing Co. (opened in 1995) or Bend Burger Company (opened in 2008) to newer businesses such as Bend Sauce (launched in 2019), which all pay homage to Bend with their company names. Here's a look at some of the businesses that wear the Bend name proudly.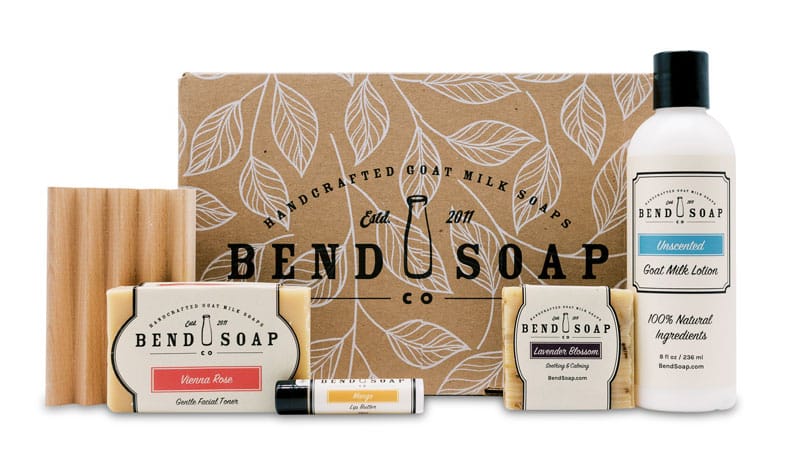 Bend Soap Company
What started as a quest to help their son get relief from eczema a decade ago turned into a family soap and skincare business for Dwight and Marilee Johnson. Bend Soap's first product was a simple, goat's milk soap using milk from their family farm. It helped their son's skin and inspired the Johnsons to pursue a business. When it came time to naming the new company, they wanted something simple and traditional, Marilee said. "We're old school and homegrown in so many ways," she said. "Many establishments in the past would name their companies simply after their location. Since we are here in Bend, it just made sense to give a nod to our roots, mimicking that vintage way of life." The company has since grown into a multi-million dollar business, with sales across the country of soaps, lotions and more, all bearing the "Bend" name. "We hope the fact that we have built a lifestyle brand and remained a constant in people's lives, gives credibility to the Bend community," Marilee said. "We hope it's something the Bend locals can be proud of. We see folks sending the Bend Soap products all over the country to their loved ones, and being proud that it is made here in their hometown."
Bend Soap Company | 63257 Nels Anderson Road, #110 | bendsoap.com
Bend Sauce
When dining at The Victorian Café one summer weekend in 2019, Craig Reinhart found himself wishing the restaurant offered a rich chipotle sauce. "That same day, we went to Newport Avenue Market and bought the best ingredients to play with, including organic chipotles from New Mexico and Jacobsen Salt from the Oregon Coast and created Bend Sauce," Reinhart said. The decision to name the product Bend Sauce was instantaneous after making the first batch and realizing the name was available, Reinhart said. "We love Bend, Oregon and knew that as our brand grew, we would plant a special image in the mind and bellies of all who tried it," Reinhart said. "I'm sure we sell more Bend Sauce in Central Oregon because of our name. Nationally, the sauce has to stand on its own and as it grows we hope our success reflects Bend positively."
Bend Sauce | 212 NE Revere Avenue, Bend | bendsauce.com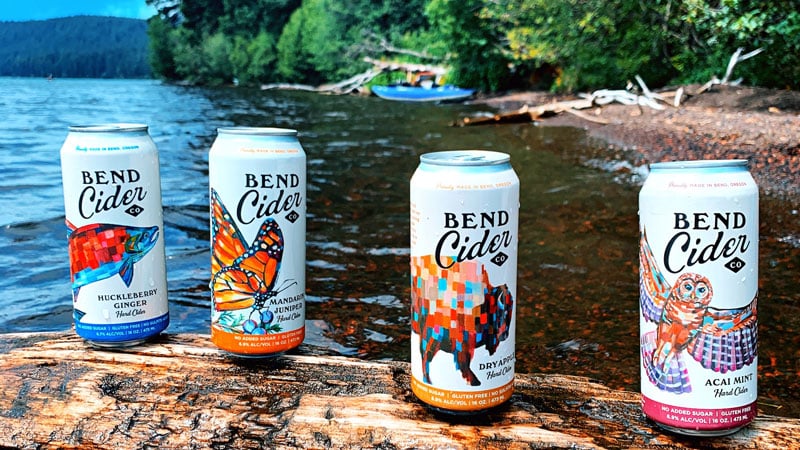 Bend Cider Co.
After attending college to become a wildlife biologist, Kelly Roark moved to Bend to start his new career. When he couldn't find a job in the field, he opted to stay anyway, spending time with friends and trying out a new hobby of making fresh-pressed hard cider. "This all started because he loved Bend so much," said Roark's wife, Tammy Roark. "He gave up his career essentially because of this calling to be in Bend." What started as a hobby and part of a quest to live sustainably slowly morphed into a bootleg cider business as the popularity of Kelly's homemade libations took off. When it came time to officially launch the business in 2019, the Roarks tossed around a few name ideas. They wanted a name that represented their values and beliefs and reminded them of why they were here in Bend in the first place. "We wanted something that people could remember and something that was simple—like if they tried something on draft, the name was recognizable," Tammy said. The couple decided on Bend Cider Co., and aimed to build a brand that reflects the best parts of Bend. "People have a fondness of Bend—whether it's from coming on their family vacation here or the memories they've made in Bend, there's just a nostalgic feeling to the name," Tammy said. "We decided if we were going to name it that, we wanted a brand that really represented Bend."
Bend Cider Co. | 64649 Wharton Avenue, Bend | bendcider.com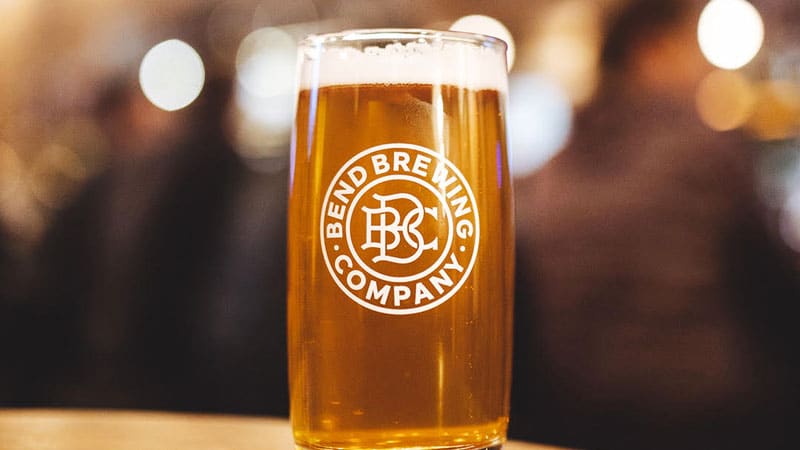 Bend Brewing
While co-owner Packy Deenihan wasn't the original founder of Bend Brewing Co. (he and his father purchased the downtown brewery six years ago) he acknowledges the obvious appeal of naming the spot after the city. As for whether the Bend-centric name brings the brewery and restaurant more business? "It certainly doesn't hurt," Deenihan said. "I think if you're visiting Bend and plan to check out a brewery or two, coming to Bend Brewing is a pretty obvious choice. That said, our goal is to make BBC their favorite brewery during their time in Bend and when they go home they tell their friends." Deenihan said one perk that's likely related to the name of the brewery is the popularity of merchandise they sell. "We are always surprised at how many people buy our apparel," he said. While it's fun to be named after Bend and attract some visitors because of it, Deenihan said the business is also really proud of its local following. "It's not really because
of our name why they keep coming back—it's the great beer, food, service and atmosphere."
Bend Brewing | 1019 NW Brooks Street, Bend | bendbrewing.com
Bend Burger Company
When owners Jon and Kristy Hayes opened Bend Burger Company in downtown Bend in 2008, they asked friend Ramona Newman to help get the front of the house running for the new business, named after the town. She agreed to come on board for the first six months, but thirteen years later, she's still proudly serving as manager. Newman said that while the name Bend Burger Company probably attracts some customers, she believes it's more likely the fresh, high-quality burgers and word-of-mouth that have led to the restaurant's success. "I definitely think that the name Bend represents who we are and we do have a great reputation," Newman said. "But I also believe it has more to do with our product than the name." Originally opened downtown in 2008, the company later opened locations in Redmond (Redmond Burger Company) and a second Bend Burger Company on Third Street in Bend, and closed the downtown spot to focus on the two others. Menu items also highlight some of Central Oregon's most popular locations, with burgers like The Bend Burger, Pole Pedal Paddle Burger, Broken Top Burger and other choices like the Newport Avenue Salad and the Paulina Peak Chicken Sandwich.
Bend Burger Company | 1939 NE 3rd Street, Bend | bendburger.com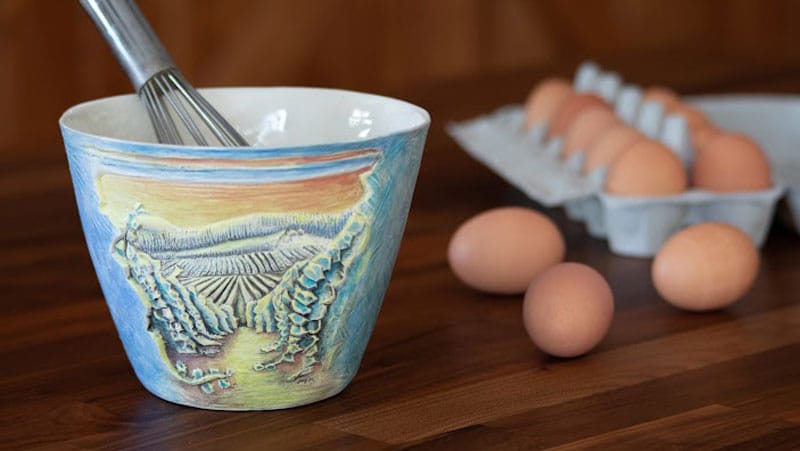 Handmade Bend
Fine art ceramics company Handmade Bend was conceived in early 2017, when couple turned business partners Kim Tallent and Michael Knapek left behind their high-pressure careers in hopes of starting a new artistically driven business. The duo dreamed up the new venture, utilizing Knapek's skills in fine art, mold making and bronze casting and Tallent's expertise as a photographer and business administrator to create nature-inspired pieces including sculpted ceramic vases, mugs and bowls. When it came time to name the company, Tallent and Knapek wanted to emphasize the time and care put into each product. "The 'handmade' part seemed to fit naturally," Tallent said. "Next, we focused on what inspired the business. The beauty in and around Bend was the inspiration for the first works, making Bend the next logical part of the name…and thus, 'Handmade Bend' was born."
---