On Bend's eastside sits a small industrial office building that connects thousands of students and hundreds of teachers to one of the nation's largest online education networks.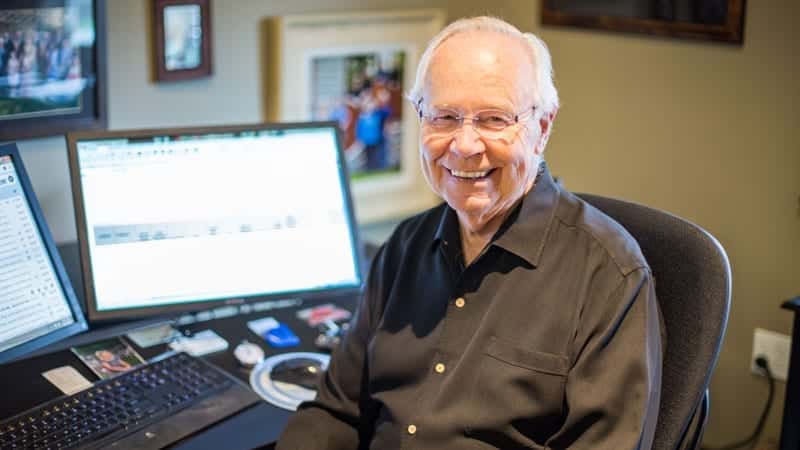 The man behind the operation is Dr. Ray Halm, former president of Concordia University in Irvine, Calif. and a pioneer in the world of online education. Halm brought Concordia University Education Network, or CUEnet, to Bend when he moved here to retire in 1998.  It's been two decades since Halm relocated to Bend, but he hasn't stopped working.    
From a new, high-tech studio on the city's east side, Halm and four full-time professionals serve as the "distance education" focal point for the Lutheran Church's Missouri Synod U.S. education system that includes 1,200 pre-schools, 880 elementary schools, 100 high schools, nine colleges and universities, two seminaries, and several international schools.
It all started in 1996 when Halm, then president of Concordia University-Irvine, launched the first CUEnet broadcast, with a course on the modern novel. Halm taught the class live to twenty-one students in Irvine, three students on the Concordia campus in Ann Arbor, Mich., and one student at Concordia University in Portland. The idea at the time was to share academic resources between the schools. Rather than ask the Ann Arbor and Portland schools to add the class, Halm folded the students into the modern novel class at Irvine.
For the next two years, Halm continued to expand CUEnet course offerings across the Concordia University system, while still serving as full-time president at the Irvine campus. Before long, Concordia offered sixty courses online. Then in 1998, after 18 years as president, Halm was asked by the presidents of the other Concordia schools if he would be willing to devote full time to distance education.
" [My] response, was that if it could be done from where we planned to retire, namely Bend, then we'd do it," he recalls. "The initial response, not surprisingly, was 'where's Bend?'" Halm said. Once everyone found Bend on the map, all agreed that Bend had the necessary resources to become a center of distance education for the Concordia system.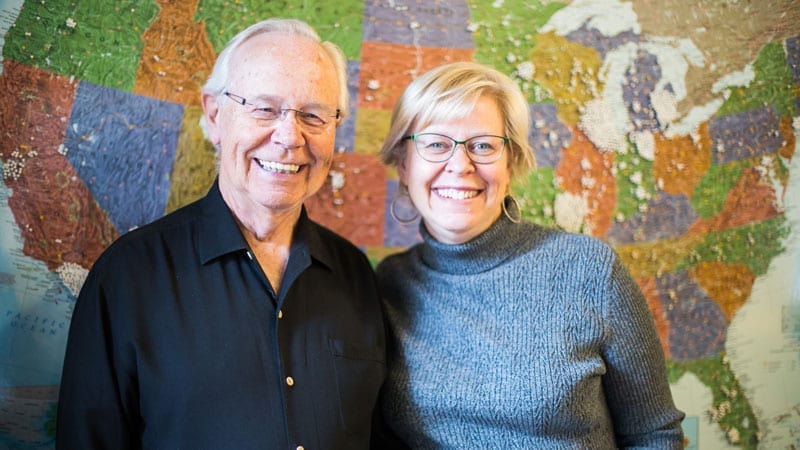 Over the next decade, CUEnet went far beyond a single online literature course, to a global internet operation helping the Lutheran Church to prepare teachers for its thousands of classrooms.
Developing teachers at the baccalaureate, master's and doctoral level is one of the church's biggest challenges. For decades, no one could become a teacher at any of its elementary or secondary schools without having graduated from one of the Concordia campuses.
In recent years, however, growing numbers of older adults have sought alternative avenues to teach in Lutheran schools. To properly educate these "late bloomers" in the doctrine and practice of the church, it established a "colloquy," or a program of religious instruction including eight academic courses, and a certification process. 
The response was immediate and dramatic. The number of applicants grew from less than ten to hundreds per year. The Concordia system couldn't accommodate these older adult students, particularly considering that many lived far from the nearest Concordia campus.
Our fear was that we would be seen as little more than a re-hash of correspondence education.

-Ray Halm
Using video textbooks and an electronic theological library, Halm and a corps of Concordia professors nationwide now conduct all of the colloquy studies over CUEnet from Bend.
Is CUEnet working? Halm shared the results of a survey of more than 2,000 colloquy students who reported, "97.5 percent satisfaction with the value of CUEnet learning," he says. Equally impressive are the reactions of the professors on the different Concordia campuses who participate in the assessment process. "Our fear was that we would be seen as little more than a re-hash of correspondence education. Instead, professors have continuously ranked the quality of CUEnet education equal to or better than the traditional, on-campus program," Halm said.
And, as the axiom goes, success begets success. Beyond the program for teachers, CUEnet also provides colloquy education for other ministers in the Missouri Synod, including deaconesses, directors of Christian education, and directors for family life. There is a teen education program, teaching aids, and a library for educators and laypeople.
Looking ahead, Halm believes that distance education will continue to enjoy increasing popularity within America's higher education system. "With the price of higher education becoming so difficult for many to bear, I believe we will see growing numbers of students acquiring their college and university education through distance learning channels like CUEnet," he said.