Recharge Sport is a new athletic recovery lounge in Bend's Old Mill District.
Written by Cathy Carroll | Photography by Alex Jordan
It's common to associate Olympians and elite athletes with the notion of using high-tech equipment and sophisticated techniques to recover from workouts. In Bend, however, everyday athletes as well as those striving to get back into shape are discovering that these methods can help them, too. Austin Baillie, a recovery specialist, trainer and massage therapist at Recharge athletic recovery lounge in Bend, said a range of people are increasingly tapping into the professional athletic recovery methods they offer. Baillie co-owns Recharge with, Renee Metivier, a professional distance runner and personal trainer. They created Recharge after living at the Olympic Training Center in Colorado Springs, where they realized that recovery is a crucial and often overlooked component of fitness.
The lounge in the Old Mill District is in some ways like a traditional gym, offering training and fitness classes, but with much of roughly 4,000 square feet devoted to massage, acupuncture and a spacious lounge with innovative recovery tools such as an infrared sauna, ice compression wraps, massage boots and sleeves, cold and hot tubs and cold lasers for electrical stimulation of muscles. These things can be used for recovering from injury, preventing the risk of future setbacks or increasing training potential.
Although these methods may be new to the general public, they have been around for a decade or two, said Baillie, adding that doctors have the technology to force blood flow to vital organs of their patients. "It takes a while for these things to move from the medical, military, and tech community to professional sports, then to college athletes and down to weekend warriors, as they become more accessible and affordable," he said.
At Recharge, NormaTec leg boots, hip shorts and arm sleeves use a sequential pulse system for external compression aimed at speeding the athletic recovery process. The sleeves mimic muscle pump and push out inflammation, old blood and lactic acid. "It feels like you're getting a massage with big gorilla hands," said Baillie.
He likened the therapy to a road crew after a crash, "It's clearing the debris so that workers, supplies and fuel trucks can get in to repair." Clearing out the metabolic waste helps alleviate muscle soreness and helps the body heal exercise-induced micro tears in muscle fibers.
On a recent Friday morning, people ranging in age from 20- to 60-something came through the lounge. Several relaxed in spacious, comfortable recliners while watching big wave surfing on a large flat-screen as the compression equipment went to work on them. Nearby, a couple of people sweated in the infrared sauna, which heats the muscles three inches deep to stimulate the immune system.
Amid it all, there was nary a sense of elitism. "Everybody with a body is an athlete," said Baillie. "It's about acknowledging that you have a body and it's a huge gift, and there's a responsibility to take care of it."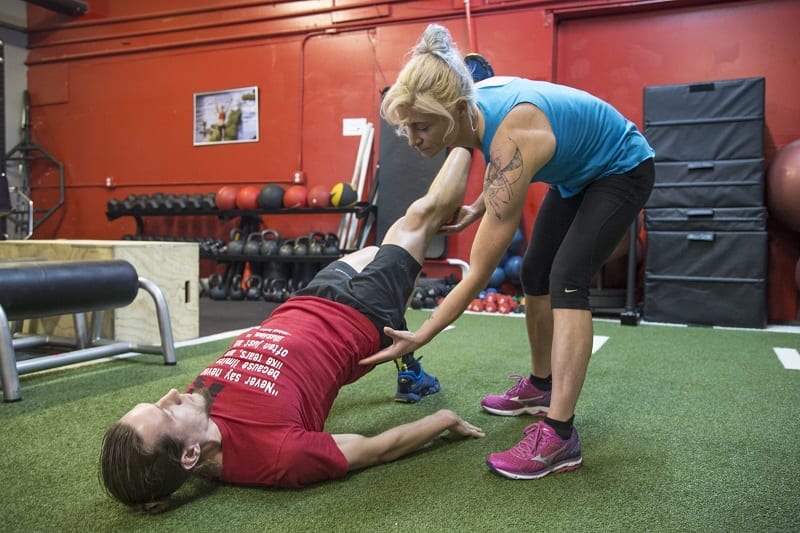 Expert Advice
An Ounce of Prevention
Austin Baillie—a recovery specialist, trainer and massage therapist at Recharge athletic recovery lounge in Bend—offered these easy recovery tips:
PREVENTATIVE MAINTENANCE
Do a simple, preventative maintenance routine, which can enhance recovery. Two times—or at least one time—a day, do a routine of squats, lunges, jumping jacks and push-ups (ten each), plus a plank for core strength. It's old-school, Jack Lalanne stuff, and that's why he stayed so healthy for so long.
HYDRATE
Stay ahead of thirst. The body is mostly water and the more you have, the more your body can eliminate waste. It helps with digestion, stress and sleep. It's like the oil of a car.
SELF-MASSAGE
Do self-massage with a foam roller. Or, have a massage therapist do gua sha, (a Chinese technique of scraping the skin). You can also use your own thumbs or have a partner use their thumbs to do this, moving muscles away from the bone and loosening scar tissue
Learn more at: rechargesport.com