There is something special about eating in a restaurant that is housed in a converted home. Co-owner of Cottonwood Cafe, T.R. McCrystal, greets a steady flow of breakfast, lunch and brunch diners who wait their turn for a table in the small café, feeling the successful transition of the eatery from special occasion dinner spot (Jen's Garden) to daytime hotspot. McCrystal's co-owner and chef, Jennifer, is behind the scenes creating remarkable dishes.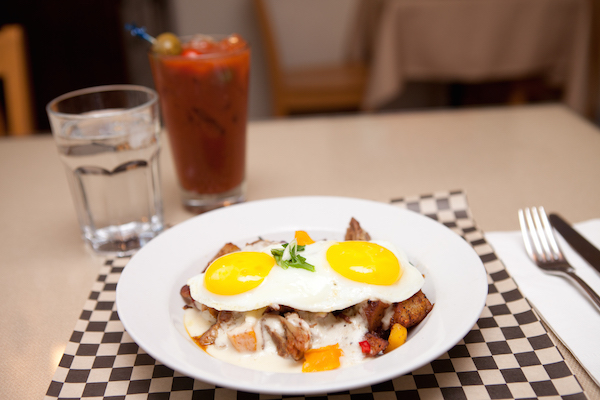 Portions are not especially massive, but neither is the price. The price point is, however, average. Quality versus quantity wins the row of the day. One of the heartiest and perfectly-executed menu items is the Hash it Out ($12), made with slow-roasted pork so tender it melts away almost before you can savor it with the fresh, seasonal vegetables and perfectly cooked fried potatoes. Two fried eggs topping the dish give it substance. A white cheese sauce will have you scraping the bowl clean.
Service was a little haphazard after the twenty-minute wait for a table, but the kindness of everyone working in the front of the house seemed warm and genuine. The cluster of locals and aspiring locals dining at the homey restaurant, a block south of the main drag in Sisters, is proof that the move to daytime was the right one for Cottonwood Cafe.