The Original Central Oregon Destination Resort Reinvented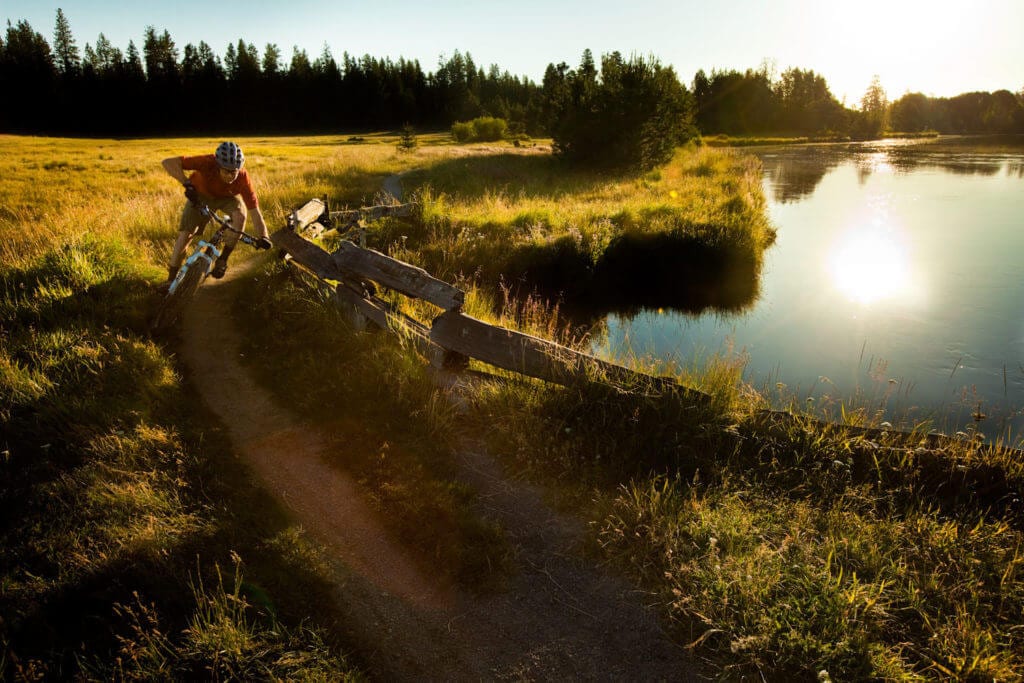 The thinking in Sunriver is that community happens not in lines, but in circles. Seventeen miles southwest of Bend, the same meadows where wagon trains circled in the 1800s still beckon travelers to come, slow down and lose themselves in the beauty of Central Oregon. Tucked into the woods, and dotted with eleven traffic circles (there is no circle eight), more than 3,000 acres comprise this community where travelers and locals alike come to get away from their overscheduled lives and out into nature.
These fields and forests have hosted a variety of people throughout history. During World War II, the government purchased 5,500 acres for Camp Abbot, an Army Corps of Engineers combat-training facility that housed thousands of soldiers from 1942 to 1944. The last remaining building, the officer's club, still serves as a place for social gatherings, hosting weddings and events as the Great Hall at Sunriver Resort.
In the late 1960s, a group of developers envisioned a residential community centered around a resort and Sunriver was born. Like home but without the hassles of regular life, the scenic vacation spot continues to entice visitors to come enjoy recreation like hiking, tennis, river kayaking, fly fishing, birding, horseback riding and world-class golf, as well as running and biking around Sunriver's more than thirty miles of paved pathways. Even with so many options for activity, perhaps the best part of Sunriver is the chance to really relax, whether it's in a hammock or a hot tub, and enjoy the luxury of leisure time.
In the summertime, guests can swing golf clubs at one of four golf courses, including Crosswater, a former host course for a PGA Legends Tour stop. Splash down a waterslide at aquatic centers such as SHARC or The Cove, Sunriver Resort's newest outdoor swimming facility. In July, Balloons Over Sunriver fills the sky with floating hot-air balloons, August brings in classical strings for the Sunriver Music Festival, and families flock to the Twilight Cinema Nights, showing free movies under the stars during August and September.
see
Benham Falls
One of the largest waterfalls on the Upper Deschutes River, Benham Falls is also one of the easiest and the most accessible hikes. Walk or bike the 6.6-mile paved out and back trail that connects Sunriver Resort to the falls, where singletrack side trails offer various route options for longer treks.
play
Golf, Swim and Stars
Recreation opportunities abound at Sunriver, which was designed with fun in mind. Play golf at one of four golf courses, splash in the water park at SHARC, go horse riding at the stables or see local wildlife up close at the nature center. At night, gaze up at the summer sky and see stars at the Oregon Observatory.
eat
Bistros and Brewpubs
Serving Sunriver since 2004, South Bend Bistro blends Italian influences with Northwest ingredients. Chef Jeremy Buck studied cuisine in Florence and incorporates local Oregon mushrooms and truffles into his menus. For something more casual, grab bites and beers at the original Sunriver Brewing Company located in The Village at Sunriver.
shop
The Village at Sunriver
From sports shops to retail, The Village at Sunriver features stores with souvenirs for all seasons. Seek stylish finds at Village Threads, take kids to the ever-popular Tumbleweeds Toys or stop in at Sunriver Books & Music to pick up a good read and hear a local author's book talk.
---