To walk into Kimberly Kinney's two-car garage turned sewing shop is to experience the antithesis of America's disposable culture. Outside, a string of Tibetan prayer flags greets visitors along with a modest sign for her business, Rugged Thread. Inside, racks of coats, ski jackets, pants and other pieces of gear flank a cluster of sewing stations, each of which is centered around a mid-twentieth century cast iron sewing machine. These are little relics of the era's industrial engineering, and bear more resemblance to the streamlined fenders of a 1953 Buick Skylark than to the plastic contraption my mother occasionally trotted out to the dining room table. The machines are the engine of Kinney's burgeoning gear repair business that she runs out of her Westside Bend home with one part-time employee and another on-call resource.
In a town that is obsessed with outdoor gear, Kinney is the gear equivalent of country doctor and emergency room surgeon rolled into one. Her specialty is zippers, that critical but often prone to failure wonder of industrial technology that has cut short the life of many a tent and jacket. But zippers are just the beginning: Kinney also works on any piece of fabric you can find in the outdoors, including sailboat sails. Her work is driven as much by personal philosophy as profit.
"I think there is an ethical component to keeping things in their life cycle," said Kinney, who began her career in outdoor apparel business after dropping out of college in Minnesota and chasing her passion for mountain living out West.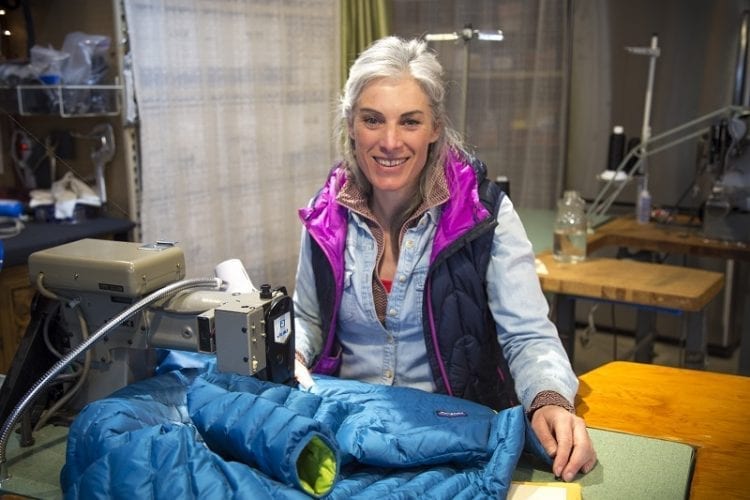 Kinney landed in Utah where she apprenticed with an experienced seamstress at Snowbird. Within a year or two, she had taken over the business, Wasatch Designs. Kinney sold the business at 26 years old and has worked off and on as a garment designer and consultant in the ensuing years. She came to Bend in 2004 when her husband's work brought them here, and dedicated the next few years to raising her kids. She decided to get back into the gear repair business five years ago, and has been growing her business gradually since then. She now counts REI and Giant Loop as clients. She also does most of the gear repair for Mt. Bachelor employees.
It's labor-intensive work and the margins are slim. Still, there is room to scale up with more warranty contract work and improved efficiency. Just as importantly, said Kinney, is the need for an increased awareness that a broken zipper or even a fabric tear doesn't mean the end for an otherwise functional piece of gear, adding that "education is the biggest component of gear repair." ruggedthread.com