Few beverages embody the summer season more than an icy cold slushy. Best slurped down with a big, colorful straw, slushies bring back a bit of childhood nostalgia on hot summer days. Add a little alcohol, and the slushy becomes all grown up, and a favorite choice for warm weather visitors to Bend's Boss Rambler Beer Club.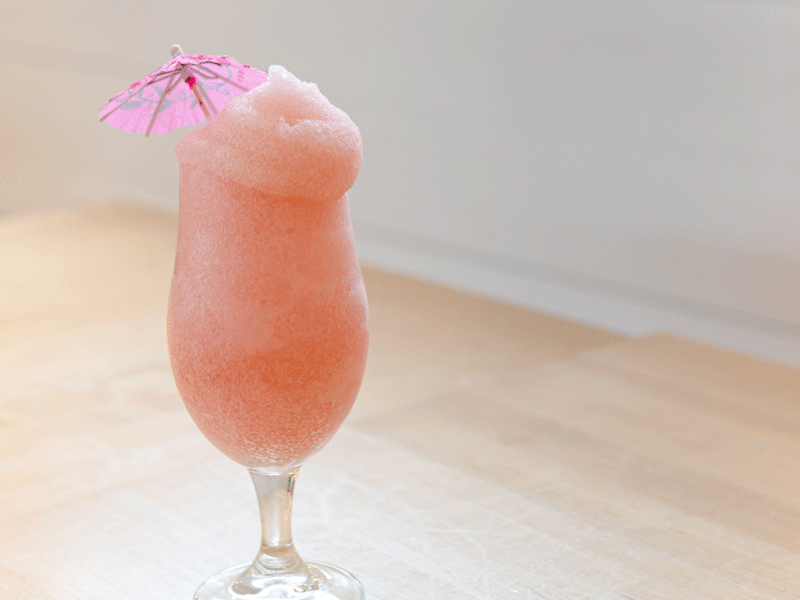 "When it's ninety degrees outside here, it's definitely a nice thing to help cool you down," said Kate Molletta, who co-owns Boss Rambler with her husband, Matt Molletta, and brewer Jacob Bansmer. A few months after opening the beer club in 2019, the team rented a small slushy machine to do frosés for Fourth of July. "It was a single barrel machine, and it would sell out quickly, and it would then take an hour to do a new batch," Kate said. After the holiday, the team invested in a two-barrel machine of their own, and then an additional three-barrel machine to meet the growing demand for the drink. Having five barrels going at the same time allows Boss Rambler to offer up a variety of flavors, including the traditional rosé-based wine slushies, POG (pineapple, orange, guava) rosé and champagne-based varieties such as the margarita-flavored, slush-a-rita. Those who prefer one of Boss Rambler's award-winning beers can also partake in the fun by adding a slushy beer foam topper to their brew. Slushies come in a festive hurricane-style cocktail glass or in a group-sized pink flamingo bowl to enjoy with friends. For those on the go, slushies are packed up in a zip-top bag that holds a straw, like an "adult Capri Sun," Kate said. Just remember not to slurp it down too fast, or else—brain freeze.
Boozy Slushy at Home
Pour one bottle of rosé wine into a baking pan or ice cube tray and freeze overnight. The wine will not freeze solid because of the alcohol.

 

Create strawberry simple syrup by combining 1/2-cup water and 1/2-cup sugar and microwaving until bubbling, about 90 seconds. Stir until the sugar dissolves, add 1 cup freshly chopped strawberries and refrigerate overnight. Strain through mesh strainer.

 

In a blender, mix the (mostly) frozen wine, 4 tablespoons of the strawberry syrup, 3 tablespoons of lemon juice and blend. Pro tip: Add 1/4-cup vodka for an extra kick.

 

Add a straw and enjoy slurping the slush!
---