When each new client comes to Neal Huston with a dream home or commercial space in mind, he sees the project as a puzzle to be solved. Sometimes the pieces include a steep lot with a large pine tree in the middle, while other times it's a building with history and new owners with a vision. Whatever challenges are at hand, Huston and his team at Neal Huston & Associates are up for it, often preferring more complex projects over repeating the same old thing. "We love working with clients who are interested in a variety of different styles. That's what keeps us going," Huston said. "We love to try new things and think outside the box." An open-minded approach to new ideas and a talent for creating timeless designs that still check the boxes on a client's wish list has helped Huston thrive as an architect in Central Oregon, where he moved more than five decades ago to begin his career.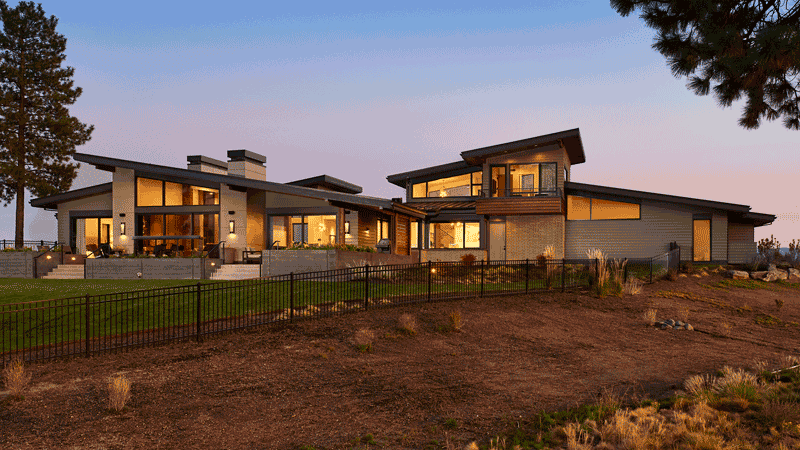 The Road to Central Oregon
An Oregon native who grew up in McMinnville, Huston as a teen headed to college still debating whether to pursue medical school—to become a doctor like his father—or architecture. By his second year at Stanford he had chosen the latter, and went on to earn his bachelor's degree in pre-architecture there and subsequently completed an additional architecture degree program at the University of Oregon. While wrapping up his education, Huston saw a position in Central Oregon listed on a job posting board. The role primarily involved establishing a design department and designing residential and summer homes for a resort community north of Sisters called Black Butte Ranch. Bend development firm Brooks Resources had recently bought the 1,800-acre property, and were advertising 1,250 building lots to Oregonians looking for a place to "listen to the quiet" of Central Oregon. "They were just contouring the golf course by the time I started," said Huston, who moved to Central Oregon for the role in 1970. "The idea was that we would provide home designs for free to people who bought property there," Huston said. The position was a learning experience for Huston, who gained on-the-job insights working with engineers, architects, interior designers and contractors, as well as the developer.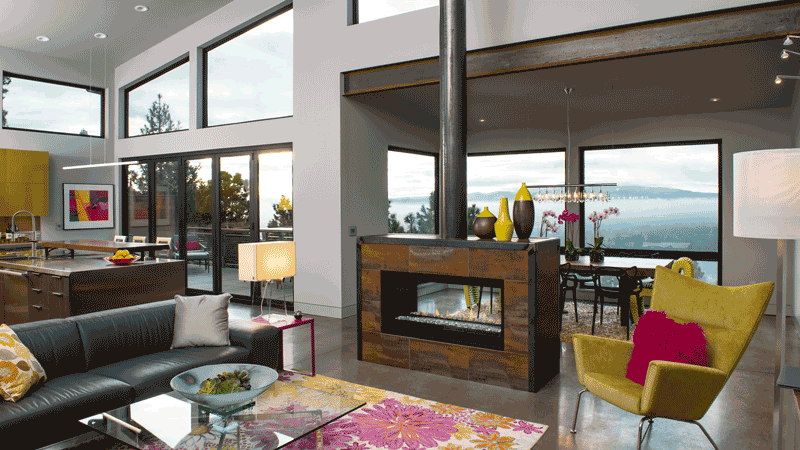 Building a Business
By 1976, Huston had finished his architecture apprenticeship and went on to partner with two other fellows to form Waldron Huston Barber Architects, which later became Huston Barber Barrett Turner. By 1988 he went out on his own and formed the enterprise he's known for today—Neal Huston & Associates. While larger firms have come into the region and others have grown, Huston has kept his team small over the years and focused on a select number of residential and commercial projects, all of which he's personally involved with. Huston partners with two other architects—John Gerard and Mark Ward—who have both been with the company for more than two decades, along with his wife/business manager and an office coordinator, both of whom ensure the business side of the operation runs smoothly. Huston's longevity in Central Oregon means he's built up countless relationships with area builders and contractors, helping each local project come together efficiently and effectively. 
Developing Bend
Huston's home design projects are all over Central Oregon, with an emphasis on custom home architecture in Bend. While there is a draw to larger projects with seemingly limitless budgets, Huston said he often prefers projects that have unique stipulations and challenges. Several years ago, Huston's team was tasked with building a new single-level home for a client. While that sounds simple to begin with, Huston said the project needed to be designed on a steep lot, which had a mature pine tree in the middle that the clients wanted to keep. The solution was to thoughtfully design a home around the tree and construct part of the home on steel stilts to allow for the single-level living the clients were seeking. In the end, the successful project was dubbed the "Tree House," Huston said. 
On another project, Neal Huston & Associates worked with a couple looking to move from a three-story home into a newly built single-level home in Bend's Hillside Park neighborhood. "They still wanted a nice view up on Awbrey Butte, but they wanted it on one level," said Huston, who described the clients as close friends. The resulting design maximized the south-facing views that the couple had loved at their previous home, in 3,000 square feet of living space on one level. 
While Huston's work has most recently focused primarily on custom residential projects, his commercial work is visible all over Bend. Downtown, Huston helped transform an office space for attorneys into the Deschutes Brewing Public House, enclosing an exterior courtyard that would become the main dining room of the brewery restaurant. Just a block away, Huston was also the architect tasked with preserving the history and sentiment of Eddie's Corner, a longstanding Bend auto dealership slated to become a bank at the corner of Northwest Wall Street and Northwest Newport Avenue. Huston worked out a design for the new bank that kept the dealership's massive lava rock pillars with a sign reading "Eddie's Corner," appeasing auto dealer Eddie Williamson, while building a more contemporary building on the site to house the bank.
Test of Time
With more than fifty years in the architecture field in Central Oregon, Huston has become an expert in designs that stand the test of time. He may suggest variations to ultra-contemporary styles that might currently be in vogue but may not live as comfortably five or ten years later, and advocate for designs that prioritize functionality, sustainability and timeless style. In the coming years, Huston hopes the company continues its current trajectory, pursuing new designs and styles that spark creativity and the problem-solving skills that drew Huston to architecture in the first place. "I love the creative part of having a client come to you with their ideas, no matter the budget or size of the project," Huston said. "The goal is to create functional buildings that live large and hopefully exceed the client's expectations."
Neal Huston & Associates | 520 Southwest Powerhouse Drive, Suite 621, Bend | 541-389-0991 | nealhuston.com
---