Barb Myers knows that designing a functional, purposeful home works best at an unhurried pace. Mapping the ideal placement of kitchen utensils and appliances, considering optimal lighting and thinking through room layouts are tasks best accomplished over time, as residents get to know their spaces. That was the case at least for Myers, who moved with her husband and son to Bend from Portland in early 2016. They found the Valhalla Heights neighborhood in a wooded area in northwest Bend, and settled on a 1970s single-story ranch home that would be in need of at least some remodeling.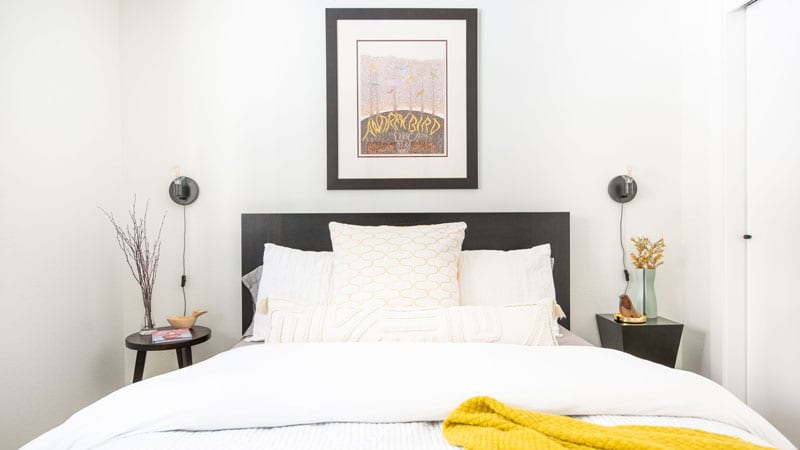 The Valhalla Heights Remodel
"We liked the neighborhood and the price point at the time," said Myers, a designer who has taught digital media and filmmaking at the college level and recently branched out as an interior design consultant. After settling on a 2,100-square-foot home on a slightly hilly lot on the edge of the neighborhood, Myers moved in, along with husband Eric Eggers, a consultant for medical device companies. A zipline from one tree to another in the front yard was a draw for their son Sebastian, now 10, and the family requested the sellers leave the zip setup behind.  
The family knew a remodel was in order but didn't rush the process. They painted the inside of the home to give it a fresh, clean look, while Myers began dreaming up the rest of the changes. By 2019, it was time to execute the bigger projects.
The family worked with Bend's RD Building and Design to knock out two walls and open up the small kitchen space. This created a larger great room, with a spacious dining area, a cozy seating area and a connected living room space, with seating, a fireplace and television cabinet for occasional movie nights. An oversized kitchen island offers more kitchen prep area for Myers, who enjoys cooking and baking, and two skylights above the island help to brighten up the space. The kitchen's one wall of cabinetry isn't excessive, and Myers spent time taking careful inventory of which kitchen gadgets they actually used, carefully designing cabinetry for only what was needed and ditching the rest. An old telephone nook was taken out and some dead space behind the kitchen was turned into a small walk-in pantry for food storage.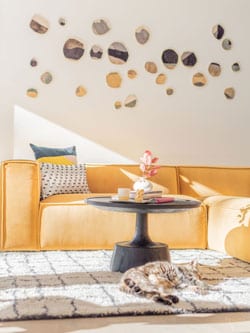 "It's one of the easiest remodels that I've done in the last five years, because she had everything lined out for me," said Colby Summers, who heads up the remodeling division for RD Building and Design. Summers said Myers was extremely organized and knew exactly what she wanted, and that shows in the finished product. "She hit it out of the park," Summers said. 
Myers' interest in design is coupled with an interest in art, and unique pieces were integral to guiding the design of the entire space. Above the seating area in the main room is a collection of abstract, circular clay pieces, each filled with fabric, created by artist Carolyn Hazel Drake. They're clustered together in a way that seems random, but loosely depicts the mountains of the Sawtooth Range in Idaho. The art sits above a velvety orange couch over a shaggy rug, nods to the home's 1970s history.
In the dining room, the art is a series of prints from Rafal Oblinski, a Polish illustrator and designer of Opera house posters whom Myers learned about while living in New York. Her home there was down the street from the School of Visual Arts where Oblinski was an instructor. "I was drawn to the surreal, dreamlike and psychological nature of his work," she said. The dining table and seating benches are topped with beautiful white oak slabs, welded together by a neighbor, Mike Caligure. Together the dining area, seating area and kitchen island seating will provide ample spaces for guests down the road. "We used to entertain a ton, and will again someday," Myers said.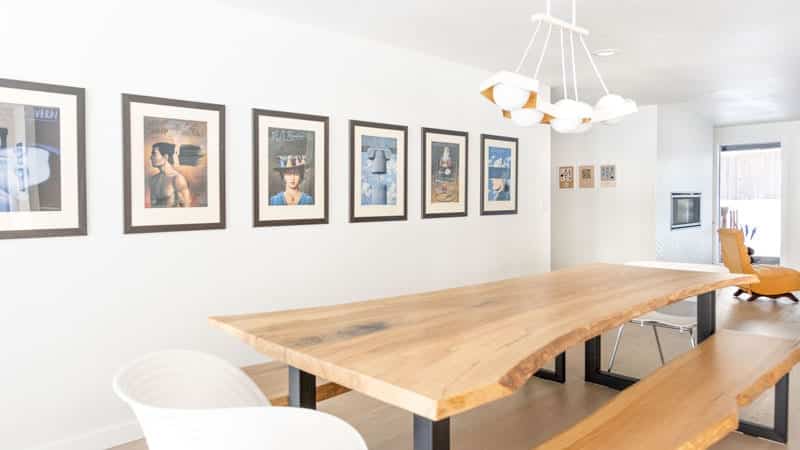 Down the hall, each of the home's three bedrooms—a main bedroom, Sebastian's room and a guest room—offer simple, clean design, with thoughtful art pieces and colorful details that match the modern-yet-retro color scheme of the home. In the main bedroom's bathroom, extra space was realized by expanding into a coat closet, allowing room for a double vanity and spacious shower. White oak is seen through the home, including the cabinets in this room and flooring throughout.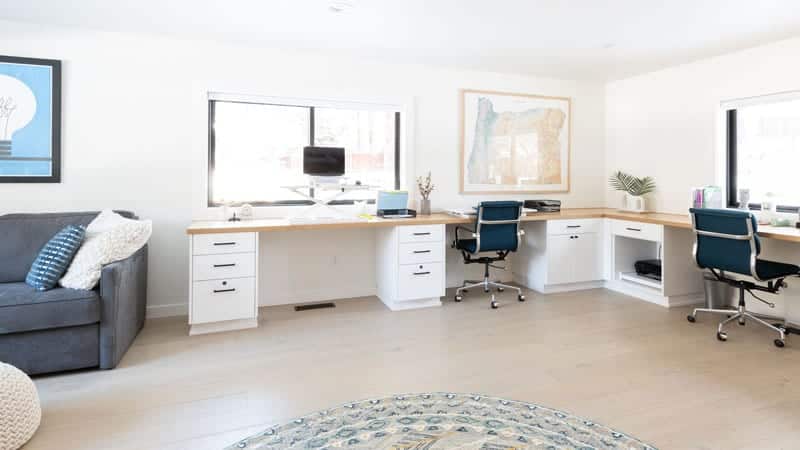 A spacious bonus room has space for three workstations, a convenient addition finished before the beginning of the pandemic. There's also a library for the family's book collection, and plenty of window views of quail and squirrels outside to enjoy. "It's really kind of our catch-all space that we didn't know we would really, really need," Myers said.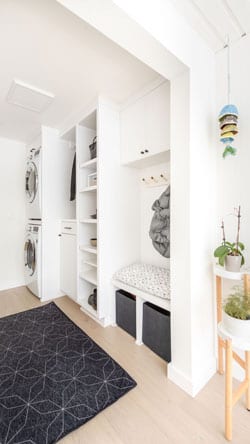 Off the main living area is one more room that mixes function and design—the laundry room/mudroom/sunroom, a favorite spot for Sunny, the family cat rescued from the shelter in Redmond. The long room includes a purposefully designed laundry station, with cupboards and space to hang freshly cleaned clothes, while also serving as an unloading spot for gear after a day of Nordic skiing; a favorite activity for the family.
The interior remodel took about four months and was followed up last October with an exterior paint job, transforming the home's outside with a crisp black—Sherwin Williams Caviar—paired with real copper gutters offering a modern, elegant accent. While the home today is mostly done inside and out, Myers is still looking forward to future projects, such as redoing the backyard's entertaining areas and landscaping. She's enjoyed the slow process of designing over time, and the result is a livable home with carefully considered details. "If you have the time, it's nice to do slow design," Myers said. "You really feel like you get to know the home. I think it's okay to take your time."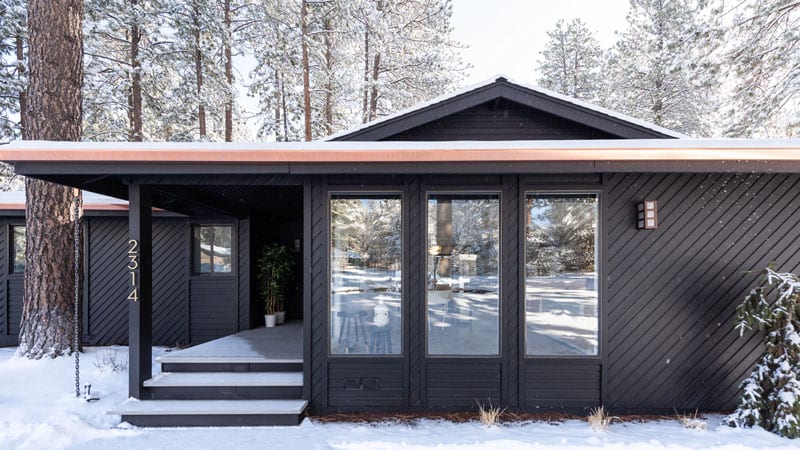 Myers is using the Valhalla Heights remodel as an example piece for her new design consulting business, Branch Home, where she helps other homeowners navigate the same process she's gone through with the family's home. She's worked with some neighbors in the Valhalla Heights development, and expects to see a growing number of remodeling projects take place in the coming years, especially in west Bend, where many homes are older and ready to be refreshed. Myers said, "I love breathing new life into what's already existing."