The best plants for your bathroom that can withstand a range of temperatures and humidity.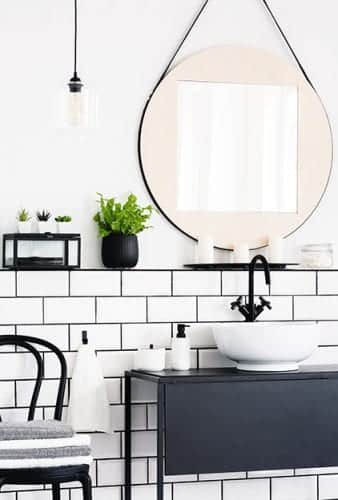 A pop of green can liven up one of the smallest and perhaps most overlooked spaces in your home when it comes to design, the bathroom. Houseplants keep the air around you fresh and add life to a room, but choosing a plant that will thrive can be difficult. In a bathroom, which can have wide temperature fluctuations, low light and varied degrees of humidity, choosing the right plant for the space is necessary. Here are a few options of plants that would work well in any contemporary bathroom design and space.
Asparagus Fern
asparagus aethiopicus
The asparagus fern is a low maintenance plant that is neither a fern nor a vegetable, but its needle-like leaves are soft and airy and will provide a magical quality to this greenery. The plant should be kept moist as well as in varied shade, which makes the bathroom the perfect place to decorate with this plant in your home. Place it on a shelf and let the needles hang for a dreamy effect.
Air Plants
tillandsia
Air plants come in hundreds of shapes and sizes and require much less attention than other house plants. If they are submerged in water every two to three weeks and misted every few days, given enough bright filtered light and allowed to dry before placed in a glass terrarium, the plants should thrive in a bathroom setting. Each air plant can look unique and is an affordable addition to bathroom greenery.
Aloe Vera
aloe barbadensis miller
These hardy succulents will do well in a bathroom with bright, indirect light and humidity—just be sure to keep the plant in a pot with a hole in the bottom so that it can drain any excess water. The serrated leaves, which contain that cooling elixir you can your use on your skin after a day in the sun, will grow up and out. Place your aloe on a wooden bench in an underutilized corner for a spa-like atmosphere.
Viper's Bowstring Hemp
sansevieria trifasciata
Commonly known as the snake plant, Viper's Bowstring Hemp is a plant that comes with the added wow factor of height that will elevate any bathroom design. A benefit to the snake plant is that it can be forgotten about for weeks at a time and continue to thrive in your home, while still helping cleanse the air of toxins. The blend of green and yellow in the plant will complement many different design aesthetics.