photo courtesy Think Wild Central Oregon
As cities in Oregon continue to develop and expand, the likelihood of animals getting caught in the middle between city and country increases. Human activity increases the rates of injured and orphaned animals and contributes to local species becoming endangered and even extinct. Think Wild was founded as an effort to both save these vulnerable species and educate people about how they can help.
Think Wild is a wildlife hospital and conservation center based in Bend. In its first year, the organization responded to more than 100 calls to take in, rehabilitate and release injured Central Oregon animals. While Think Wild's goal is to accept any animal in need, operations last year were limited by incomplete construction that made housing large animals impossible. 
All operations are overseen by Think Wild's Executive Director Sally Compton and Director of Wildlife Rehab Pauline Baker, who have both been with the organization since it began in spring of 2020. Together, this dynamic duo works around the clock to make sure that every facet of Think Wild is running smoothly, and with an organization like this, that means that the duo has to take on new and unique challenges all the time. 
The story is the same for the organization's volunteers. Debra Merskin, a professor of media studies at the University of Oregon, said volunteering always keeps her on her feet. "Some days you're pouring concrete to help finish a new enclosure, and other days you're bottle-feeding baby squirrels."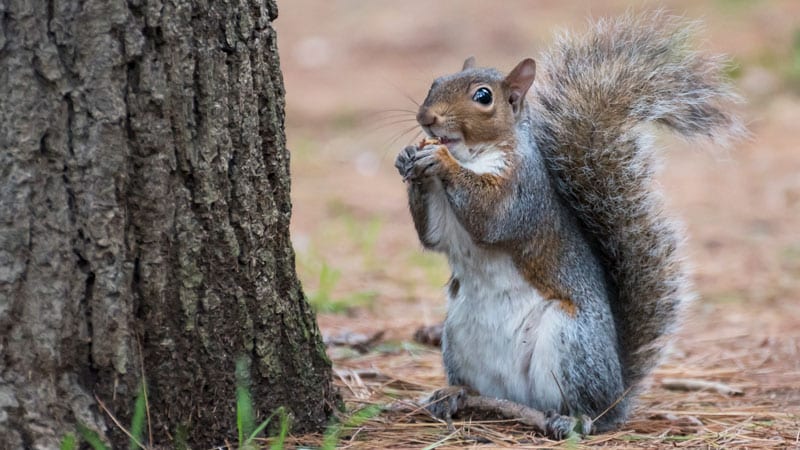 Merskin got involved partly because her research in media studies pertains to how certain animal species are portrayed in popular media, and how these portrayals affect animal rights. She has always been passionate about volunteering her time to help animals, and finds that Think Wild gives volunteers a chance to experience something very impactful. Merskin recalls one such moment when she was bottle-feeding baby squirrels. This task had to be done in a way so that the baby squirrel did not grow any attachment to the person holding the bottle.
"As much as you might want to form a bond with the animals, you cannot forget that the goal is to eventually release them back into the wild. As much as you want to hold that cute baby squirrel and feed them every day, you know that would actually hurt their chances of survival," Merskin said.
Merskin realized that the best thing that can happen to any animal that gets rehabilitated is to never interact with a human again. She compared animal rehabilitation to parenthood, in that they share the goal of preparing something or someone to become successfully independent.
This responsibility is carried by Compton and Baker as they forge Think Wild into the future. Each is optimistic about what can be achieved this new year. Think Wild will be completing construction on a much larger space that can accommodate different kinds of animals, like birds of prey. They plan to  expand educational programs to help prevent the need for animal rehab, and add many new internship positions. 
If you find an injured animal, call Think Wild's animal help hotline at 541-241-8680. 
To volunteer, please visit the "Get Involved" tab at thinkwildco.org.