Thom Marchionna handcrafts "insanely great" furniture, under the name Able Fine Woodworking, from childhood experience and high-tech design.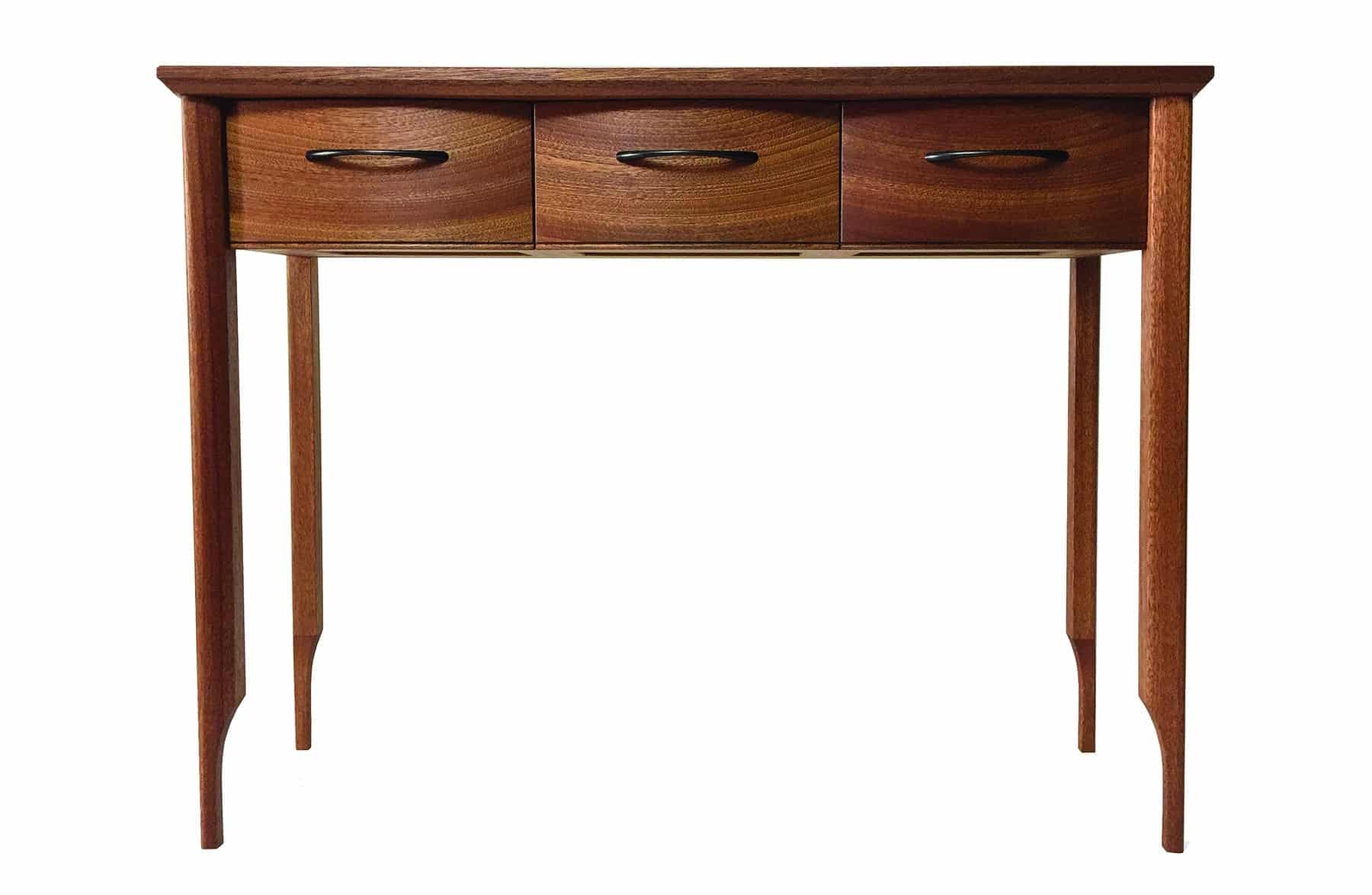 An irresistible impulse to examine, admire and even run one's hands over the wood is all part of experiencing Thom Marchionna's furniture for the first time. An African mahogany coffee table is slit down the middle in wavy, book-matched grain, joined across the gap by contrasting square accents. If set on its end, the table could qualify as wall art. The seat of a chair gives the illusion of being made of woven leather but is, in fact, sturdy cherry.
All his pieces—from tables, chairs, dining room sets, doors and boxes—blend soft, beveled edges and organic contours with hard geometric lines in unique, modern designs. "I spend a lot of time refining, playing with proportion, simplifying lines, matching grain and getting it to harmonize throughout the piece," he said. "Paying close attention to using the wood in the best possible way is my way of honoring a tree and giving it a new life for generations."
Marchionna spent his early childhood in western Pennsylvania, the son of a cabinet and woodmaker. "Dad picked me up after school, took me to his shop, gave me scrap wood, a hammer and nails, and let me do what I wanted." The family later moved to the San Francisco area in the 1960s where his father built apartments and custom homes.
The younger Marchionna framed houses during college summers, installed cabinets, expanded houses, built fences, decks and took an interest in furniture. "[Woodworking] became a necessary pastime," he said.
His design aesthetic that elevates simplicity as the ultimate sophistication came from an entirely different direction. In 1986, Marchionna was working at an ad agency in Los Gatos when he got a call from Apple Computer offering him a job.
"I wasn't sure. I had a five-year-old son and a mortgage. I was drawn by the salary and Apple's insistence on great design," he said. "It turned out to be an eight-year PhD course in design. It was an environment for powerful simplicity where less was more and an insistence on making things insanely great." He became a senior creative director who managed dozens of people and designed print and marketing communications for Apple.
"Apple changed people's lives for the better, especially in adaptive technology, and allowed the ordinary to become the extraordinary," he said. But competitive market forces in the 1990s altered Apple's focus, causing it to pull back from the founding spirit. "Over time, much of the joy [of the work] receded as well," he said.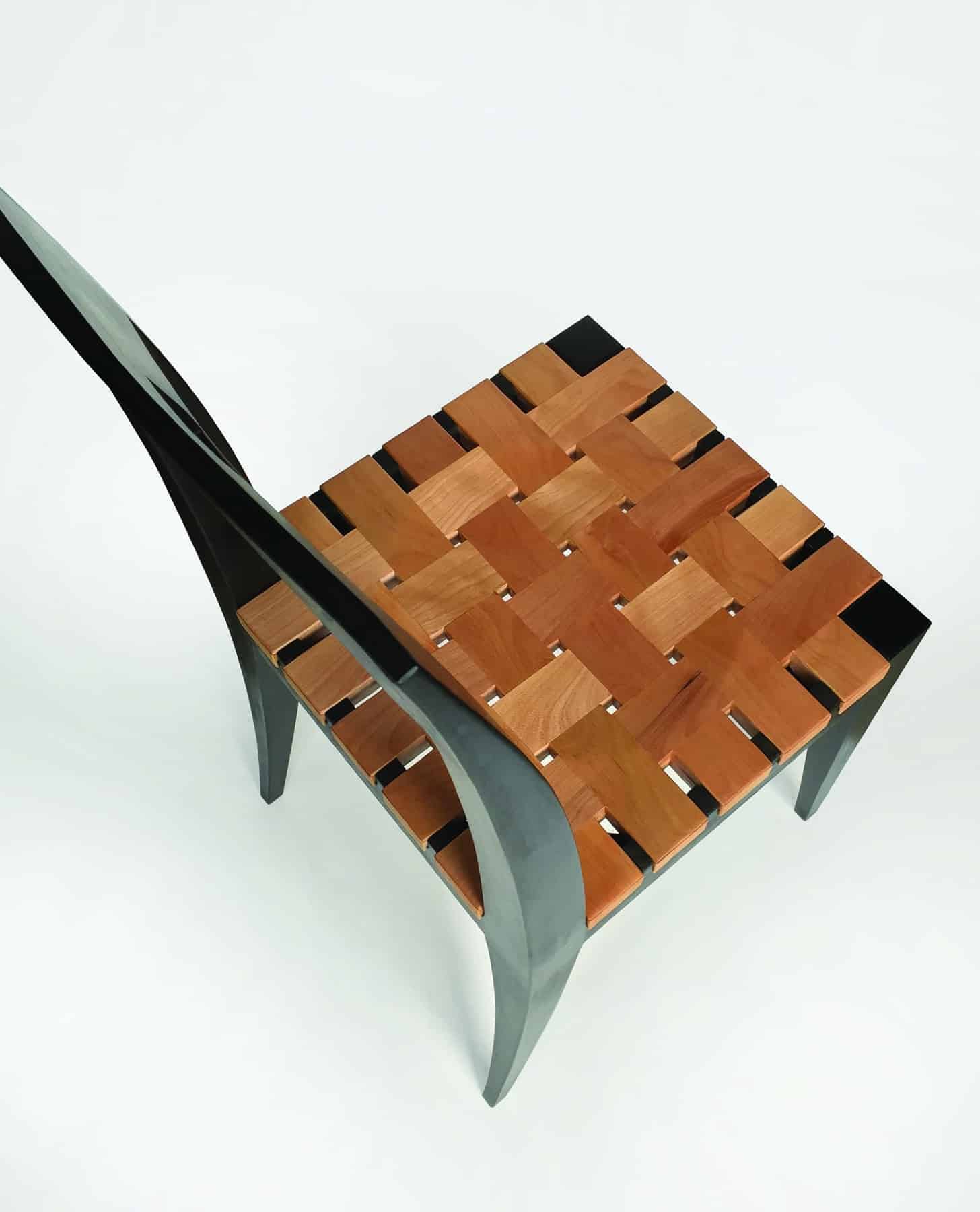 He left Apple in 1993, working as a creative on his own and in ad agencies in Silicon Valley and Portland. For the next two decades, his work paralleled the ups and downs of the high-tech industry.
By 2016, he was ready to pivot out of the agency world to working with his hands. He chose a familiar medium: wood. He moved his family to Central Oregon for the same reason that many others come here. "I saw that Bend had 290 days of sunshine, it was a small town, had good food and the people were nice," he said.
Today, Marchionna spends his "second act," as he calls it, in a soaring warehouse on Bend's northeast side handcrafting furniture under the name Able Fine Woodworking and using traditional joinery methods. The space is filled with wood he collects from Hardwood Industries in Bend, and Crosscut Hardwoods and Goby Walnut, both in Portland, along with clamps, design sketches, prototypes of furniture under construction, saws, sanders and all the necessary tools to make commissioned pieces costing from hundreds to thousands of dollars for a growing list of clients.
"It's design and execution for people who want something they'll cherish and pass on," he said. Some might even say Apple's original mission of "insanely great" can be appreciated in the handiwork of one former employee.