Making a case for a building a garage you actually want to spend time in.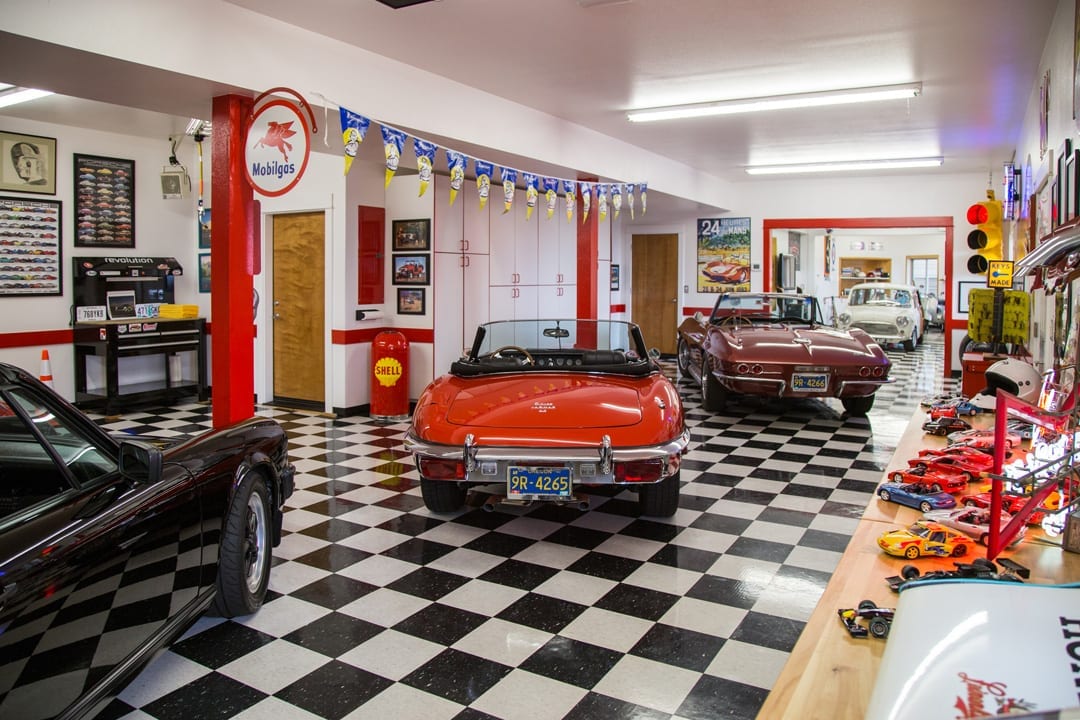 Man Cave. Dude Dungeon. Bro Bungalow. Mantuary. Man Land. Whatever you call this sacred room, don't go looking for floral chintz pillows, French country decorative candles and definitely not for potpourri within its boundaries.
Women know our homes are not our man's castle, they are our castle. We make most of the decorating decisions in most of the rooms, which is why the men in our lives get full domain and decorating decisions in their man caves.
A poll by servicemagic.com, a home improvement marketplace, found that 40 percent of surveyed homeowners had a man cave, while another 13 percent reported they had one in the planning stages. "Guys want one room they can retreat to and indulge in," says Mike Yost, founder of mancavesite.org and co-author of The Man Cave Book. "Man may no longer rule over his castle, but he's still king of the garage, or his man cave."
Bend homeowner Tim Scianamblo has been building the perfect man cave for five years, since he moved to Central Oregon. His 2,800-square-foot garage/man cave is as large as his actual house, and next spring he plans on expanding it so that it would be 800 feet larger than the house.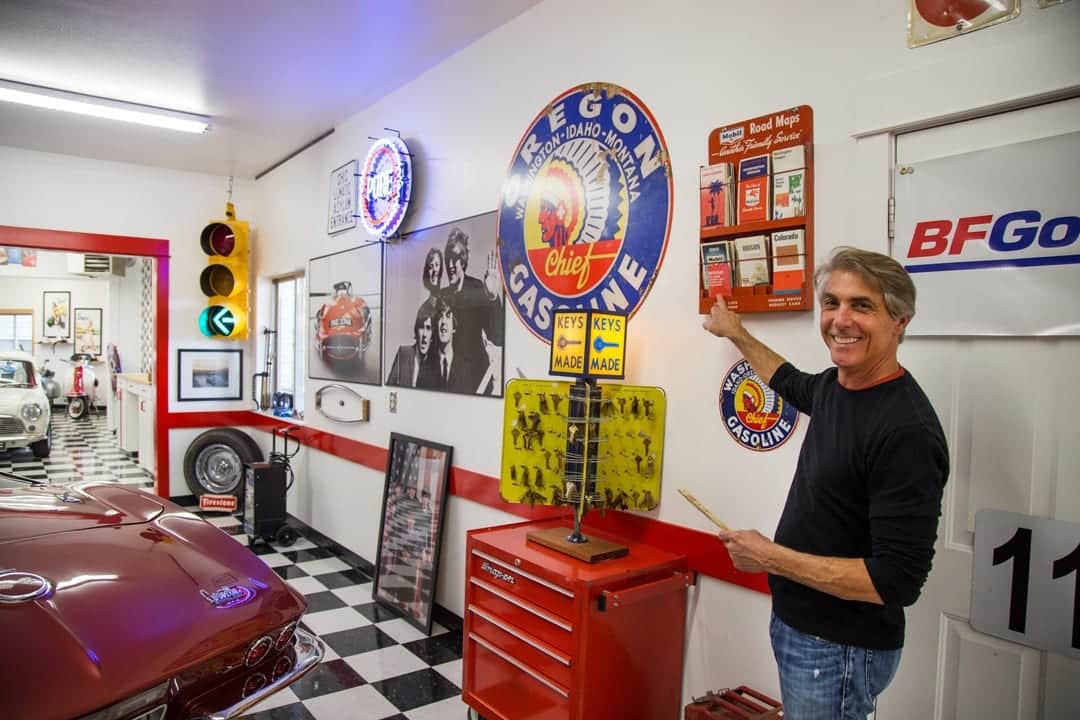 "My whole life I've dreamed of a garage like this," said Scianamblo, as he spread his arms in his man cave. Some men collect sports memorabilia for their man caves, like a Seahawk's football jersey or sports trophies from yesteryear. Scianamblo's decorations are taken to another level. He collects classic cars, and all things auto related, including a full size traffic light, a real parking meter that takes coins, and an 8-track player that still plays his Peter Frampton and Pat Benetar tapes. The space is really more like a car museum, with high gloss black and white checkered flooring.
"When I was 16, I owned a 1957 Chevy, and my fascination of cars grew from there." Scianamblo's car showroom houses collector cars in mint condition, among them a red 1971 Jaguar E-Type. "Enzo Ferrari once said this was the most beautiful car ever designed," explained Scianamblo, running his hand over the hood of this aerodynamic car. "There's a ton of history in this car, and it's also found in New York City at the MoMA [Museum of Modern Art] as part of its permanent art collection."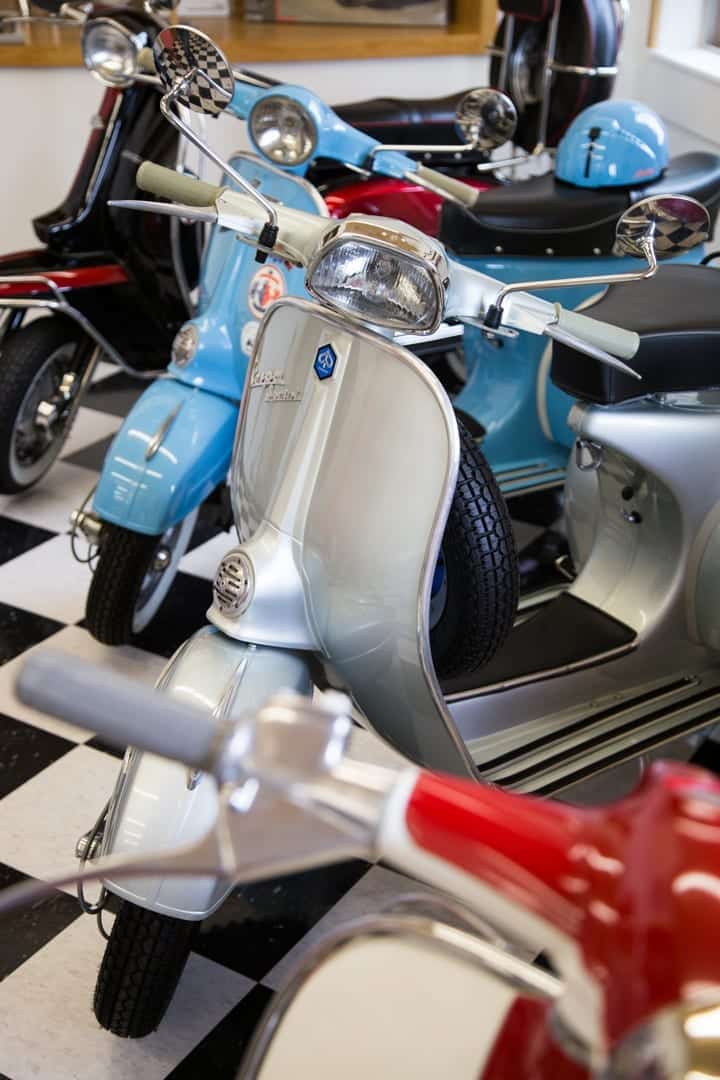 Next to the Jag sits a 1967 Corvette C-2 Stingray in Marlborough Maroon and three Porsches: a black 1987 Porsche 911-Targa, a taxi yellow 1973 Porsche 914 and a fire engine red 2012 Porsche 997.2 GTS, which Scianamblo has taken on the race track at the Portland International Raceway a few times.
The garage door is graced with a large Batman poster, and Scianamblo jokes that this is his bat cave, but he does share it with his wife, Jane Dunham, who has her own classic car. "Yes, this is my white 1968 Mini Cooper Innocenti from Italy," said Dunham, gesturing at the exterior wood trim. "When I drive it, people are always waving at me and stopping me. It's really fun to drive."
Tucked away near the Mini Cooper are four beautiful vintage Vespa scooters. On a vacation to Vietnam, Dunham and Scianamblo rented these vintage scooters, and liked them so much they brought them home as souvenirs.
Scianamblo said his man cave isn't for entertaining. "This is just a place I want to be in, and to get away to when I have free time." But Dunham laughed at that notion. "Every dinner party we host, we always end up in here."