For Heylen Thienes, principal designer at Tricorn Black in Bend, designing a space is much more than a marriage of function and form. It's about getting to know her clients, building a foundation of trust and working to create a feeling that reflects their unique energy. For the utility room and half bathroom remodel of an Awbrey Butte 2001 Craftsman, Thienes seamlessly wove in meaningful and functional elements to create an accessible, refreshing and appealing space that makes even the most tedious daily chores feel inspired.
To begin the design process, Thienes took the time to learn about her clients' lifestyle, experiences and personal tastes. She inquired about a favorite vacation, a collection or hobby and a beloved movie, asking whether the set design or the costuming spoke to them. "These bits of seemingly mundane information tell me so much about my clients' energy and about what makes them tick. These answers are the core of their design language, and I use it all as inspiration as I am envisioning their space," Thienes shared. 
What began as a tight, dark mudroom, laundry room and half bath, an area that lacked adequate storage and functional accessibility, was transformed into a visually- cohesive space, addressing her clients' interests, lifestyle and goals while staying true to the integrity of the home's architectural details. Inspired by her clients' love of the colors, shapes and patterns of the Mediterranean, Thienes wove in elements and hues that evoke the vibrance and warmth of the Andalusian region. A collection of art hanging in the home formed the inspiration for the patterns and tonal range in the selected finishes, further grounding the space in her clients' specific taste and interests.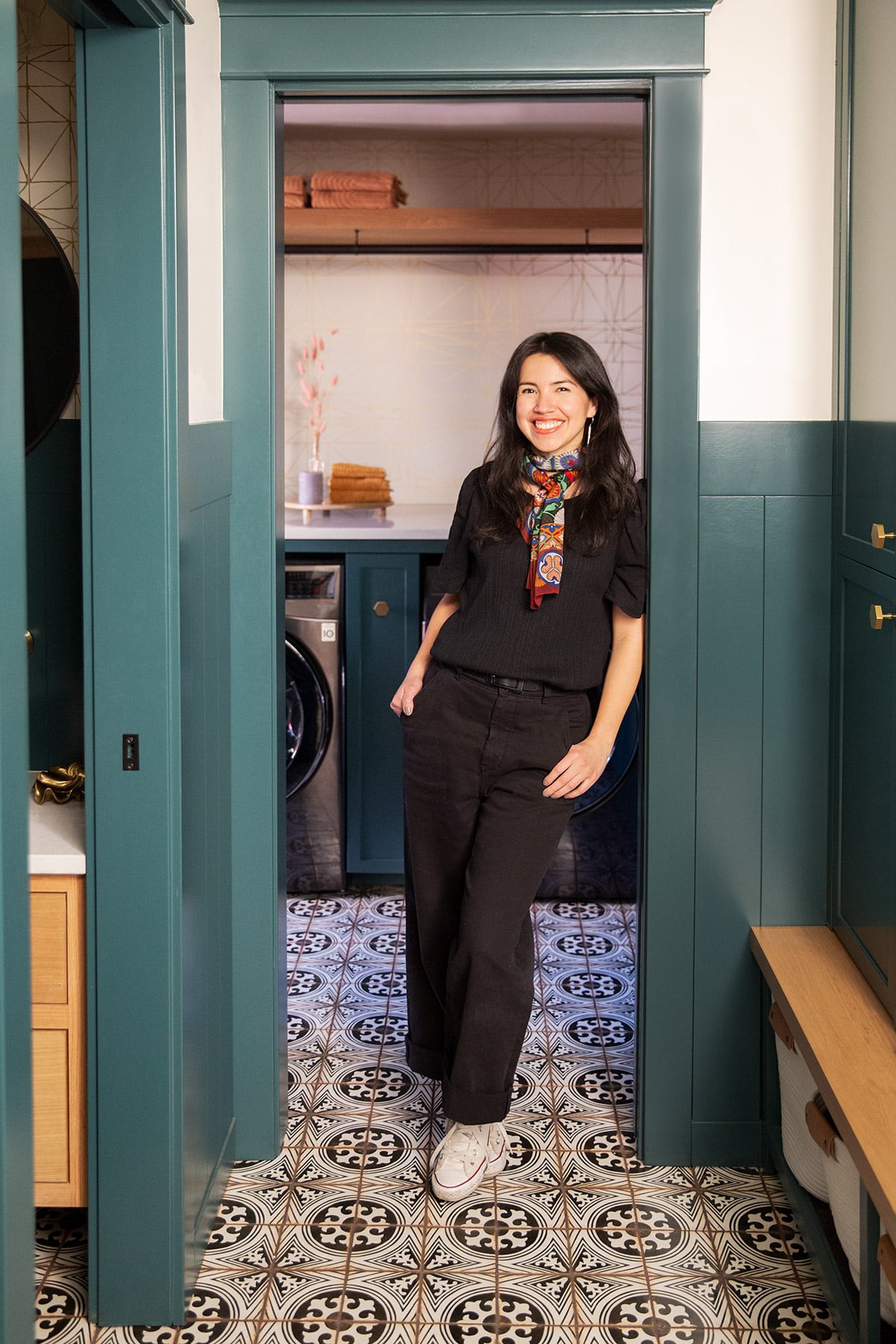 The challenge of making a small, darker area feel lighter and more spacious requires creative design expertise and carefully selected materials. Thienes chose recessed lighting to illuminate the utility room and half bath and a door with a glass panel to allow extra light to flood in. Using a variety of reflective and matte materials in different hues, Thienes arranged them in a visual hierarchy, starting with lighter and brighter ones at the top to attract the eye upward, adding wallpaper and bright paint above the chair rail to capitalize on their high reflective value. Taking advantage of the light coming in through the new door, Thienes selected polished countertops and balanced them with wallpaper in a matte finish. The millwork was painted the deep blue of Still Water by Sherwin Williams in a semi-gloss sheen to bounce light and further enlarge the feeling of the space. 
While these design features add sophistication and depth, the first element to grab the eye is the patterned tile on the floor. Thienes selected the polished finish and motif of the tile, "not just to reflect light, but to create visual interest so you focus on its beauty rather than the size of the space it is covering." The tile choice has layers of functional dimension beyond its aesthetic appeal. As a laundry room and mudroom, the reality of the day-to-day life of the mudroom was carefully considered. This is a lively space where laundry is done, dogs come and go from their time outside, kids drop their backpacks and sports gear, and the hustle and bustle of life doesn't stop for constant cleaning and organizing. A continuous four-inch-by-four-inch patterned tile throughout the entire floor not only eliminates the need for transitions and chances of tripping, but the small-scale tiles also provide grip for an activity-filled room and serve to hide life's daily dirt by distracting the eye with visual appeal.
For the plumbing fixtures, Thienes chose contemporary brass to balance the millwork details and the adjacent patterns and colors. Considering all the different ages and stages of life represented in her clients' families, Thienes selected a floating vanity and lever-style handles for operational ease, creating a functional and elegant design. When choosing finish details, Thienes explained, "We used finishes that either add to the character of the home, such as the crystal handle for the closet, or blend in seamlessly, such as the new pocket door added between the mudroom and laundry room."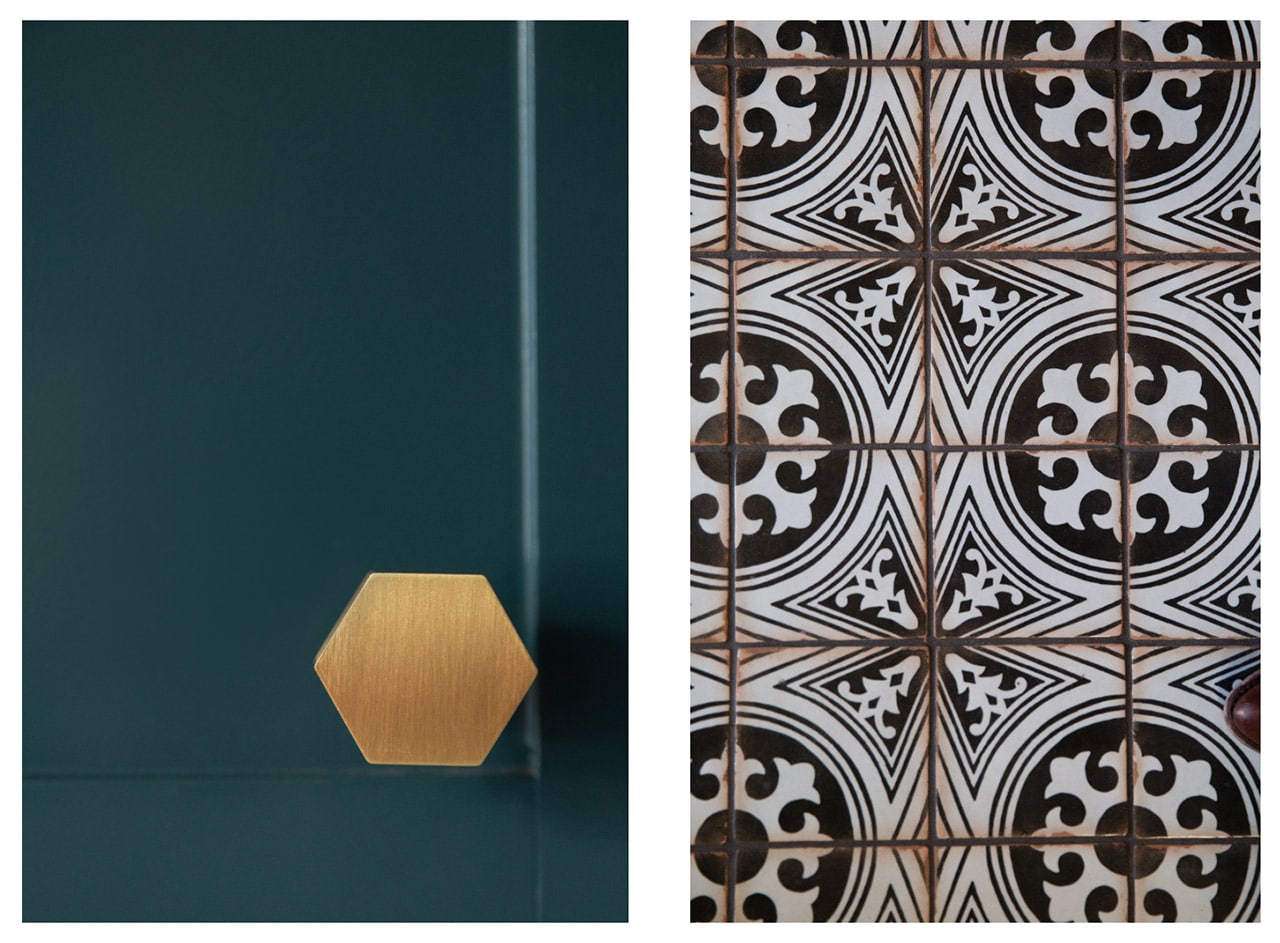 This small project reflects a larger design sensibility. As a child growing up admiring the intricate architectural details and artistry of the buildings and museums of London, Thienes brings a historical depth of knowledge and appreciation that informs her designs every day. "I believe that our experiences, and nostalgia, shape our design language," she said. "This information serves my design process as I work on each client's unique needs and style." 
She shared how thinking about the way people want to feel and what they may want to achieve in a particular room became the impetus behind her career path. "This is what drew me to interior design in the first place, the opportunity to create spaces that meet both our physical and emotional needs, affecting our mood and even attitude toward mundane chores like laundry." 
Thienes believes in respecting the architectural bones of a home and making design choices to create longevity, save costs in the long run and build attainable sustainability into the project goals. The remodel achieved its vision on every level, resulting in a re-imagined space that makes a utility room an inviting and vibrant place to be, bringing beauty to life's everyday functional details. See tricornblack.com.  
Contractor: Darrell Wruck, Black Diamond Builders | Cabinets: Bauhaus Craftsman, Inc. | Wallpaper: Hygge & West, installed by Central Oregon Wall Covering | Counters & Tile: Contract Furnishings Mart | Plumbing Fixtures: Fixture Gallery
---