For fans of Italian cuisine, biting into a forkful of pasta cooked, sauced and paired to perfection is one of life's simple joys. Taking in a warm bowl of noodles is even more rewarding and comforting in contrast to frosty outdoor weather.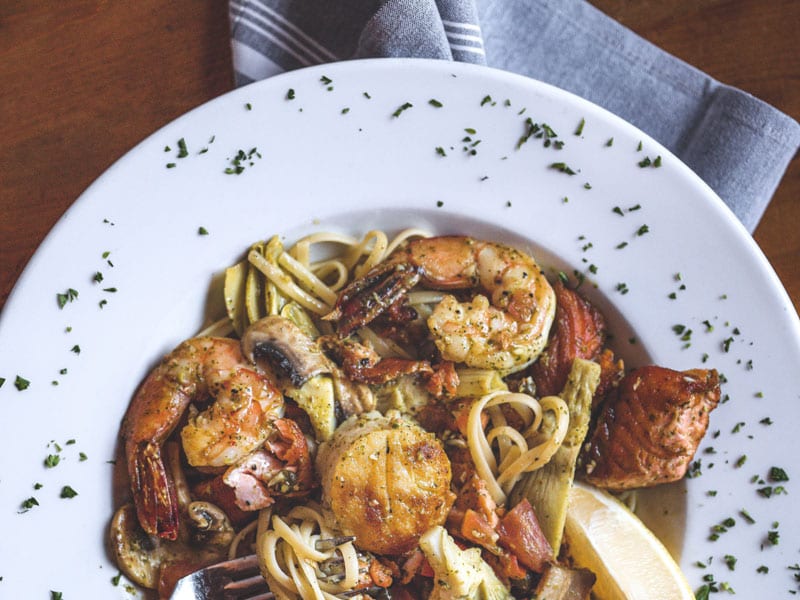 Bend and Central Oregon are spoiled for choice when it comes to downright delicious pasta dishes by local restaurateurs. Winter is the perfect time to indulge in a plate of pasta cooked by the experts when you need a break after a week of cooking or to make your date night that much more special. Local chefs and restaurant owners show off their favorites here—dishes that entice newcomers and keep locals coming back again and again for more. Dine in or take out—it's noodle time!
Trattoria Sbandati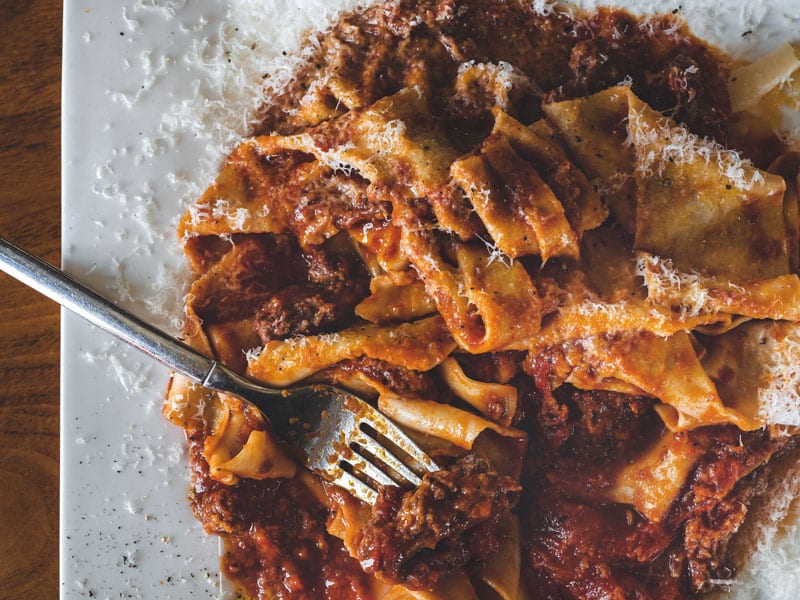 Asked to choose a favorite dish to share, Trattoria Sbandati's chef Juri Sbandati said the decision would come down to "sharing the memory of a landscape or the memory of a person, both nostalgic and intimate." Sbandati chose pappardelle alla chiantigiana, highlighting the memory of the Tuscan landscape.
"I close my eyes and I see happy pigs roaming in the Tuscan countryside, rolling hills, red wine flowing through a land that was made what it is today by the hard work of stubborn people," said Sbandati, who was born in Florence, Italy.
To make the dish a "small, humble tribute to that land, terra," and his fellow Tuscans, Sbandati said, the pappardelle, a wide, ribbon-like pasta, must be made by hand. To start, Sbandati stir fries together extra virgin olive oil and chopped leeks, then adds sausage from Primal Cuts Market, fennel and plenty of Chianti wine. In the end, paired with the pappardelle, the result is a spicy, shiny tomato sauce with pieces of sausage, topped with parmigiano reggiano cheese.
Brickhouse
As executive chef at Brickhouse's locations in both Bend and Redmond, Sharon Fabiana has honed the restaurant's seafood pasta featuring an alfredo sauce over years' time. The fettuccine dish includes jumbo prawns, fresh sea scallops, Alaskan-caught salmon and halibut when it's in season (from about the middle or end of February all the way to around the second week of November), sourcing West Coast seafood whenever possible. Serving fresh seafood with cheese isn't classic in Italian cuisine, Fabiana explained, but because of just the right balance of cheese used in the dish—it includes an eight-month aged parmigiano reggiano—it's been a hit at Brickhouse.
"I wanted to do something a little different. I thought something more rich and powerful would work well," Fabiana said. "Sometimes I like to step outside the box. That's what makes a chef a chef—anyone can probably make a recipe, it's about choosing to infuse flavors."
The pasta is highly popular and often requested on what are Brickhouse's busiest nights of the year: New Year's Eve and Valentine's Day.
Jackson's Corner
You can thank Oregon's mushroom-friendly environment for keeping fusilli pasta on the Jackson's Corner menu year-round, according to Parker Vaughan, executive chef and partner. The ability to access fresh mushrooms any time of year has made fusilli pasta a staple menu item pretty much from the start. Jackson's Corner makes fresh pasta on a near-daily basis, often in about 10-pound batches, using flours from Bob's Red Mill and another Oregon producer, Camas Country Mill.
Fusilli isn't the only shape they make, but it's the cut of choice for the mushroom pasta dish, as its twists offer the perfect vehicle for mushroom-on-mushroom flavor, including maitake, oyster and wild mushrooms. Cooked to order, Vaughan's team pan roasts mushrooms, mincing them and adding garlic, thyme, shallot and sherry vinegar to make a duxelles that's then added to the cream-based sauce with pancetta. Then more big "meaty chunks" of mushrooms are pan roasted and added to the plate.
"Comfort food is something that is growing even more now although it has always been popular," Vaughan said. "It's a nice and hearty, earthy dish."
Marcello's Cucina Italiana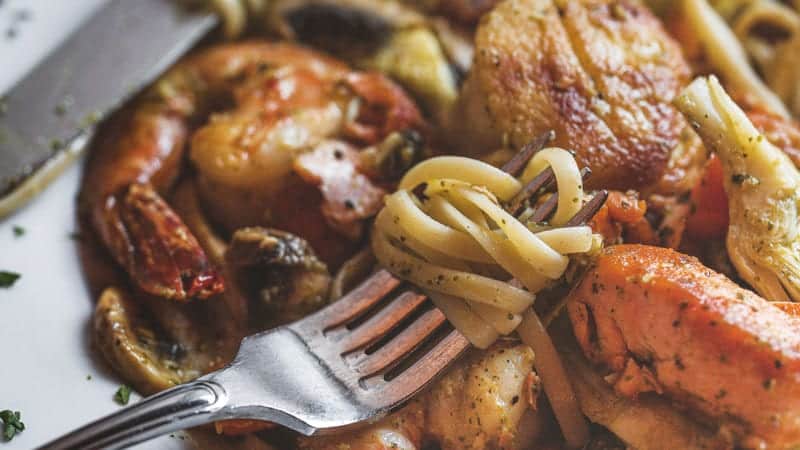 Though the kitchen's recipe has surely been tweaked over time, linguini puttanesca has been served at Marcello's Cucina Italiana in Sunriver since it opened forty years ago, according to Thad Lodge, owner, who has been part of the ownership for the past fifteen years. When guests order the savory seafood dish, they may ask after the flavors it features or which wine it pairs best with. The interesting bit that doesn't always come up? The origins of the dish's name.
"Puttanesca" in Italian is said to roughly translate to "lady of the night"—or what we might more bluntly call "prostitute." Lodge tells it like this: "at the establishments where men would frequent in the past, they would often have a seafood stew cooking." Over time, the stew and the term for the ladies who often served it became one in the same.
In most cases, puttanesca dishes use a red sauce, often with anchovy, but at Marcello's it's a little different, as they've added their own spin to the Italian classic, Lodge said. They toss linguini in a light basil pesto white wine sauce with jumbo prawns, sea scallops, wild salmon, artichoke, mushrooms, capers and diced tomatoes.