What's Brewing, Jeff?
Written by Jon Abernathy
Photos by Alex Jordan
Silver Moon Brewing kicked off 2017 by introducing new beer to its packaged lineup and revamping the branding for its bottled beers. On shelves now are its year-round cans of IPA 97, Chapter 2 casual ale, and Get Sum and Mango Daze pale ales. New beers available by twenty-two-ounce bottle are the seasonal oatmeal pale ale called "Ahh…Freak Oat!" from the brewery's Lunar Series and the Alpha Project series' return of a favorite, Crazy Horse double IPA. We touched base with Silver Moon's Head Brewer Jeff Schauland for a mini Q&A about the beers.
---

Crazy Horse is a popular double IPA. Can you tell us about the genesis of that beer?
Crazy Horse has been around Silver Moon longer than I have! From what I have been told, it is meant to be a throwback style PacNW Double IPA. It's more bitter (higher IBU) than what we tend to brew and uses a whole lot of the classic "C" hops: Cascade, Centennial, Chinook and Columbus. I think that it was an effort to bring back a flavor from the earlier days of craft brewing when we didn't have 100 different choices in hops.
What was the inspiration behind "Ahh…Freak Oat!" from the Lunar Series?
There really weren't many oatmeal pale ales out there. We wanted something that was going to have some originality. It's so hard to find anything brand new these days—we just wanted to make something that isn't already plastered all over the market. We also wanted to make a beer that was true to the essence of Silver Moon and the Pacific Northwest.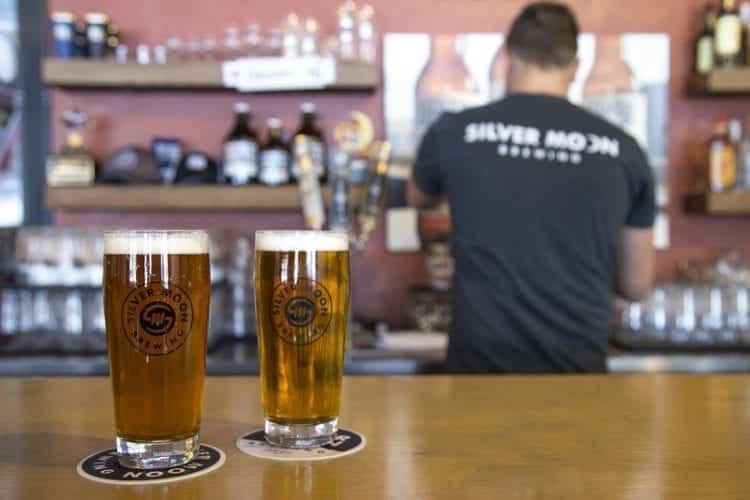 Was "Ahh…Freak Oat!" a difficult recipe to get "right" or were you happy with it right away?
Honestly, we have been fairly lucky. This was done as a five-gallon homebrew batch that I brewed with the help of my neighbor. From there I brought a growler of the finished homebrew to work where the brewers tried it. We all gave our two cents as to what we thought and how it could be improved. From those notes, I re-wrote the recipes to be brewed on our thirty-barrel system in Redmond. I think we were all very pleasantly surprised as to how well they turned out, having been scaled up from a five-gallon system. It was better than what we had expected and has become a favorite among the brewing team.