Luthier and woodworking artist Will Nash inhabits the space where trees meet design.
In his warehouse studio parking lot, Will Nash wields a chainsaw, making strategic cuts into a hefty maple log, set on end and towering several feet over Nash's head. Sawdust, airborne moments before, comes to rest as fine as cosmetic powder on Nash's auburn-gray beard and black-rimmed glasses. "It will be a couple embracing," he said, pausing before the rough column. "Right now I'm trying to find the heads."
With just a few slashes, it's easy to see something akin to Gustav Klimt's "The Kiss" trapped in the splintery trunk, the medium for a commissioned sculpture that Nash had begun that afternoon. The monolith had brooded for a week outside his workspace on Northeast 2nd Street, in Bend's burgeoning Maker's District, before Nash began sawing.
"There'll be an embrace, there'll be a kiss, hopefully not a grotesque representation of love," he said. "There's a lot of ways to mess up a sculpture, but there's a lot of ways to fix it, too."
A creative commission such as this is the kind of work that Nash thrives on, and finds the most satisfying use of his talents, although he can build practically anything—grand homes from the ground up, cabinets, trellises, Jewish wedding chuppah canopies laden with lichen and moss, guitars, ukuleles and custom furniture, as well as art and functional objects.
This artist-craftsman's life seems to have been all about wood and inspired design right from the start. He grew up in a geodesic dome on forty acres of old-growth juniper in Tumalo in the 1970s, making forts and climbing trees, which were not just play structures, but plant playmates. "I had my first conversations with trees," said Nash, 49, who as a child could sense the memory locked in the gnarled, twisted trunks.
His mother had fled the Bay Area to realize her dream, living on the expanse of land with her five children. She built the geodesic dome home in 1976 when Nash was 7, and the hemispherical thin-shell was hailed as a way to shelter more people comfortably, efficiently and economically.
After Nash graduated from Redmond High School, he studied literature, art and architecture at the University of Oregon, did post-graduate study in architecture at Portland State University and went to work at Wieden + Kennedy advertising in Portland.
After five years, he was laid off. He began making musical instruments in a tiny, 1920s converted carriage house in Portland and teaching himself the craft, poring over books by master luthiers. He and his wife, Donna, moved from Portland to Bend in 2002 (before daughters Doris, 14, and Eleanor, 11, were born) and he began building mandolins for Breedlove Guitars here.
"It was bootcamp luthiery," said Nash, whose rough hands reveal his preference for working with them. "I was finishing three mandolins a day, and starting three a day. I built more than 800 mandolins there." Bend guitar maker Jayson Bowerman worked there at the time, too, and trained Nash, a quick study who single-handedly built all the company's mandolins for a several years.
"Will's greatest strength lies in his ability to work with clients, internalize their design intent and translate that into any style of piece," said Bowerman. "His training as an architect gives him the ability to work with small, intricate minutia to large, architectural size work. His gestalt is the ability to use his wide-ranging skillset for anything he puts his hands to, and so it's hard to pigeon-hole someone so versatile, who can embrace so many different styles."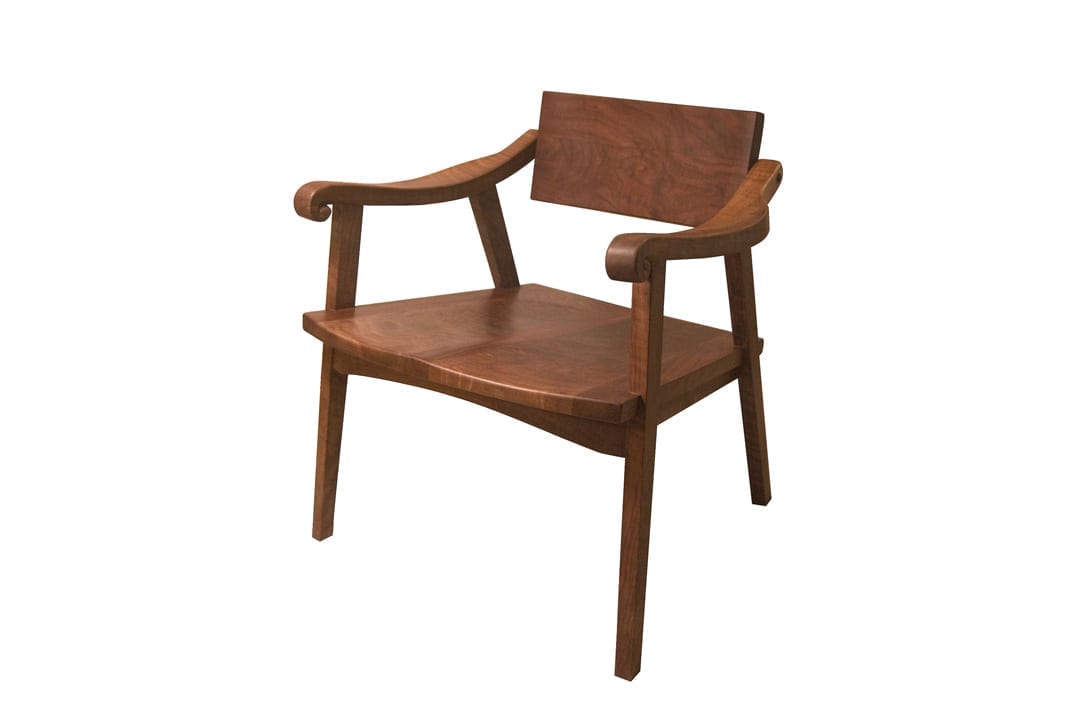 For example, he cited architectural-scale pieces such as the pulpit that Nash created for the Unitarian Universalist Fellowship of Central Oregon. Nash won the commission to create eighteen pieces for the new state of the art, LEED-certified, Unitarian building in Bend in 2014. The scope of work included the altar, minister's tables and chairs, entry benches and information kiosk.
On the other end of the spectrum are Nash's rocking chairs, made in the iconic style of Sam Maloof, the first craftsman to receive a MacArthur fellowship, known as the "genius grant."
"It's not the easiest to build, and Will mastered that chair construction, which is a high art form," said Bowerman.
Back in his studio, Nash had completed a twelve-foot-long conference table of ambrosia maple. The surface consists of two highly polished slabs that meet seamlessly, imparting a Rorschach-test-like mirrored effect, with the natural edge of the tree on the perimeter. In a saucer-sized gap in the wood, perhaps where a tree branch had grown, Nash inlayed mussel shells gathered by the client and his daughter. Nash had crushed and suspended the shells in epoxy, smoothly filling in the void. The table base, inspired by George Nakashima, father of the American craft movement, was a first for Nash.
Yes, he loves the process of crafting, but the culmination satisfies him most. "It's the human exchange, that's the best part. I get to be creative, and you get something [in return]."