Tracy Treu is a Nebraska girl who believes in Midwestern values such as good manners, authenticity, being neighborly and having a strong commitment to family. She is also a yoga teacher with a colorful vocabulary and perfect comedic timing. If you've ever been fortunate enough to take one of her classes, you have probably heard her spin on yogic philosophy "do no harm, but take no s#@t." I sat down with Tracy over gin and tonics to discuss football, yoga, teenagers and giants.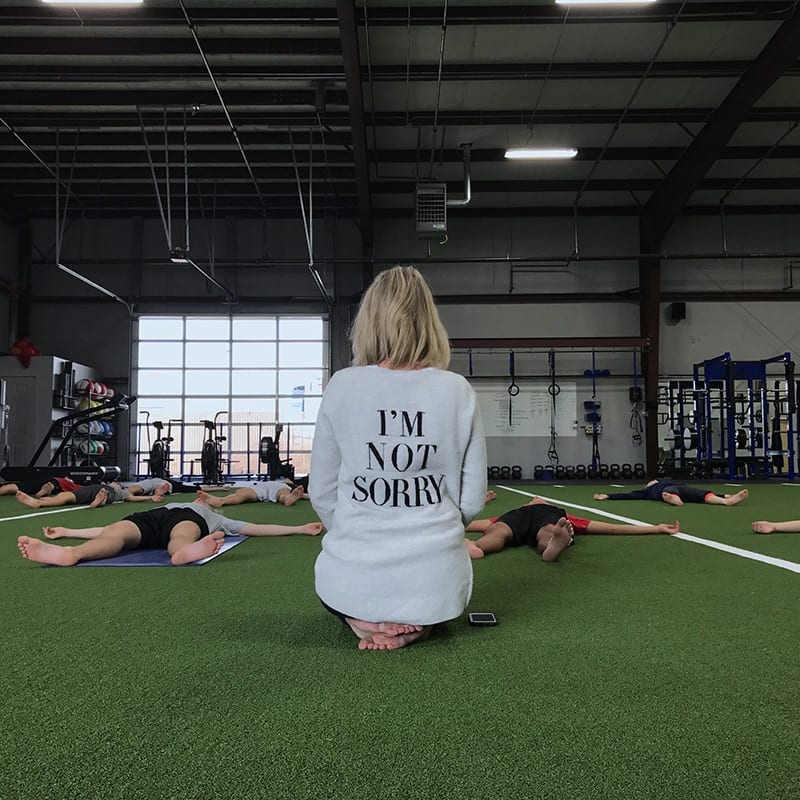 You have some experience with football and yoga. Which came first?
The football came well before the yoga. I started dating Adam (Treu) in college. When we first met, I thought he was a weird giant and I didn't know much about football other than Nebraska always won. I went to every one of Adam's college games and then watched him play for the Oakland Raiders. I surprise my sons with what I know about football. Adam played in around 200 NFL games. You pick up a few things.
So when did you first discover yoga?
Adam actually practiced yoga before I did. He had a strength coach who was pretty forward thinking and incorporated it into their off-season program. It wasn't until we moved to Oregon in 2009 that I began to practice and then teach at Groove Yoga.
And now you teach yoga to high school football players. How did that come about?
Our neighbor and friend Kevin Boss is another former NFL player who owns Boss Sports Performance. He roped me into it.
Smart man. Why is yoga a good compliment to football training?
True strength is strength plus flexibility. Yoga is a chance to work muscles in a new and different way. It gives them a chance to improve their movement so they can move anywhere, at any time, during a game. It also calms their minds. How do the boys like the yoga? The boys are super responsive, which I'm grateful for. By far their favorite part of the class is savasana. Most of them snore during it.
Are you able to slip in a little mindfulness?
I wouldn't teach yoga unless I could slip mindfulness into it. Having a teenager myself, I know they are in a constant state of distraction or semi-controlled chaos. Stillness and breath bring them back to their essential nature.
You also helped prep a young player for NFL draft. Share a bit.
Again, Kevin roped me in. He asked Adam and me if we'd help get Oregon State player Dustin Stanton ready for Pro Day. Kevin worked Dustin hard on his speed, strength and fitness, and Adam worked with him on overall offensive lineman work. I did twice weekly yoga with him.
What was the outcome?
He's in training camp with the Cincinnati Bengals right now.
That's a good outcome. What lessons from yoga could the NFL benefit from?
Yoga teaches self-awareness and non-reactivity to stress, and keeps your body healthy and young. It would be a dream for every college and NFL team to have a yoga and mindfulness curriculum.
I'm pretty sure if anyone could make that happen, it would be Tracy Treu.