photo www.crowdedkitchen.com
This year, enjoy the longer days and sunny afternoons with a cocktail made from a flavorful liquor handcrafted right at home. Gather up whichever fruits, chilies and spices seem the tastiest and add them to liquors to marinate. For a touch of local flavor during cocktail hour, try some fresh ingredients readily available in Central Oregon. With some time spent infusing liquors like vodka and tequila in advance, crafting the cocktails themselves becomes a simple task, with many infused liquors pairing well with a simple splash of soda water, served over ice.
Fruity Vodka
Vodka is a great candidate for infusions—just scan the shelves of a liquor store to see dozens of fruity vodka combinations, including local varieties like Bendistillery's Crater Lake Hazelnut Espresso Vodka or Wild Roots Marionberry Vodka. To start, grab a mason jar or bottle with a resealable lid and wash and dry a couple of fruits. Look for fresh Oregon strawberries starting in early May and available through the summer, and pair with vanilla beans or fresh basil. Tightly seal the jar and let rest for a couple days or up to a week, before straining with a cheesecloth. The flavor will fade over time, so enjoy the infusion plain or in a cocktail in the coming days.
Sparkling Strawberry Vodka
2 oz strawberry infused vodka
4 oz soda water or sparkling seltzer
Dash of simple syrup
Add vodka, soda water and simple syrup to a glass with ice. Stir to combine and garnish with a fresh strawberry.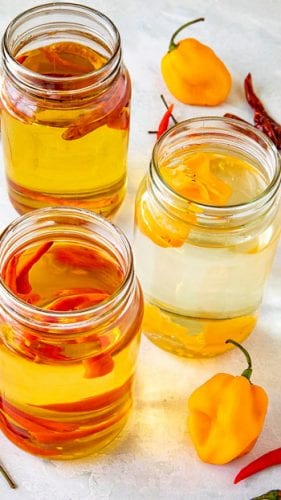 Tequila with a Kick
For a spicy libation, try infusing tequila with limes and local chilies. Choose the freshest chili peppers available and cut them in half lengthwise before adding them to a jar. Try habanero, chipotle or jalapeno for great flavors. Because peppers are a frost-sensitive crop that thrive during a long, warm growing season, there aren't a ton of local options in Oregon. But, keep an eye out later in the summer for Oregon grown peppers, or try picking up a seedling in the spring and transplanting to the warmest place in the garden for a homegrown addition to this infusion.   
Spicy Margarita
2 oz pepper infused tequila
1 oz fresh lime juice
½ oz agave nectar
Cayenne salt for rim
Add infused tequila, lime juice
and agave to a shaker with ice, and shake. Rim a glass of ice with fresh lime and cayenne salt and add strained mixture.
Homemade Gin
For a truly Central Oregon infusion, pick up some dried juniper berries to infuse gin at home. The berries are plentiful in Central Oregon, typically ripening in the fall, but with birds as competitors, the easiest way to get juniper berries is more likely purchasing them at the store. Start with plain vodka and juniper berries and infuse these together for a day or two to bring out that juniper taste and smell that gin is known for. Next, add in a mix of lemon slices, a piece of grapefruit rind, orange peel, chamomile, coriander seeds or lavender to spice up the flavors, infusing for a couple more days. Sip on this homemade gin infusion plain or pair with tonic water over ice for a flavorful gin and tonic. 
Simple gin and tonic
2 oz infused gin
4 oz tonic water
Fresh lime for garnish
Fill a highball glass with ice and gin, followed by tonic water. Garnish with fresh lime.