Five chefs show us how to stave off the winter chill with the stories and recipes behind favorite comfort food dishes on their restaurants' menus.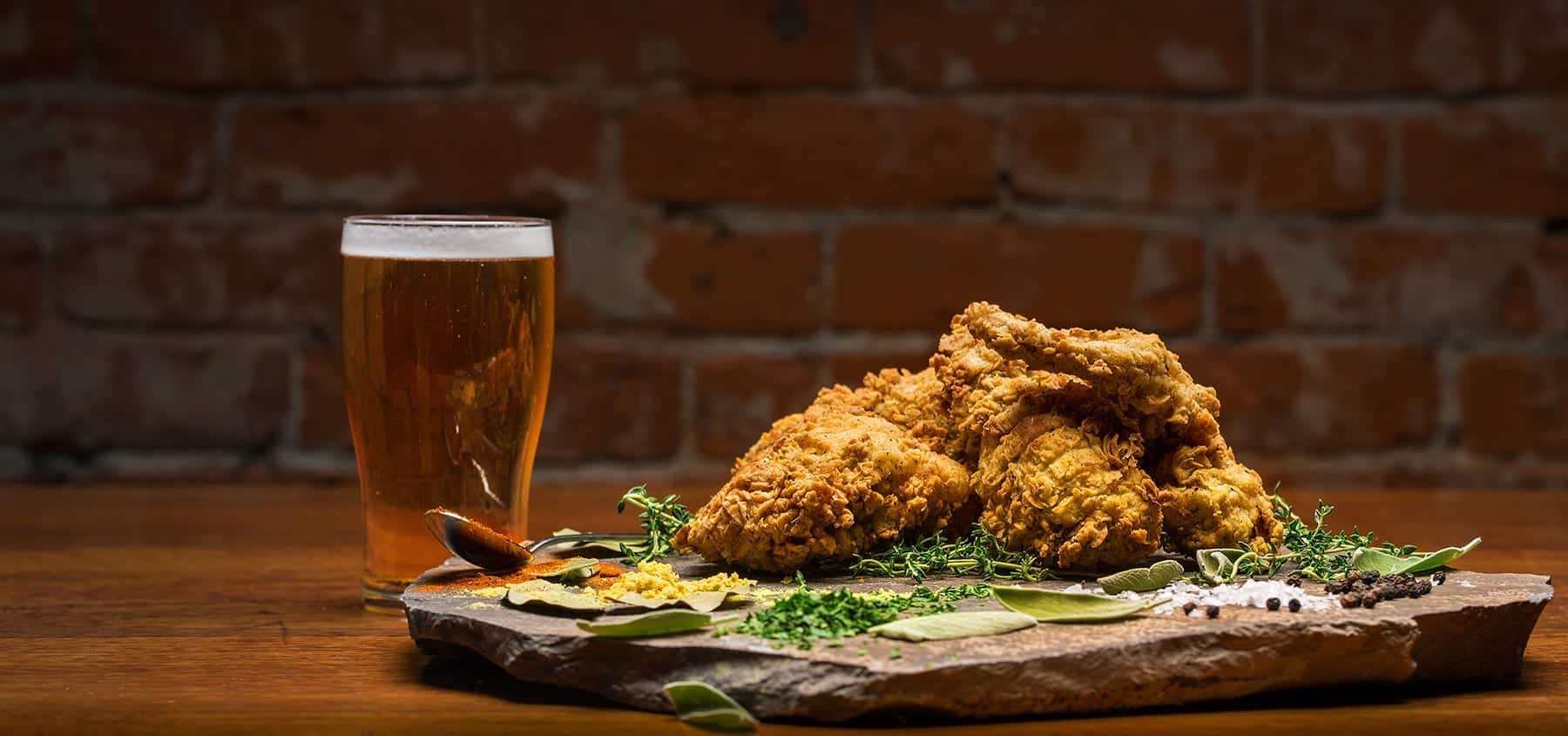 In the dead of winter during long, cold nights, our minds dig deep for the familiar dishes that leave us feeling warm, satisfied, nostalgic. Central Oregon has a healthy relationship with comfort cuisine, from traditional recipes to the avant-garde. Several of our chefs have elevated the concept to create flavors that bring us back to grandma's cooking—that is if your grandma was Julia Child—and conjure up memories of childhood around the table.
Seafood Pot Pie
The Porch | Chef Jon Hosler
"This dish is such a hit because of how it makes you feel when you eat it—like a warm hug to your soul on any day." — Chef Jon Hosler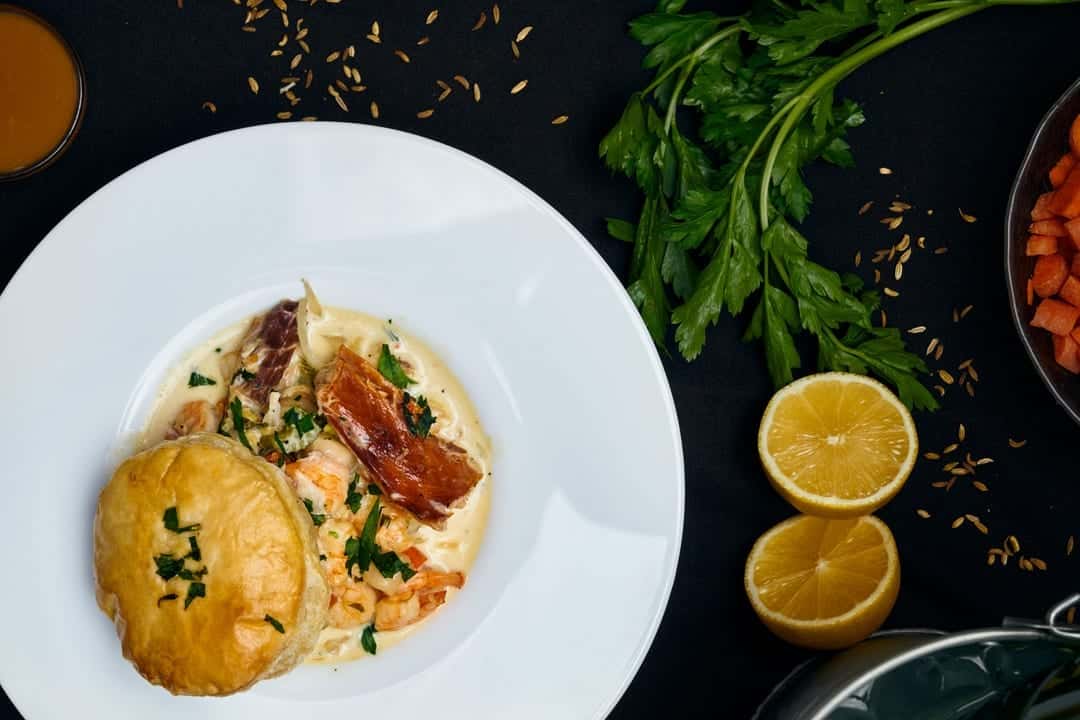 The entire menu at The Porch in Sisters fits the definition of comfort food. Meatloaf, chicken and waffles, three cheese mac. The seafood pot pie, a take on the classic chicken pot pie with a Pacific Northwest twist, also easily fulfills the "haute" side of haute comfort. A light cream and vegetable base coats shrimp, scallops and smoked salmon. Puff pastry on top adds texture as well as a mechanism to soak up the delicious sauce.
Cooking tips: Cook down a base of roughly chopped onion, celery and carrots in olive oil and add a splash of white wine. Add seafood and just enough heavy cream to cover the ingredients. Season and let simmer until reduced by one-quarter or veggies are tender. Top with puff pastry (even store-bought will do).
Mac & Cheese Flight
The Blacksmith | Chef Bryan Chang
"To me, comfort food should bring back memories of our younger days and hearty, homecooked meals. I like to combine both modern and classic techniques and ingredients to bring dishes to life for our guests, and I feel our food accentuates our cozy and comfortable atmosphere."
— Chef Bryan Chang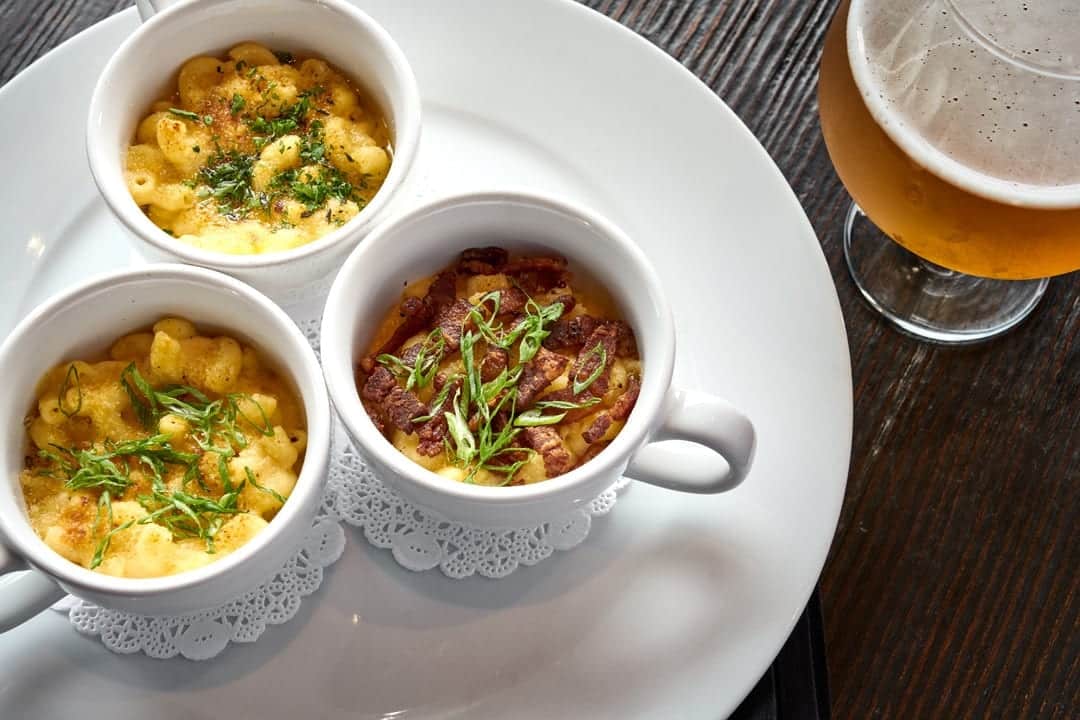 What's better than rich macaroni and cheese made with the best ingredients and cooked to perfection? Three kinds! Blacksmith's flight of three mac and cheese recipes—smoked, bacon and truffle smoked—are arguably the best in town. It's hard to pick a favorite, but, at Blacksmith, you fortunately don't have to.
Cooking tips: Tillamook smoked cheddar plus heavy cream equals flavor. Never use skim or low-fat dairy products in mac and cheese.
Ramen Carbonara
5 Fusion | Chef Joe Kim
"On a cold day, there is not much more that I want than tomato soup with oyster crackers or a grilled cheese sandwich, because that is what my mother would cook for me as a child on a cold day. When I was in Japan, ramen was always my comfort food. I think everyone's comfort food is probably different. It is something that takes you to a place you loved, a person you loved or time you loved." — Chef Joe Kim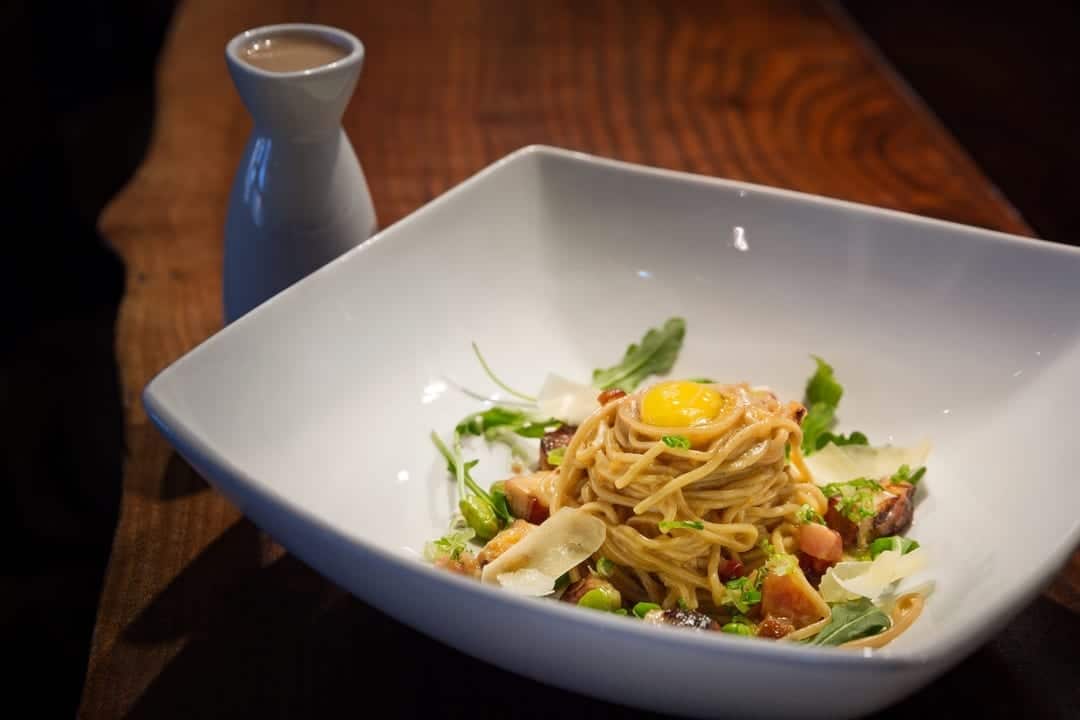 A stunner of a dish, 5 Fusion's ramen carbonara combines the satisfaction of a hearty soup with the perfect dashes of refinement and balance that place it high among the impressive creations from James Beard-nominated Chef Joe Kim. This dish, topped with a quail egg and bathed in a broth that has an unexpected richness, will get you through a long winter night.
Cooking tips: 5 Fusion's ramen broth is made in-house with pork bones, shallots, garlic, miso and tamari. The process takes about two days of boiling the pork bones to extract flavor, a method that might be overwhelming for a home cook. Any soup base can be used; instant miso soup is a great substitute.
Trophy Elk Chili
Joolz | Chef Ramsey Hamdan
"People crave comforting dishes and keep returning to them when they offer a more exotic flair that they don't usually make at home." — Chef Ramsey Hamdan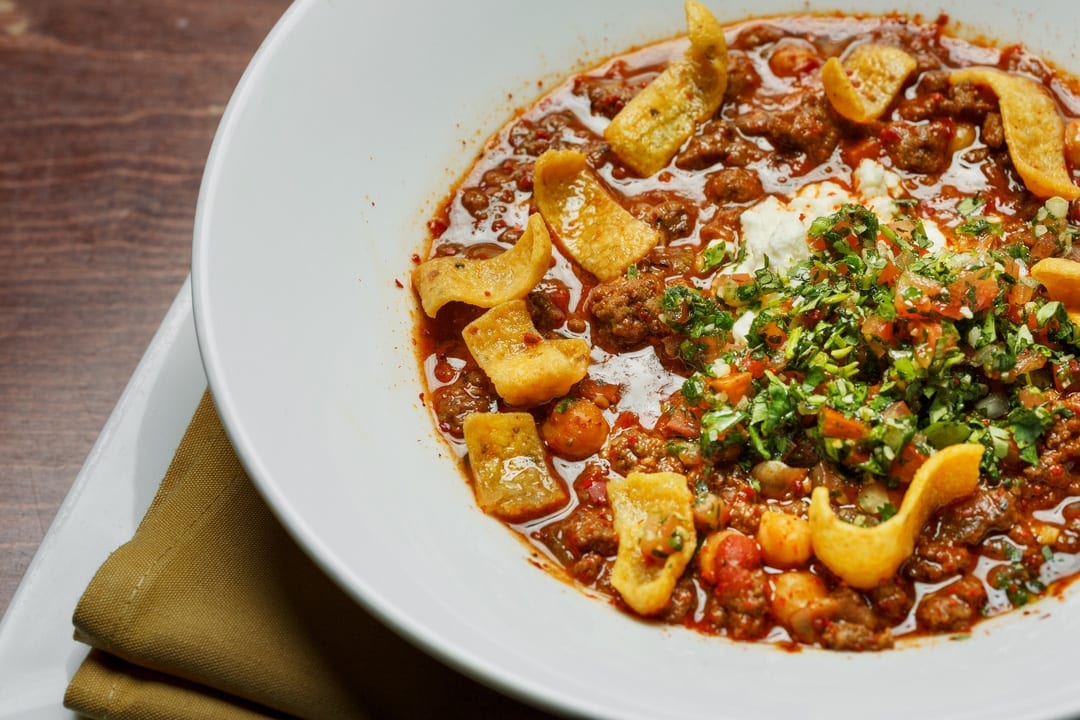 Joolz's trophy elk chili embodies the restaurant's theme "where the Middle East meets the Wild West." Garbanzo beans, rose harissa, crumbled feta and Middle Eastern spices are combined with traditional chili beans and ground elk, representing the West. An instant hit when it was added to the menu, this dish provides all the heartiness of a stick-to-your-ribs chili, but is lighter and has a surprising flavor profile that may outshine the original.
Cooking tips: Top it off with Fritos like they do at Joolz to add crunch and offer a taste of childhood.
Fried Chicken Dinner
900 Wall | Chef Clifford Eslinger
"This dish provides a good perspective of the balance we strike at 900 Wall. We have an extensive wine list, yet pour Rainier on tap. We have a seasonal menu that highlights local ranches and farms. While our burger is one of our best sellers, we sell out of fried chicken every Sunday. I think the fact that we are able to offer so many aspects and styles of dining at a consistently high level speaks to our commitment to not doing anything halfway." — Chef Clifford Eslinger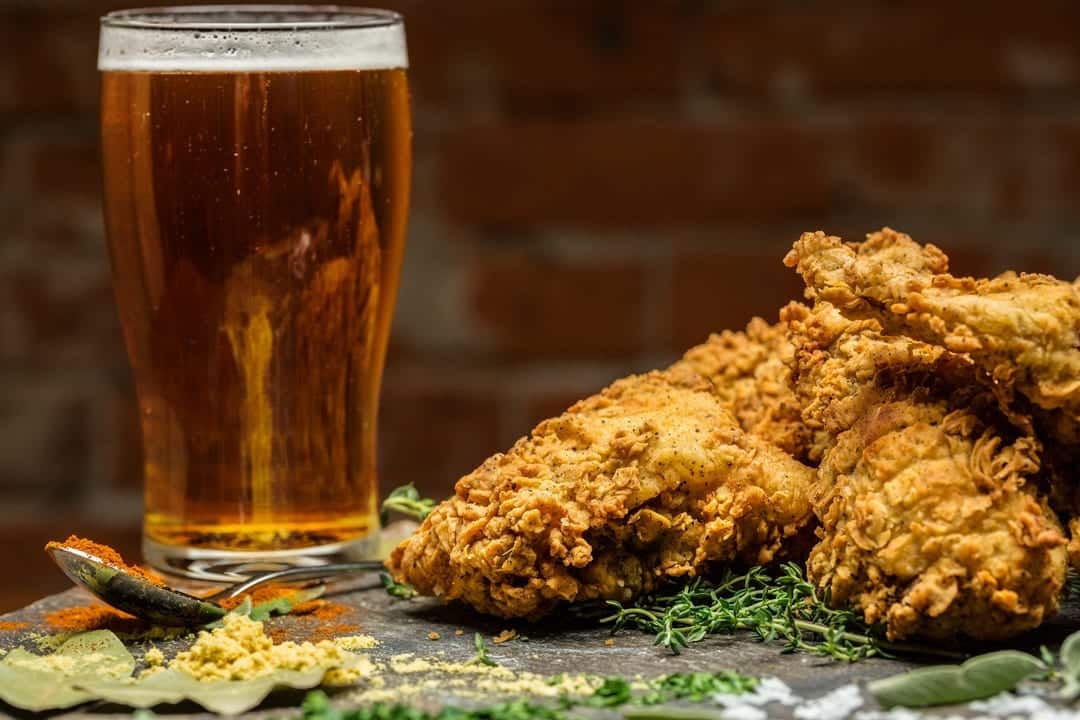 When it comes to comfort food, it doesn't get more straightforward than fried chicken with mashed potatoes and gravy. But look a little closer at 900 Wall's fried chicken dinner, served Sundays only, and you'll find a perfectly crispy crust, not too greasy; the highest quality locally sourced chicken; a heap of creamy potatoes and gravy without a hint of a lump in either; and sautéed greens with onions and pancetta. It's the ultimate rendition of the classic.
Cooking tips: Marinate chicken in a buttermilk base, dredge in seasoned flour and refrigerate for eight to twenty-four hours—a key step in drying it out to make for an extra crispy final product. To ensure a crispy crust, fry chicken in small batches to keep the oil temperature from dropping below 300°F.