As a Bendite, car camping holds a special place in my heart. Growing up in Bend provides many fond memories of contacting friends, loading up the car and driving until we found a suitable place to sit around a fire and rest our heads. Car camping is more accessible because all you really need is either a car you can convert into a bed, or at least a car that can get you and your tent to the right camping spot; no need for any sewage, water or electrical hook ups for costly RVs, let alone a backpack and lightweight gear for backpacking. This summer, explore Central Oregon and consider spending the night at one of these campgrounds, all located within a ninety-minute drive of Bend.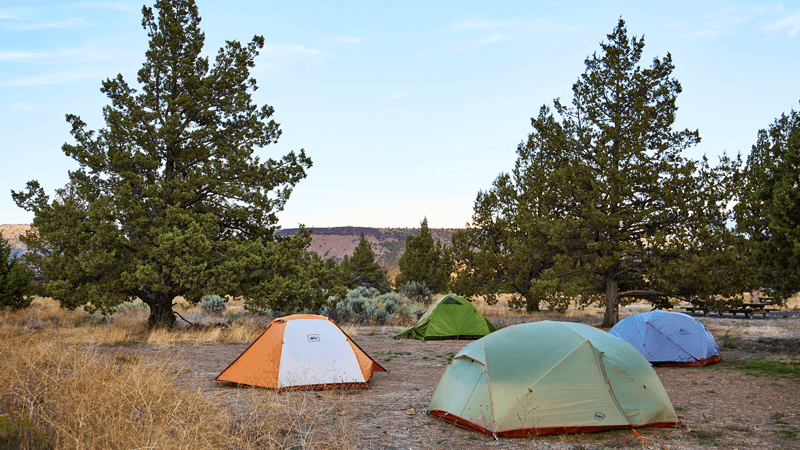 Skull Hollow Campground
Less than forty minutes north of Bend, just past Terrebonne and Smith Rock, Skull Hollow Campground is a welcoming place with an intimidating name. Skull Hollow is a first-come, first-served campground with seventy standard campsites that each come with a picnic table and a combination fire pit/grill. The campground is located in the high desert landscape near Haystack Reservoir, where campers can boat and swim. The nearby Gray Butte trailhead offers a hiking trail up Gray Butte that can provide panoramic views of the Cascade Range. Head south to Smith Rock State Park for some of the best mountain climbing around. Horseback riding is another popular activity here, with miles of trails to access. Campers beware: Skull Hollow has no drinking water, so come extra-prepared!
Chimney Rock Campground
About forty-five minutes east of Bend and past Prineville, there lies a geological landmark amid a vast landscape of cliffs, canyons and deep ravines. Chimney Rock and Chimney Rock Campground are located near the Crooked River. Chimney Rock Campground offers a relaxing wooded setting among tall and mangled juniper trees, and beneath massive rock formations and cliffs. The campground is open year-round and is equipped with sixteen first-come, first-served campsites along the water. Campers can enjoy river access for fly fishing, bird watching and swimming. Hiking and mountain biking are popular activities for campers here, especially when campers want to check out the nearby Chimney Rock Trailhead.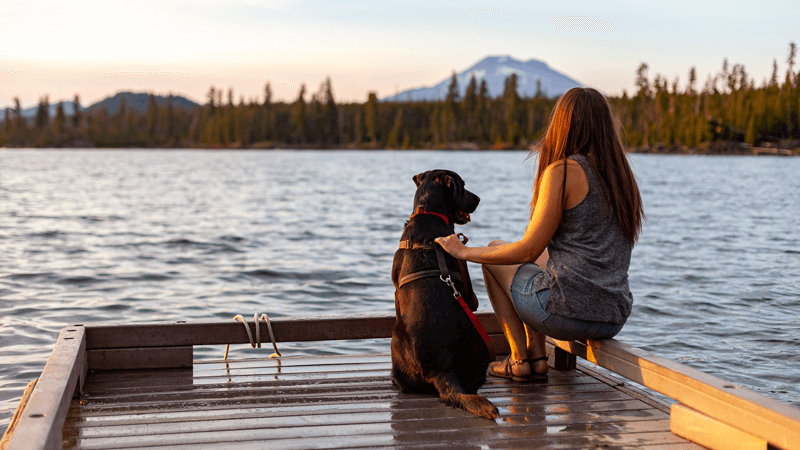 Lava Lake Campground
With just over forty campsites, some of them right on the water, Lava Lake Campground is a local gem for anglers and nature lovers of all kinds. The campsites are positioned between two lakes: Lava Lake and Little Lava Lake. The lakes are surrounded by a mature pine forest that provides shade during the hotter months. Everything from hiking, mountain biking, swimming and fishing can be found here. The two lakes were made from ancient lava flows that can still be seen as rock formations on the banks of the water, hence the name. The campsites come with the standard picnic table and fire pit/grill combo and are first-come, first-served. Situated in the Deschutes National Forest, this campground provides access to more than 1,600 miles of connecting trails. The campground is less than an hour from Bend, south on Highway 97 and connecting with Lava Lake Road. 
Perry South Campground
Located along the Metolius Arm of Lake Billy Chinook, the Perry South Campground within Deschutes National Forest offers easy access to a popular lake without having to deal with a large, crowded campground. A diverse evergreen forest surrounds each of the sixty campsites, which must be reserved in advance. Sites are equipped with drinking water and come with a grill/fire ring. Motorized boating and fishing is popular here, as well as hiking and just enjoying the surrounding nature. Perry South can be reached by driving about an hour and a half north of Bend, past the communities of Culver and Grandview.
Pringle Falls Campground
As the name might suggest, the Pringle Falls Campground provides access to the Pringle Falls section of the Deschutes River. Instead of one big waterfall, Pringle Falls is a series of drops over 800 horizontal feet that create whitewater rapids ranging from class II (novice) to class IV (advanced). Kayaking here is recommended only for experts! There are only seven campsites scattered throughout the campground, providing unmatched space from any camping neighbors. The campsites, six of which can be reserved in advance, are adjacent to the water and provide access for swimming, kayaking and fishing, along with nearby hiking and mountain biking trails. This is a great base camp for visitors looking to spend the day exploring the Newberry National Volcanic Monument and return to a remote car camping location. Much like Skull Hollow, there is no fresh water here, so come prepared with your own drinking water. The campground is about forty minutes south of Bend, outside of La Pine.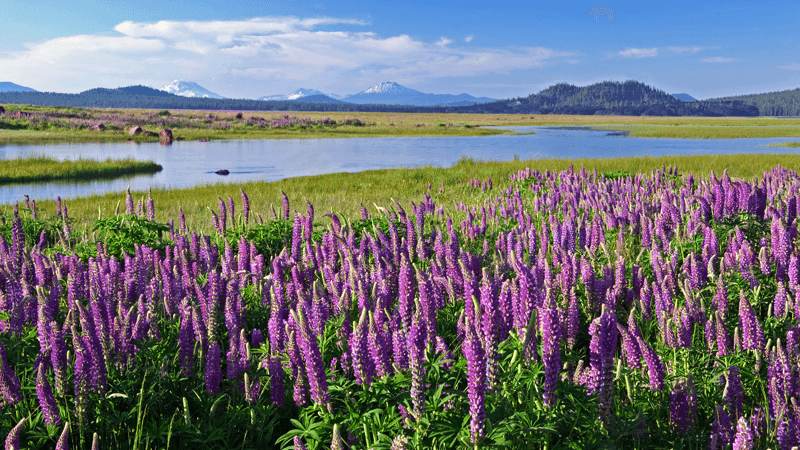 East Davis Lake Campground
Last but certainly not least, East Davis Campground is a small but mighty area near the east side of Odell Creek where it enters Davis Lake. The campground offers guests the opportunity to experience the beauty and recreational opportunities of the eastern Cascade Range. A sparse treeline gives way to a tall grass marsh as Odell Creek snakes through. Outdoor enthusiasts from birdwatchers and anglers to mountain bikers and hikers will reminisce about their time spent here. Seventeen single campgrounds and three doubles provide guests some privacy, along with shade from the trees and views of the nearby creek. Each site is available on a first-come, first-served basis, so be ready to drive out early! Visitors can reach East Davis Campground, located outside of Crescent, Oregon, by driving an hour south from Bend. 
---