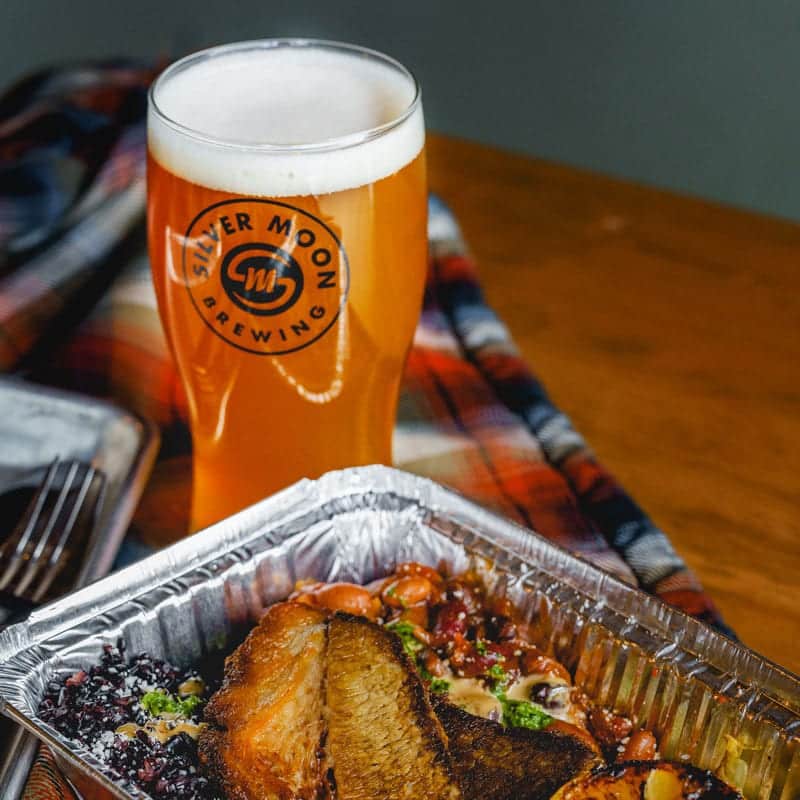 Every year when Central Oregon's weather finally turns to warm temperatures full-time, taking in a refreshing beer and a mouthwatering meal feels as right as shrugging off your puffy coat in the sunshine. So many different combinations of flavors and aromas say summer. Maybe you're looking to refuel in a big way after a day of hiking, or you're simply craving something fresh and seasonal. Here, local chefs from breweries in Redmond, Sisters and Bend share dishes with a well-paired beer, to elevate your meal from tasty to memorable.
Silver Moon Brewing
Editor's note: This article was originally published in May 2021, and while you can no longer get the below pairing, you can find these incredible food trucks at Silver Moon Brewing and the Lumberjack Bowl at Lucky's Woodman at their new location.
Lumberjack Bowl and Mango Daze Pale
As owner of the new food truck Luckey's Woodsman, Jackson Higdon has happily been juggling running his truck on Mount Bachelor while serving food in town at Silver Moon Brewing. Forged in the pandemic, the partnership made sense for both Higdon and Silver Moon.
Higdon calls his food elevated backcountry cuisine. In the lumberjack bowl, he combines "midnight brisket," 14-hour smoked Cedar River Farms organic grain-fed steer, with forbidden rice, arugula pesto, cotija cheese, chipotle aioli, and charred Brussels sprouts and radishes.
Silver Moon's Mango Daze, a "super sociable malty, not-so-bitter, easy-drinking pale ale," as Higdon describes it, complements the "roastiness" of the brisket. Brewed with real mangoes and fruity Northwest hops, the beer comes in at 6 percent ABV and 25 IBU.
Hawaiian Burger with Hoppy Habits IPA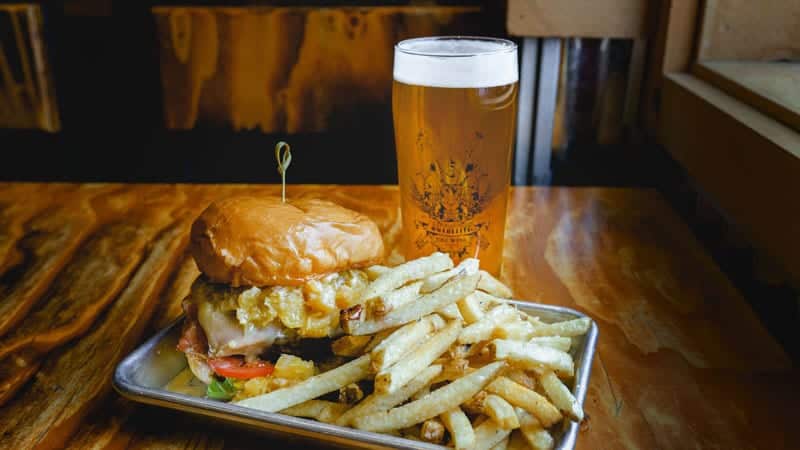 Initiative Brewing's head chef Matt Anderson has creatively infused Asian, South American and European flavors into pub favorites at the Redmond brewery. One of his classics with a twist? The Hawaiian burger, a seven-ounce grass-fed beef patty from southeastern Oregon's Roaring Springs Ranch, teriyaki ham, Tillamook swiss, lettuce, tomato and finished with a house-made pineapple jam and ginger aioli, served with salad, house-cut fries or Asian coleslaw.
Anderson and Chris Brumley, Initiative's co-owner and brewmaster, said their Northwest style house IPA Hoppy Habits, at 7 percent ABV and 53 IBUs, is the ideal pairing, offering a tropical fruit and citrus hop profile. "It has a nice wheat and salty flavor, which the aioli kind of smooths over," Anderson said.
Carnitas Tacos and Tres Arroyos Mexican Lager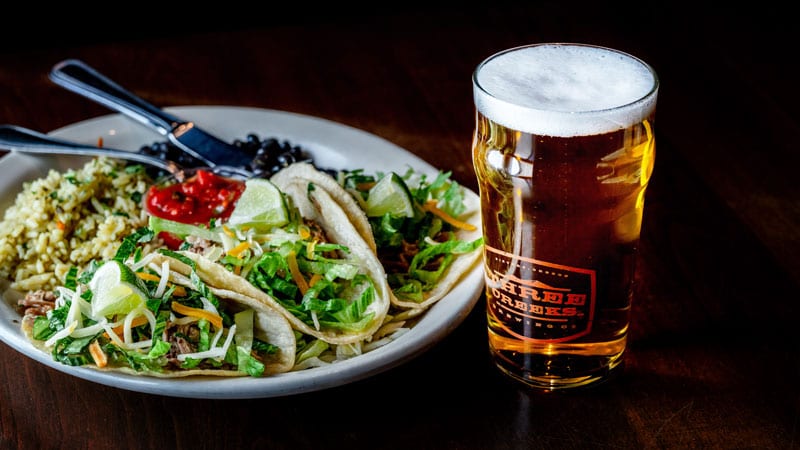 At Three Creeks Brewing where Mark Perry is manager and head chef, he encourages a team atmosphere. So when kitchen staffer Sal whipped up carnitas tacos for himself, Perry ran with it.
For Sal's carnitas tacos, pork is braised in a light beer until it's fall-apart tender, then finished with fresh lime juice, cilantro and extra seasoning in a white corn tortilla. Cilantro rice and black beans are served on the side.
The tacos go best with Tres Arroyos Mexican lager, a seasonal beer so popular, they transitioned it to year-round. A batch of the lager takes about two months to make, Perry said, describing it as light, crisp and refreshing and coming in at an ABV of 4.5 percent.
Summer Citrus Salad and Easy Day Hazy IPA
Lots of textures and color. That's what Worthy Brewing's executive chef and food and beverage director Monica Kline likes on her menu, balancing pub staples with equally delicious healthy dishes. Inspired to pair Worthy's new low-calorie Easy Day Hazy IPA series at 3.4 percent ABV, Kline used the grapefruit Easy Day to create a hazy avocado poppy seed vinaigrette for salad and bowl options (more flavors are expected to join the grapefruit and tangerine in the IPA series this summer).
The summer citrus salad tosses spring mix, grapefruit segments, quinoa, red onion and salty cheese in the dressing. For the bowl, ancient grains are warmed in the vinaigrette, then topped with carrot, avocado, cucumber, watermelon radish and yellow sweet drop peppers. Add grilled chicken, steak or steelhead to either.
Goin Beef Enchiladas and Deseo Mexican Lager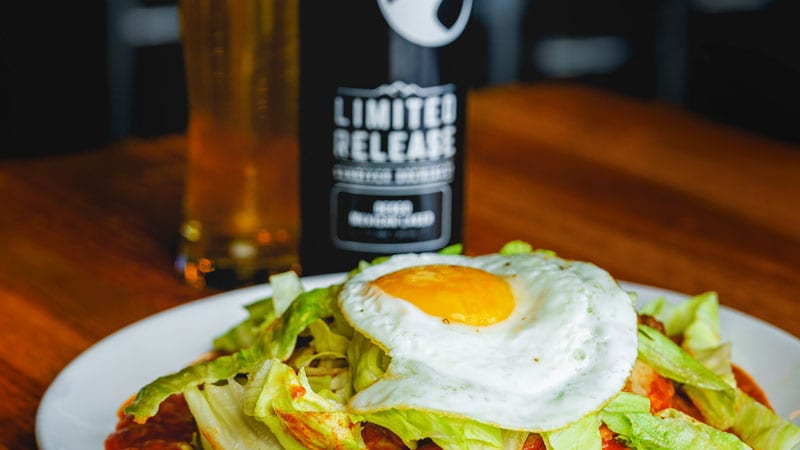 Head chef Justin Goin is somewhat bashful about his name gracing Sunriver Brewing's Goin beef enchiladas, but he's proud to have recreated a dish he grew up eating in El Paso, Texas, and Tucson, Arizona. It's not uncommon for visitors from Texas, Arizona and New Mexico to ask to meet the chef.
Goin takes New Mexico Guajillo dry chile pods, rehydrating them, mincing and grinding them for the sauce. The enchiladas are then layered similar to lasagna, with aged white cheddar, the guajillo sauce, beef and lettuce, with a fried egg placed on top. Sunriver's Deseo Mexican lager at 5 percent ABV is the right pairing for the spicy dish, Goin explained, as the beer helps clean the palate between each rich bite.
Belgo Burger with Samaritans Saison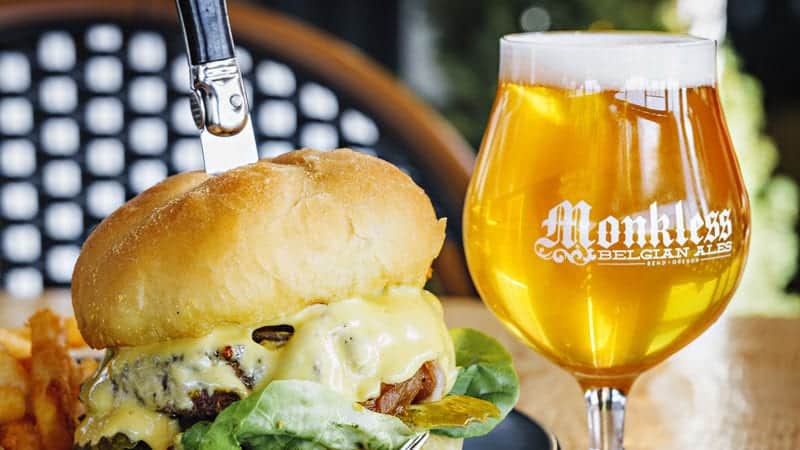 Monkless Belgian Ales owner Robin Clement calls their European-influenced Belgo burger a "fork and knife burger." Executive chef Stacie Cruikshank intended it that way. "You're going to need napkins," Cruikshank said. "It's decadent, fatty and delicious."
Layered with Oregon ground chuck, butter leaf lettuce, dill pickle, a pile of caramelized onions and Muenster cheese on a buttery grilled Big Ed's Kaiser bun, the burger is sauced with dijonnaise, which, Cruikshank said, they "do not go shy on."
To complement the burger Cruikshank recommends their Samaritans Saison at 6.2 percent ABV, or alcohol by volume. A Belgian farmhouse style, the beer is a bit tangy, pairing well with the rich burger's natural fats. Diners can choose frites or salad for their side.
---
Click here to read more about our local food and restaurant scene.