Nachos might be one of the most versatile dishes out there. Finger foods? Sure. A full meal? Absolutely. Happy hour snack? Check! Take your pick from some of Bend's most intriguing and satisfying nachos from those with classic chips and cheese to a plate with a twist of wonton chips and poke.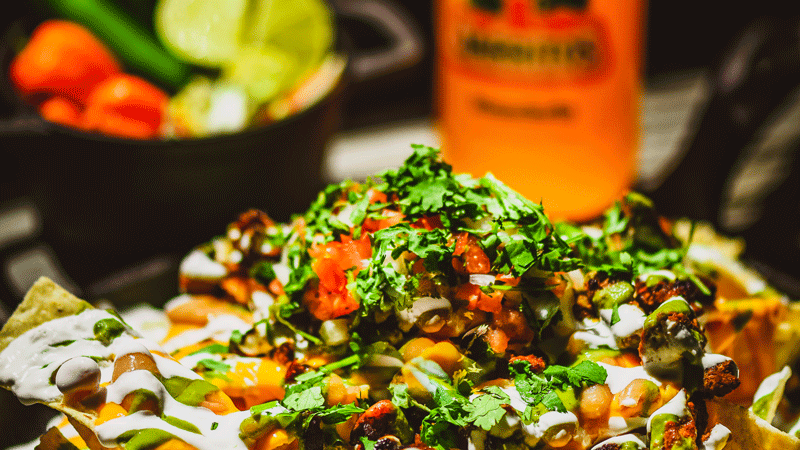 Head to River's Place food truck lot for SOPA's Asada Nachos. Unless you're feeling really hungry, you will want a friend (or two) with whom you can share this platter. A large plate of tortilla strip chips is loaded with creamy nacho cheese sauce, carne asada and pinto beans, then topped with sour cream, cilantro, pico de gallo and avocado salsa. This heaping serving of nachos pairs well with a tart cider from the taphouse at River's Place. Place an order with SOPA, then gather around the outdoor fire pits to stay warm in the fall weather. On game days, watch on one of the six big-screen TVs while digging into this hearty dish.
787 NE Purcell Blvd, Bend
  | 

Open Monday – Saturday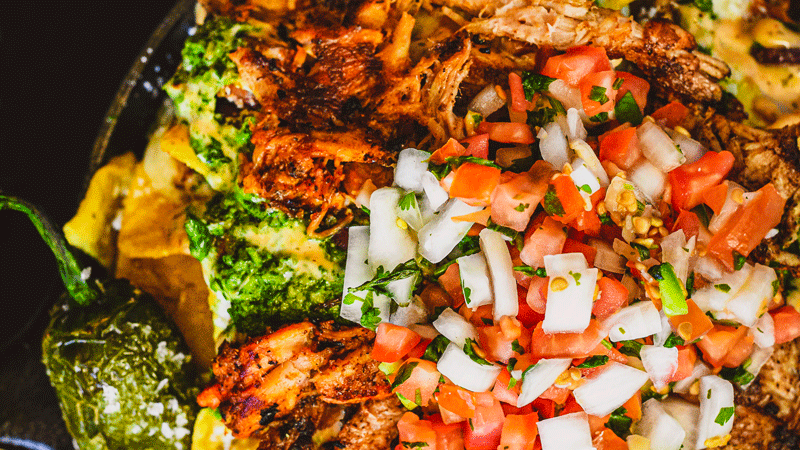 The Brown Owl's new resident food truck is serving up nachos fit for pre- or post-adventure. Luckey's Woodsmen recently took over at the Box Factory tap house and bar to serve what they call "off-grid provisions." The Mountain Nachos at Luckey's live up to their namesake—piled high. Juanita's chips are layered with pork carnitas, Woodsmen beans, white cheddar queso, pico de gallo, roasted jalapeños, arugula pesto, Stellar sauce (a chipotle aioli) and cotija.
While enjoying Luckey's Mountain Nachos, sip on a Happy Mountain kombucha or The Brown Owl's Vallarta cocktail, a pineapple and basil-infused tequila with orange and lime. Then, head upstairs and enjoy their newly-opened lounge area or find a spot around the firepit. Their indoor/outdoor taphouse offers cozy seating in the front and plenty of space for larger parties in the back.
550 SW Industrial Way #120, Bend | Open daily
'Aina Kaui Style Grill, located in the food truck pod at Ninth Street Village, has been making Hawaiian-style bites in Bend since early 2020. What started as a weekly special now sits proudly as a permanent—and popular—menu item. Their Poke Nachos are crispy wonton chips piled high with fresh poke, pickled kimchi veggies, fresh cabbage, and topped with furikake and their signature 'aina aioli. For a near-perfect pairing, try them with a Funday IPA from resident brewpub, Bevel Craft Brewing.
911 SE Armour Road, Bend | Open Thursday – Sunday
It's no secret that Toasty, The Podski's plant-based food truck, is known for its vegan take on a crunch wrap. However, if you love this riff on the fast food favorite, you'll love their Super-Loaded Nachos. What makes Toasty's dish special is their ability to make the platter of nachos taste like it's smothered in real cheese. Their nacho "cheese" sauce is made with cashews—which are creamy when blended—and potatoes. Nutritional yeast gives the sauce its cheesy flavor, along with onions and a blend of spices.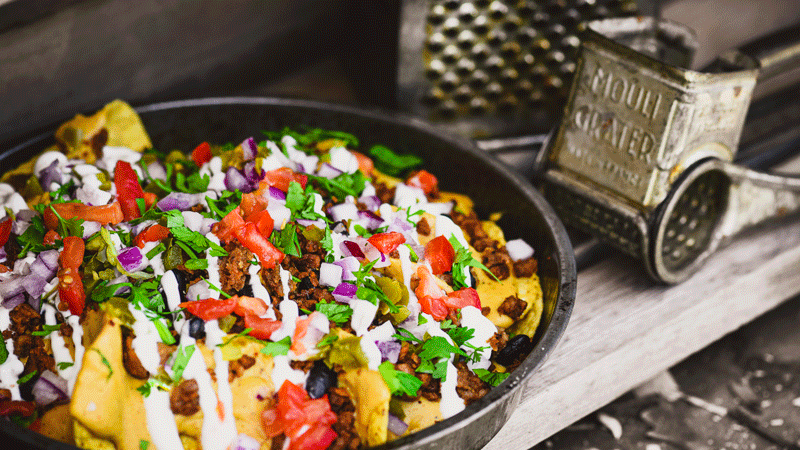 Toasty's Super-Loaded Nachos come as a plate of round chips topped with cashew queso, black beans, Beyond Beef, jalapeños and lime crema. They're then topped with pico de gallo, onions, cilantro and jalapeños. For the perfect snack size, get them by the half order.
536 NW Arizona Ave., Bend
  | 

Open Monday – Saturday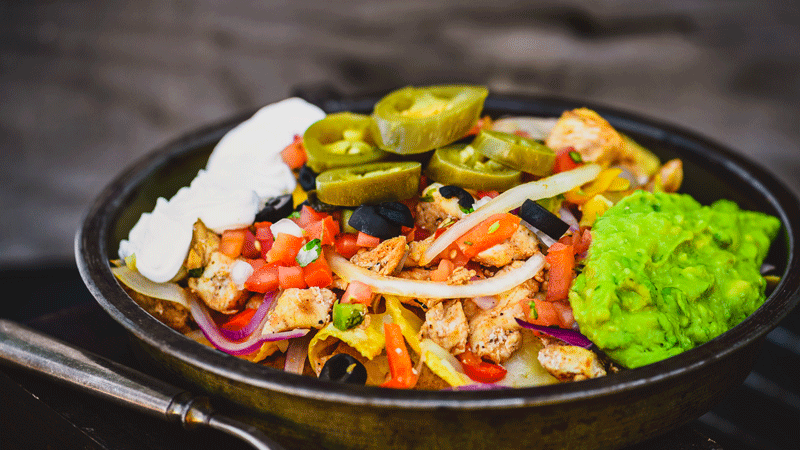 Don't let the size of this taqueria fool you. Los Jalapeños packs a ton of flavor in their small-but-mighty turquoise building in Midtown. Bend has been enjoying the offerings of Chef Gonzalo Morales for more than twenty-five years. Luckily for hungry patrons, Los Jalapeños has four varieties of nachos to choose from. The most noteworthy might be their Supreme and Fajita Nachos. Supreme Nachos come served with fresh chips, beans, melted cheese, jalapeños, sour cream, black olives, pico de gallo, guacamole and your choice of chicken or steak. The next level is the Fajita Nachos, which adds grilled bell peppers and onions to Supreme Nachos. A margarita completes the experience during their happy hour, between 2 p.m. and 6 p.m.
601 NE Greenwood Ave., Bend
  | 

Open Monday – Saturday

Over the years, we've watched Barrio expand from its Downtown Bend restaurant to multiple food trucks throughout Bend. While Barrio's famous queso fundido is available at their flagship restaurant, nachos are available only at their food trucks. To start, freshly-fried chips are smothered in housemade queso fundido and piled high with black beans, guacamole, pico de gallo, cotija and a choice of protein. Choose from pork carnitas, beef birria, chicken tinga, or grilled mushroom and corn. For a not-so-secret add on, request a topping of poblano crema and pickled jalapeños for a minimal upcharge. Visit Barrio at On Tap and pair your nachos with one of thirty-five rotating taps. If you're visiting their Midtown Yacht Club location, pair your nachos with a refreshing wine slushie or opt for a kombucha sangria.
On Tap: 1424 NE Cushing Drive, Bend
  | 

Open Tuesday – Sunday

 
Midtown Yacht Club: 1661 NE 4th Street, Bend | Open Wednesday – Monday
---
Click here to read more about our local food and restaurant scene.