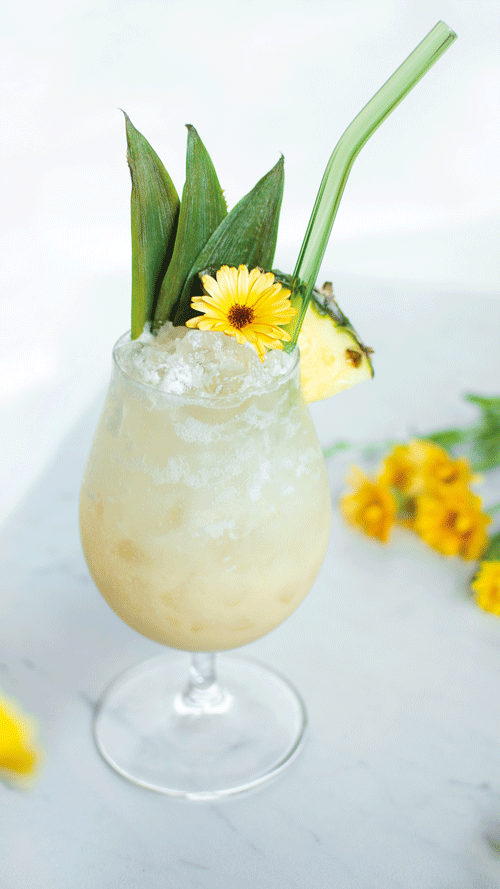 Alyson Brown, cocktail creator and flower enthusiast, founded Wild Folk Flower Apothecary in 2017 out of a desire to share her love of flowers—particularly their medicinal, therapeutic and edible elements—with Central Oregon (and beyond). She began to incorporate a floral element into almost every aspect of her daily regimen. "That meant everything from the flowers I brought home from the flower shop to the tea that I drank, skincare I used, the food I ate, and of course, the cocktails that I made," Brown shared. She shared her floral-infused techniques on Instagram, which led her to write a cocktail recipe book. In the summer of 2021, The Flower Infused Cocktail was published with more than sixty floral cocktail and mocktail recipes. Subtitled "Flowers, with a twist," Brown's book also shares methods for creating sugars, simple syrups and infusions using edible flowers. Botanical spirits and garnishes complement these floral libations. The Flower Infused Cocktail can be found in many Central Oregon shops and boutiques, as well as via her website. For a flower cocktail reminiscent of tropical islands and warm weather, try Brown's riff on a piña colada—the calendulada, infused with a slightly spicy calendula syrup.
Calendulada
6 dashes Angostura bitters

 

1 oz white rum
1/2 oz overproof rum
1/2 oz Suze (a bitters made from the plant gentian)
3/4 oz lime juice
3/4 oz pineapple juice
1/2 oz cream of coconut

 

1/2 oz spiced calendula syrup

 

Slice of pineapple
Dash bitters into the bottom of a glass and fill with ice to the very top. Shake remaining ingredients in a shaker with ice until chilled. Pour into the prepared glass. Garnish with a calendula flower, a pineapple slice and pineapple leaves. The full recipe and description can be found on page 167 of The Flower Infused Cocktail.
---
Read more about the amazing beverage and culinary scene in Central Oregon here.