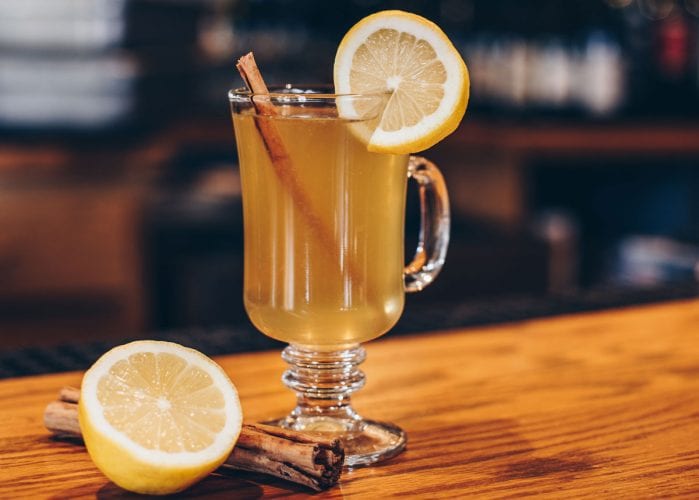 The Pine Tavern is one of the oldest restaurants in Bend, and a favorite during the winter holidays. After a morning of shopping downtown, I always take my niece there for lunch—just like my mom took me, and her mom took her. The wood-paneled walls are decked in festive greenery and sparkly white lights, families dress up a little bit more than Bend casual, and in the dining room you can stare at the old Ponderosa pine trees growing up through the roof and classic Bend photos on the wall and remember those who came before you who stared at those trees and photos, too. It's a special place.
I asked bar manager Lucas Neff what people like to order on cold winter days and his answer was simple—the Pine Tavern Hot Toddy. "When people come in during the winter, they want to warm up," he said. So he created a twist on the whiskey toddy—using green chartreuse liquor to give it more of an herbaceous note than medicinal. Green chartreuse is made from hundreds of herbs, plants and flowers by French monks who have been making the liqueur since 1737. "The herbal flavor really works with the citrus and sweetness of both the honey and orgeat," Neff said. Add spicy bourbon, hot water and a cinnamon stick, and you can bring a little of that Pine Tavern magic home. – Sara Freedman
Pine Tavern Hot Toddy
1.75 ounces of Easy Rider bourbon (Hood River Distillers)
1 teaspoon green chartreuse
.5 ounce lemon juice
1 Tablespoon honey
2 teaspoons orgeat
Add all ingredients to glass, add hot water and stir. Garnish with lemon wheel, cinnamon stick and star anise.