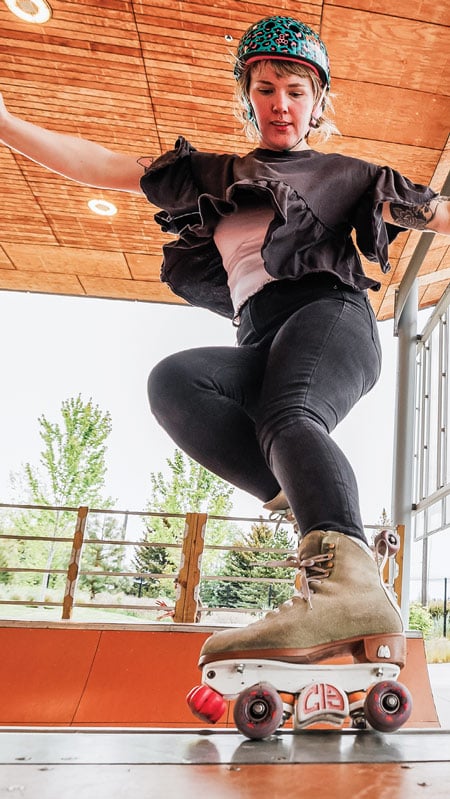 The bug bit early. LB Gossett first started rollerblading as a child, at an indoor skating rink called Skatin' Jakes in Chattanooga, Tennessee before taking her new hobby outdoors to streets, sidewalks and skate parks. "One of my most vivid memories from my early skating days was when our road had just been freshly paved and my brother took me out around dusk to test it out and teach me how to do crossovers," said Gossett, who is now a kindergarten teacher at Bend Forest School.
As an adult, Gossett moved to Portland where she continued her skating hobby outside in parking lots, in parking garages, at the Lone Fir Cemetery and along the Springwater Corridor near Oaks Bottom. "Even though the pavement isn't the smoothest, I much prefer skating outside," Gossett said. Now a Bendite, Gossett enjoys skating at Pine Nursery Park, where she and other skaters use a 1.25-mile loop maintained by Bend Park and Recreation District. "It is consistent, but it isn't so small that you get bored after a few laps. After three loops around I usually feel ready for three more in the opposite direction," said Gossett, who also enjoys skiing, biking and running. "Skating gives me a fun physical outlet that is more exciting than running and takes less prep or planning than some other sports."
While Gossett's love of skating has remained steadfast since her elementary years, the popularity of both quad and inline skating has ebbed and flowed since the 1880s when the European invention of roller skates first made its American debut. Popularity with quad skates soared during the roller disco era of the 1970s and 1980s, while inline skating—or rollerblading—saw a peak in the 1990s. In Central Oregon, residents first laced up their skates at a roller rink in a former creamery building known as the Midtown Rock Rink & Roll (now the Midtown Ballroom), a space that served as the area's roller rink for years.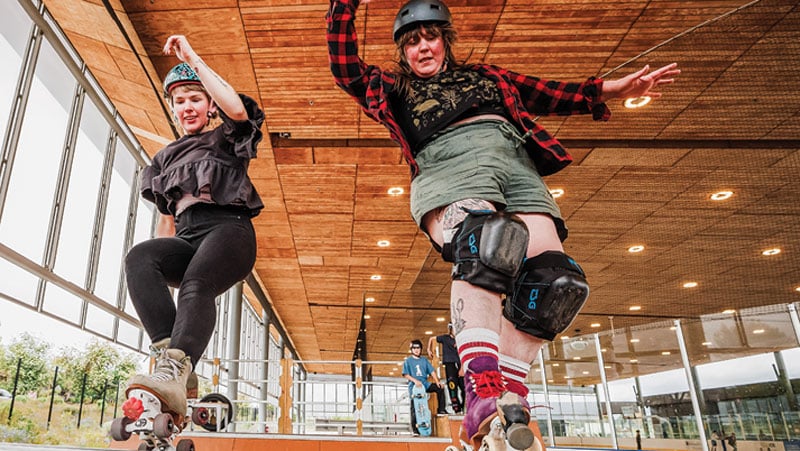 Today's skating scene in Central Oregon is more robust, with areas for skating in parks, on paths and at rinks and courts across the region. So many options is a good thing, as the popularity of the sport has surged in the past few years, thanks in part to the pandemic. In early 2020, Google searches for roller skating quadrupled from March to May, and one popular skate manufacturer, Moxi, reported a 1,000 percent increase in sales in March 2020. Whether the sport brings skaters nostalgia or serves as an outlet for exercise or fun, there are plenty of ways to join in and get your skate on. 
Roller skating continues to grow in popularity because it's a fairly easy sport to break into, offers a good workout, can have a social aspect and isn't too expensive, according to Gossett. "It doesn't take long to pick back up if you learned at a young age, and it is enjoyable even while you're learning," she said. "I'll also say the low impact is a huge draw because as long as you aren't doing crazy stunts it's a smooth way to get your sweat on."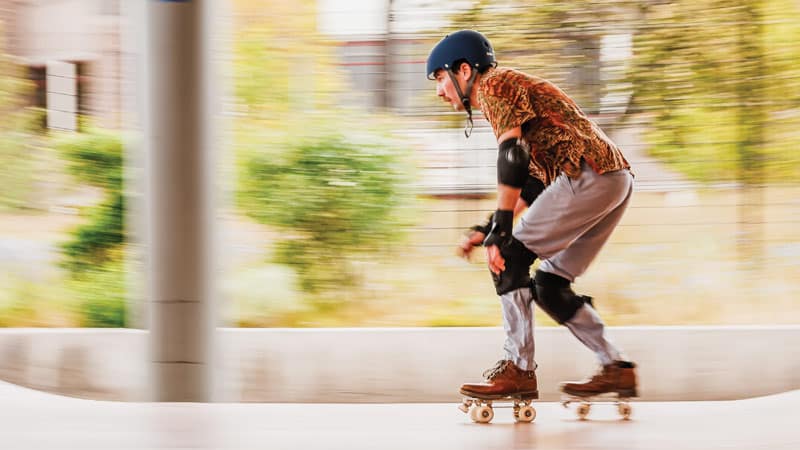 Gossett enjoys solo skating and social skating. "A great thing about Pine Nursery is that you often see other folks—adults, kids and families—skating around," she said. "But I also enjoy skating solo a lot, and listening to music while dance-skating to soul, funk or disco when I'm trying to get out of my own funk is great. When it's a quieter day, Pine Nursery is a nice spot to practice more balance or stopping skills in the more open paved spaces." There's always room for challenge and improvement in skating, Gossett feels. "Ideally, I would like to strap on my rollerblades at home and skate anywhere around town, but I'm still building my urban rollerblading confidence."
A great option in Bend for novice skaters is to join a skate park meetup, like those put together by Community in Bowls, an international organization that works to spread the stoke for skating in skateparks. Local organization co-administrator Willow Fraser has been leading the charge for quad skating in skate parks in Bend since 2017. Through CIB, Fraser organizes monthly meetups at public skateparks with workshops geared toward beginner skaters. Creating a space where everyone feels welcomed and comfortable in a park setting is critical to the cause, she said.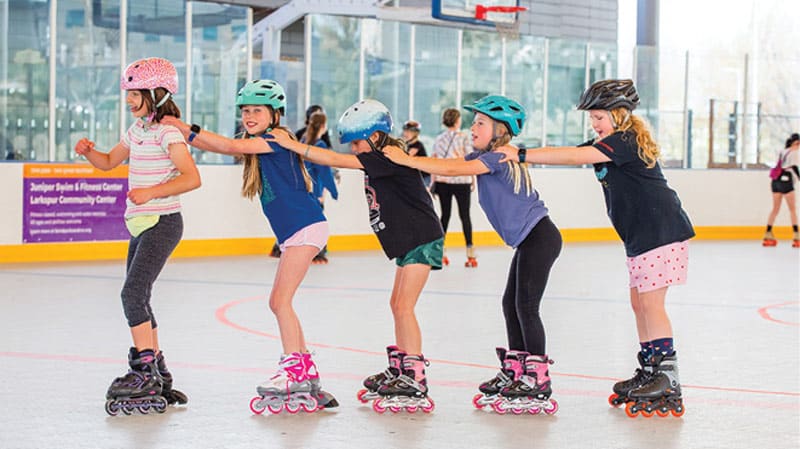 Like every sport, skating has its nuances. While some might say there's a divide between blading, skateboarding and quads, Fraser said all are welcome at the CIB meetups. "I love skating with all types of skaters and welcome them at any skate session or CIB Bend meetup," Fraser said. "I myself only quad skate—I tried skateboarding briefly, but my heart is on eight wheels. But some of my favorite skaters to session with are rollerbladers and skateboarders." 
Fraser, a former roller derby skater, currently offers private skate lessons for beginners and intermediates on flats, indoor ramps and outdoor park features. She continues to host CIB Bend roller skate meetups and promote Ladies Night at Bearings Skateboard Academy (open to all women, non-binary and trans skaters on any wheels) and another Ladies Night at SOLSK8S.
As interest in roller sports has fluctuated over the years, local indoor roller rink options have also changed. After Bend's Midtown Rock Rink & Roll ended its run in midtown, Cascade Indoor Sports offered skating for many years until 2019, when the facility opted to shift its rink into a space for indoor go-karts. This paved the way for The Pavilion in Bend, a winter ice skating rink, to boost its summertime offerings to skaters. "Adding roller activities for the non-ice season has been a great complement for skaters looking for year-round activities," said Julie Brown, communication and community relations manager for Bend Park and Recreation District. "Over the past couple summers, we've seen an increase in registration programs and drop-in times, and we've added more for summer 2022, including Friday night roller dance." From April to September, the Pavilion skatepark features open skate, Friday night roller dance, parent-tot skate and play, pick up roller hockey, and Sunday family skate times. Roller skates, skateboards and scooters are allowed in the skatepark. The Pavilion has also stepped up to become the home court for youth inline roller hockey team, the Bend Bullets, and for roller derby team, the Lava City Rollers.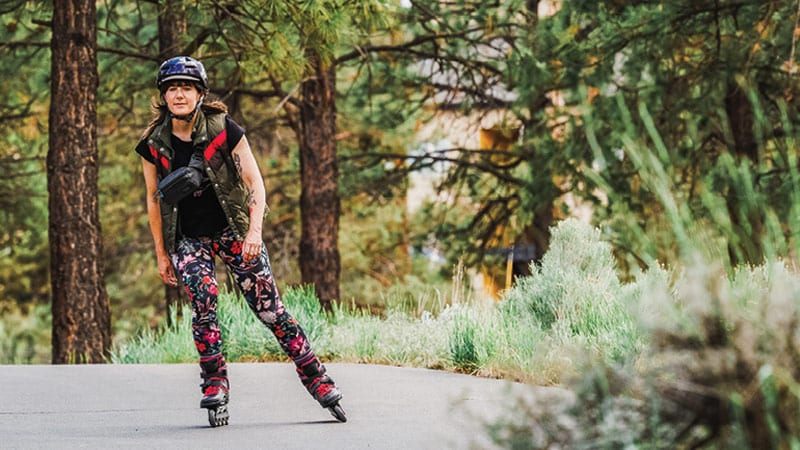 Oaks Park in Portland is the biggest roller rink west of the Mississippi. In operation since 1905, it's one of the ten original amusement parks erected in America, coined the Coney Island of the Pacific Northwest. 
Many Oregonians recall skating at Oaks Park decades ago, enjoying the old fashioned four-manual Wurlitzer organ, speed skating, couples skating and backwards skating; riding the bumps, the uneven floor on the back wall and requesting top 40 songs at the DJ booth. Oaks Park still operates today with year-round skating as well as other seasonal amusements. oakspark.com. 
---
Read more feature articles with us celebrating our Central Oregon community!