Maijken and Jason Gillihan remember waking up one morning in the spring of 2020 at their home in Beaverton and making a decision: they didn't want to wait any longer to make their dream of living in Central Oregon a reality. Native Oregonians who met in college when they were both summer greeters at an Abercrombie & Fitch, the two weren't strangers to buying and selling homes and moving around. They'd moved five times the decade before, and when they called their real estate agent that spring, the broker joked that "it was about that time again."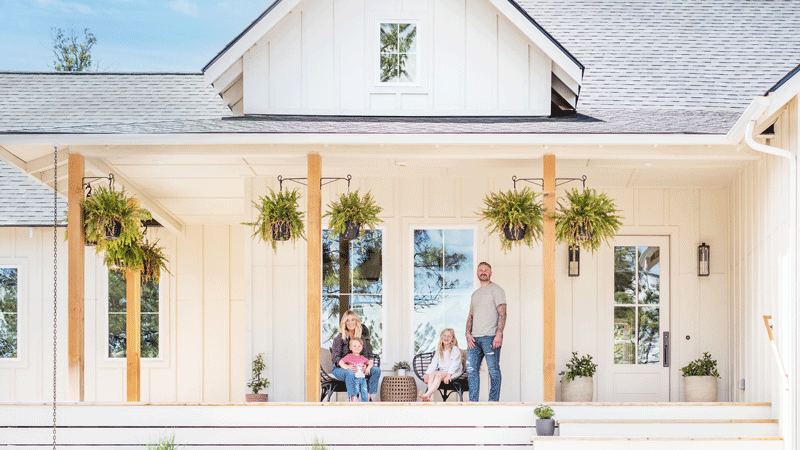 This move would be different for the Gillihan family, which includes daughter Ashbury, now 9, and son Indy, who just turned 3. Rather than buying another finished home and renovating and decorating to their liking, the Gillihans planned to purchase a lot, and build new. The property they settled on was a two-and-a-half-acre parcel in Squaw Creek Canyon Estates, a small neighborhood along Whychus Creek about 7 miles east of Sisters. "We knew we always wanted to move to acreage and build a white farmhouse," said Jason, who has a background in design and project management and previously owned his own furniture building and woodworking business in Portland. As part of the move to Central Oregon, Jason had gotten a new job as a senior project manager at Bend-based Sierra James Construction, a position that would allow him excellent access to a team of builders for the family's new home.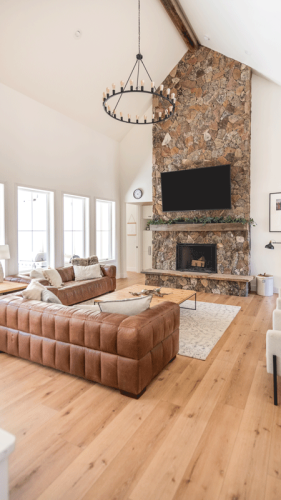 The Gillihans picked out a stock floor plan from Architectural Designs online and worked with Sara Bergby of Bend's Enclave Architecture on custom modifications, including taller ceilings throughout the home and a twenty-four-foot high great room ceiling, along with the addition of a butler's pantry adjacent to the kitchen. "I think the changes we worked on together really improved the house and made it into what they needed," Bergby said. "Everything just feels a little more spacious."
Construction began in the spring of 2021 and lasted seven months, an impressive feat given pandemic-related delays in the supply chain. As framing began this past summer, the Gillihans contended with peak lumber prices and even a wildfire—the 4,000-acre Grandview Fire in July 2021—threatening the area. But by early December, the family moved into the newly finished, 2,450-square-foot home, Christmas decorations in tow.
 The interior of the white farmhouse is thoughtfully designed and decorated, with a fresh and modern feeling. "We love neutrals and lots of texture," said Maijken (pronounced MIKE-en) who spent ten years as a marketing professional for Nike before starting a new marketing job with LiveWire–Harley Davidson's electric motorcycle company–earlier this year. The couple worked together on the design of the home, picking out fixtures and appliances, styling furniture and adding décor such as a mixed-media gallery wall that extends up the walls of the office opposite the entryway. "Jason has a really strong design eye, as do I," Maijken said. "I think design is our love language."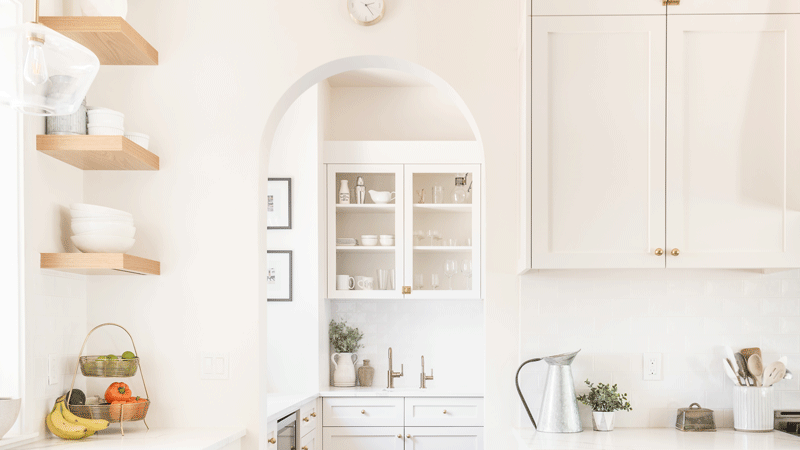 As visitors enter the Gillihan home, they pass the office on the left, followed by the "kids wing" on the right, with bedrooms for Ashbury and Indy and a bright, white bathroom. Ashbury enjoys looking out her bedroom window to see a family of squirrels that frequent a juniper tree with vibrant green moss on it. The kids' rooms open up to the great room, anchored by a floor-to-ceiling wood burning fireplace, adorned with Montana moss rock and a reclaimed barnwood mantle. "We wanted the fireplace to bring some of the outside in," Jason said. To the left of the fireplace is the home's primary suite, with backyard views. The primary bathroom features a dual vanity on the right, with white oak cabinetry from Harvest Moon Woodworks of Bend. "In my opinion, they're the most premium cabinet maker in Central Oregon," Jason said. The bathroom has a corridor in the center, with stalls on the left for a walk-in shower space and toilet space. The walk-in shower with a large fully opening window was a request of Jason's, who was thrilled to open the window to falling snow during his first shower in the new home. His and hers walk-in closets sit at the end of the bathroom corridor.
Back in the great room, durable luxury vinyl plank flooring extends from the living room into the kitchen, which features more beautiful cabinetry from Harvest Moon Woodworks. Off the kitchen is an opening to the butler's pantry, which offers kitchen prep space, a sink and a wall of storage filled with dry goods and snacks. There's no formal dining room, but there are stools along the large kitchen bar, and a cozy dining nook off to the side. "In our last house, we had a formal living room and a formal dining room that just collected dust," Maijken said. "Here, we use every single space in this house."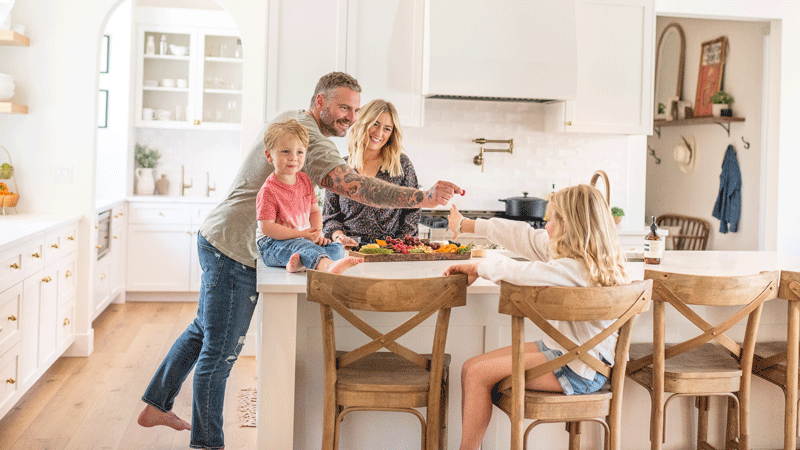 Feeling settled this spring, the Gillihans were wrapping up front porch finishes and dreaming of future plans for landscaping in the backyard, including installing a handmade walnut swing that Jason built with the family name inscribed across the seat. This summer, the family is planning more lake days to Suttle Lake north of Sisters, where Ashbury can break in her new kayak. Back at home, the pull-through driveway in the front yard is becoming a racetrack for the Gillihan children and their neighbors, who love riding bikes. After years of moving between homes, the Gillihans say their new house feels like a long-term fit. Maijken said, "With every house we had before, we did updates and remodeling, but this one is truly built for us and how we live."
---