Bend resident Paul Clark is taking paddleboarding to the extreme.
Written by Mackenzie Wilson
If your impression of stand-up paddle-boarding is limited to the scene around the Old Mill where tourists and septuagenarian pitter about, you've probably never heard of Paul Clark, aka SUP Paul. A photographer by trade, Clark has become Bend's unofficial ambassador of extreme paddleboarding. His idea of a day on the water often includes breaking trail to the launch site, slipping into a dry-suit and charging through Class IV whitewater. And that's all before lunch.
Clark first stepped on a board back in April of 2013. It may not have seemed at the time like a life-changing event, but the intervening years have revealed it to be a defining moment. Clark now leads paddleboard expeditions to remote corners of the state and to overseas locations. A recent trip found him paddling in South America.
On any given day, Clark can be found on a river doing what he calls, "adventure paddle-boarding." It's a modest term. Piloting an
inflatable board not much bigger than his body, Clark charges through rapids that would evoke white-knuckled screams from most people.
Video by Mackenzie Wilson
It was just a few years ago that Clark discovered the sport on YouTube, where stand-up paddleboarders were posting vanguard videos of themselves charging rapids. Still, Clark wasn't convinced he wanted to replicate what others were already doing. "I come from a long-distance sea kayaking background," he said. "I didn't want to drop waterfalls or surf necessarily. I wanted to do multi-day trips with my board."
He started out doing day trips on the John Day River and the lower Deschutes River. He also practiced in Bend's First Street Rapids and Big Eddy.
"I used to be the endless winter guy. I used to cry if I didn't get 100 days on the snow," he said. Now it's time on the water that he treasures. "Last year, I had more than 200 days in a dry-suit on the river."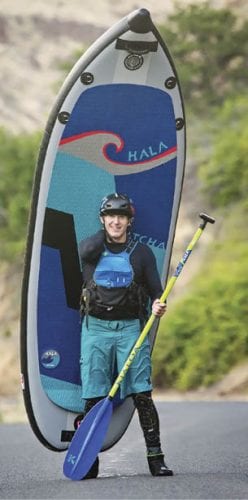 In the past, Clark was always partial to solo trips. In 2014 he paddled 300 miles of the Sea of Cortez in the Gulf of California with only his paddleboard for company. Now he's looking for community. Realizing that he could have a hand in expanding the popularity of the sport, he began hosting clinics for people whose curiosity is piqued. Something is working because Clark had enough interest to fill a winter in Patagonia, where he led eight-day paddleboard trips. Starting in Argentina, his groups crossed the Andes and ended up in Chile. He hopes adventure SUPing will attract a broader audience, shedding its reputation as a fringe activity.
"Every time I'm touching the water it's an education that's incalculable," said Clark. "For the last four years I've been paddle-boarding, and it's been like going to college. Now, I have my degree."
Just like other college grads, he's slowly learning to turn that knowledge and passion into a paycheck.
Follow Paul's adventures: suppaul.com