In 2015, Anna Soens, a 29-year-old wildlife biologist from Idaho, had been planning to climb Mount Hood with her dad when she free-fell thirty feet while climbing indoors and was left partially paralyzed from the waist down. This May, she and her dad set out fulfill their goal and summit the peak together.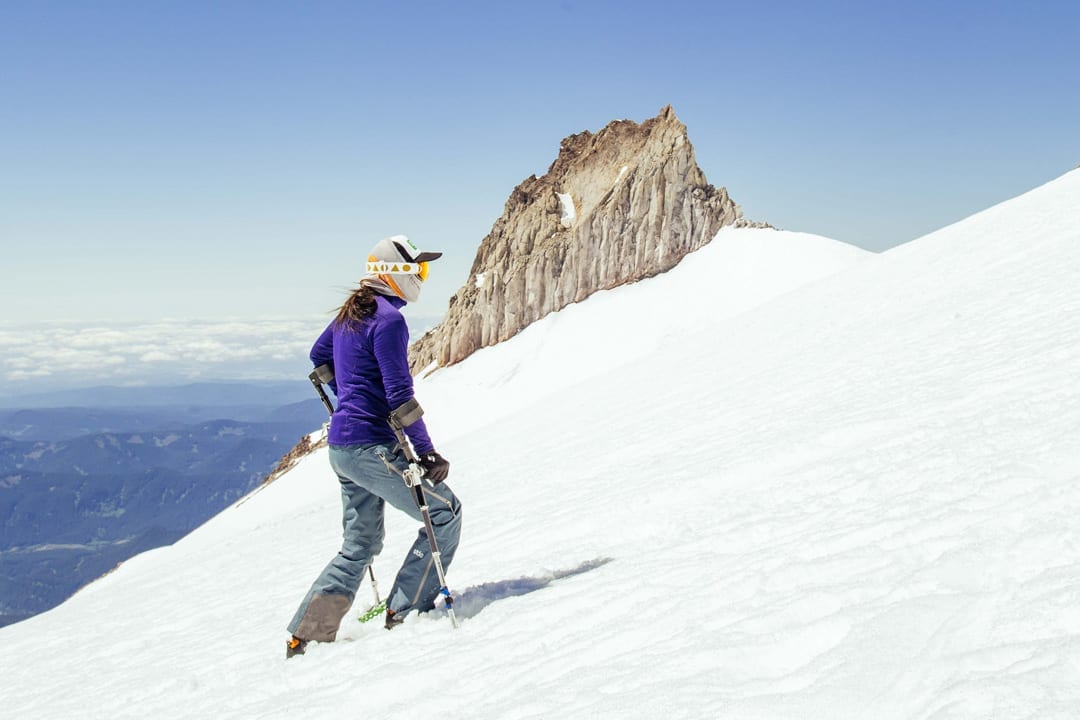 There had been no guarantees when we set off for the summit of Mount Hood, which towers above the rest of Oregon at 11,250 feet. As my dad and I kicked exhausted steps into the ice just below the top, the rest of our team cheered from above. Glimpsing the true summit as we emerged from the narrow chute called the Pearly Gates was the first moment I was sure that we were going to make it. Two years earlier, doctors told me that I'd never walk again, let alone climb a mountain.
A week before Christmas in 2015, I accidentally failed to clip in while rock climbing solo at a gym in Portland and free-fell more than thirty feet to the ground. The impact pulverized my lowest thoracic vertebrae and left me with paralysis from the waist down. A few days after my fall, I slowly thumbed through a copy of Bill Mulee's Mt. Hood Climber's Guide. I jacketed the book in a festive sleeve and scribbled "Dad" across its surface. For a brief moment I allowed my daydreams to indulge visions of climbing Hood, something my dad and I had been planning to do together the following spring. When I opened my eyes, a stark hospital room brought me back to a suffocating reality. My world was much different now.
Amid surgeries to repair my back and a shattered wrist, Christmas Day arrived and my family squeezed into my hospital room in an effort to carry on our holiday traditions. Our stack of presents dwindled until just one remained. As I handed it to my dad, I tried to explain that I had bought the book a long time ago. That even though I fell, and even if it took an extra year or two, we would still reach the iconic peak together. That even though they could only really twitch right now, my legs would faithfully carry me down trails and up mountainsides again. But of all those things that I tried to say, the only thing I managed to utter was a tear-filled, "I'm sorry."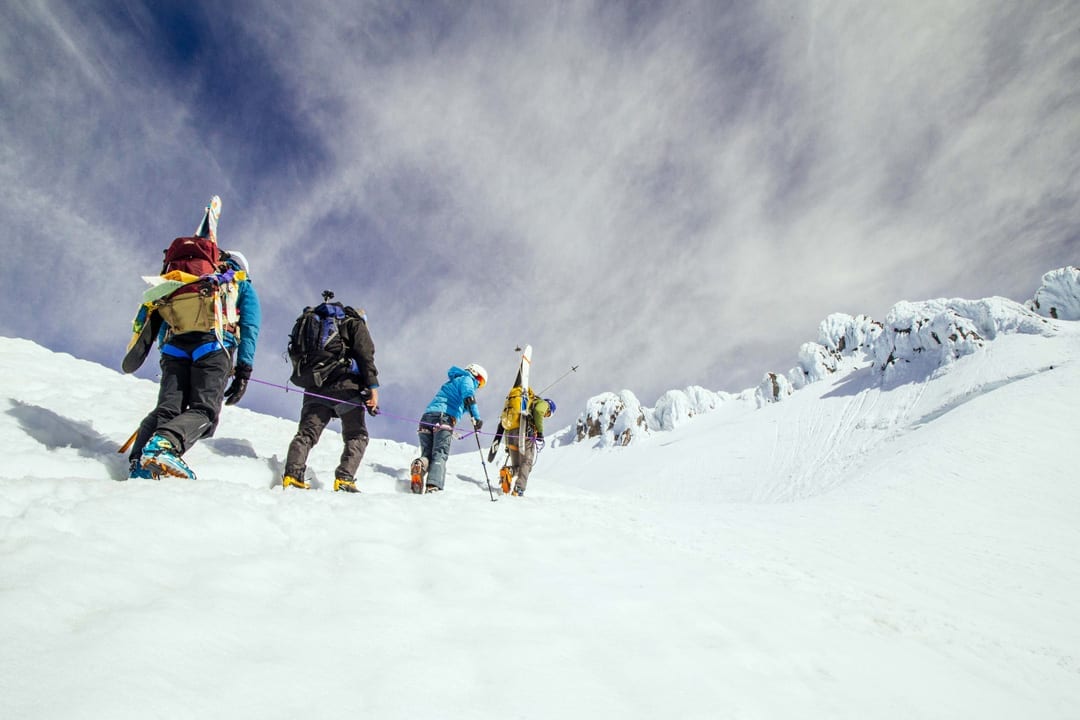 I spent a year after my accident relearning how to do everything from putting on shoes to driving a car. I questioned my identity, which was linked to remote landscapes that I could no longer reach. I wondered about my future, given a past that was built on perpetual movement. I learned how to approach and accomplish old tasks differently and slowly built strength in muscles that were neurologically impaired and atrophied from the two months lying in hospitals. Restoring my independence, confidence and hunger for big things, which I rely on to chase lofty dreams like climbing Hood, required outsider perspective and experience.
Through friends, I found Oregon Adaptive Sports (OAS), a nonprofit based in Bend. They got me on an adaptive mountain bike for the first time, returned me to Smith Rock to climb and took me from the bunny hills to my first black diamond runs in a monoski (a molded seat mounted to a single ski that allows me to ski while seated). My closest friends can now be found within OAS's community of adventure chasers, and through them, I've reclaimed the identity that was radically shaken when I fell.
While I spend the majority of my time in a wheelchair for practicality and efficiency, I can walk short distances with leg braces, crutches and a gait that resembles Frankenstein's monster. But my knees that once hauled packs of ropes and climbing gear up gnarly talus fields can no longer bend against gravity. My leg braces disguise the fact that my calves and ankles are silent, ready for messages from my brain that my spinal cord can no longer relay. Still, climbing Mount Hood remained a dream that never quite died.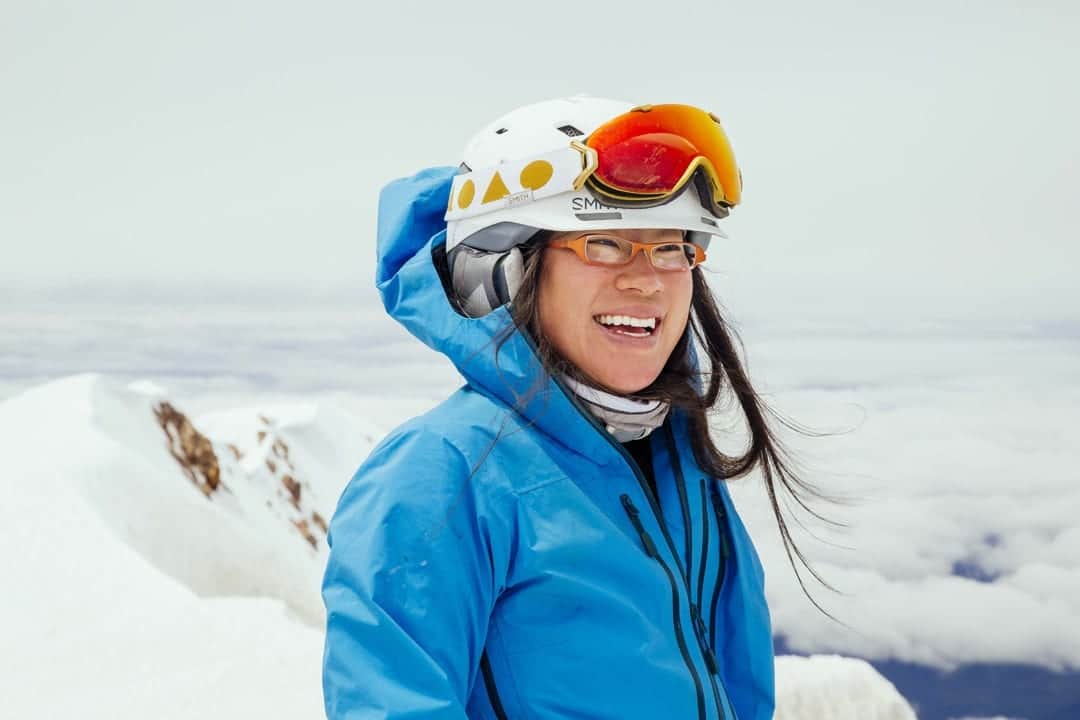 Our marathon effort to reach Oregon's tallest peak began a full year ago—organizing, training, fundraising and developing specialized gear for an ascent with little precedent. It's been two and a half years since my vow to climb Hood was renewed from a hospital bed, more in desperate longing than as a sincere promise. But that vow persisted through broken bones, damaged nerves and an uncertain future, and this spring that promise finally made it to the slopes of Mount Hood where it belongs.
In late May, with thirteen enthusiastic friends recruited to haul my monoski and other gear, we set off from Timberline Lodge to attempt Hood's popular South Side Route. Alternating between using specially-designed crutches and crawling on hands and feet, my progress was slow but steady. Nearing our basecamp at 9,600 feet, my 70-year-old father confessed surprise at how thin he found the air and how much effort he was exerting. As the sun set above the clouds and winds steadily gained strength, we pitched our village of tents, shared a pot of curry and hunkered in our nylon shelters for the night.
Summit day dawned. We rolled out of our tents and continued upward with thawing excitement in unyielding wind. Affected by the altitude and a heavy pack, my dad's pace slowed and his breaks became more frequent and desperate. When we got to the crevasse just below 11,000 feet, he sat on a mound of snow and tearfully whispered in my ear that he wasn't going to make it. He had worked out hours a day, six days a week for a year leading up to the climb. He had done everything he could. But he had been climbing at his max for hours and the steepest section was still ahead. I hugged him tight and told him that it didn't matter. We had already accomplished what we both had doubted was possible. We were on Hood together despite everything.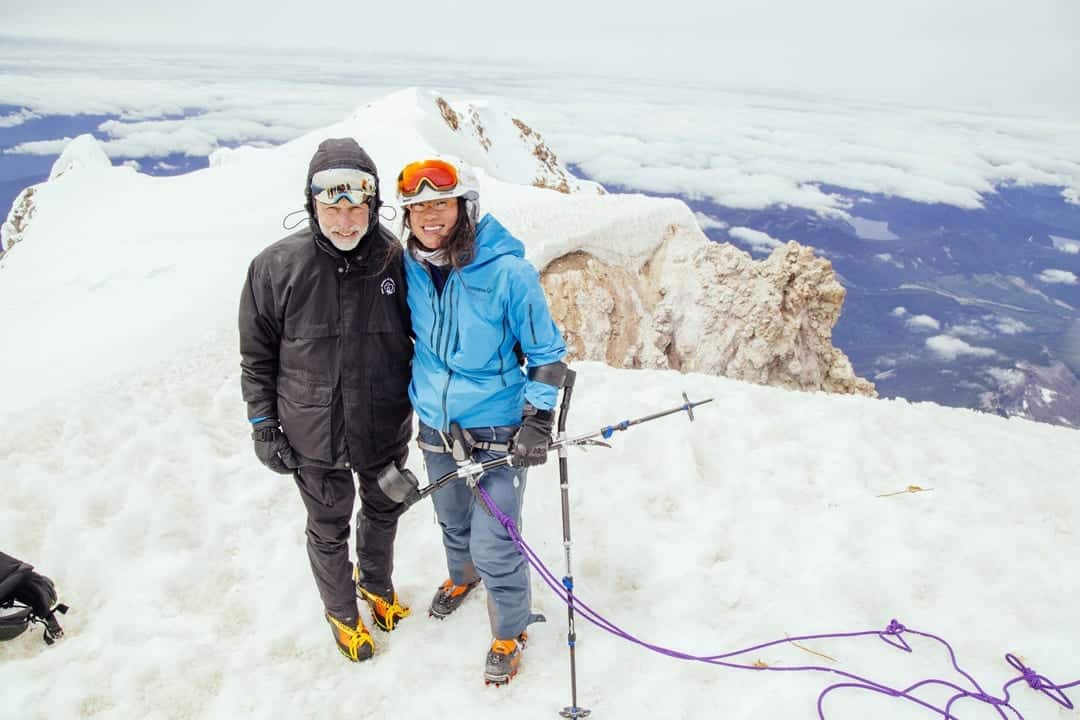 He was silent for a moment, then his breathing abruptly calmed. He stood up and said he was going to keep climbing. I questioned him, but a stubbornness in him, that I recognize within myself, steeled him. We continued on, me haplessly bear-crawling and him with an exhausted but determined shuffle.
We could hear the cheers of our team as we emerged from the infamous Pearly Gates and trudged our way up the final slope to the summit. We made it. On May 29, my dad and I, surrounded by friends, stood on the top of Hood together, overlooking the far corners of Oregon from an unrivaled perch. From our high vista, mountain peaks beckoned across the horizon.