"KINGFISHER" SCULPTURE PROVIDES LOCAL PERCH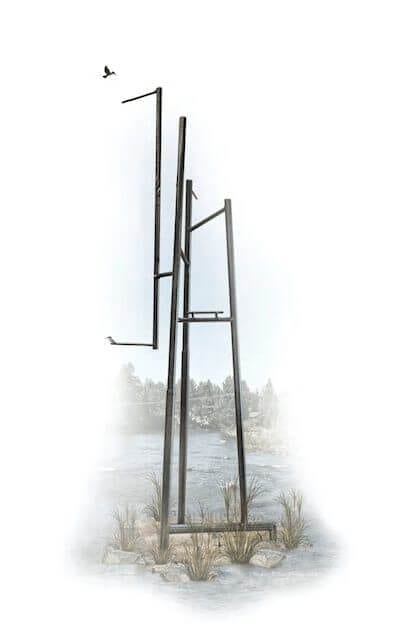 Art and nature are coming together to benefit the belted kingfisher, a bird native to Central Oregon. A steel sculpture by Bend artist Andrew Wachs, in collaboration with Portland designer Dylan Woock, a Bend native, will offer a platform and hunting perch for the kingfisher on the Deschutes River. It is expected to be installed in late-March, near the Bend Whitewater Park and new Colorado Avenue pedestrian bridge.
Wachs consulted with local ornithologist David Dobkin to create optimal locations for the perches on the piece, allowing kingfishers to spy fish and other prey. The sculpture is designed especially for the riparian area on the east side of the river near Miller's Landing Park, Wachs said. The tapered tubular structure will be installed on a small island in the river, and stand about twenty-three feet tall with perch points at varying angles and heights. Onlookers will be able to watch kingfishers in action while walking across the footbridge or along the east bank of the river.
"The sculpture mimics the geometry of a tree," said Wachs, who specializes in metal art and public sculptures. Another one of his works is at the center of the roundabout at Southwest Bond and Wilson Streets in the Old Mill District. That metal sculpture, entitled "Ghost," is a contemporary version of a historic mill crane and dredge. He said the kingfisher sculpture, a new venture between himself and Woock, is aimed at merging ecologically driven public art works with awareness for the environment.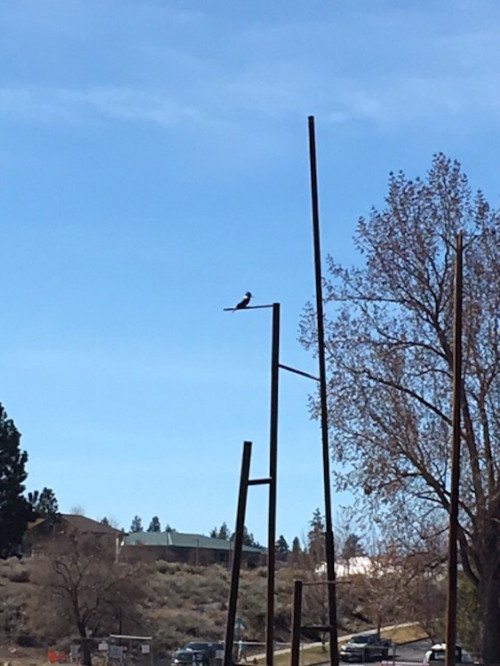 Wachs, who has already spotted birds perched on the piece, said he's grateful for the support of Bill Smith, president of William Smith Properties of Bend, which commissioned and sponsored the project. "This has been the chance of a lifetime," Wachs said."(I) appreciate every moment of the process."
– Lee Lewis Husk