When Whitney Keatman launched Sparrow Bakery in 2006, she got creative with her sourdough starter. "An old concord grapevine was thriving outside our building. I used the grape skins' natural yeast to start the culture. Fifteen years later, we're using the same starter for our breads," Keatman said.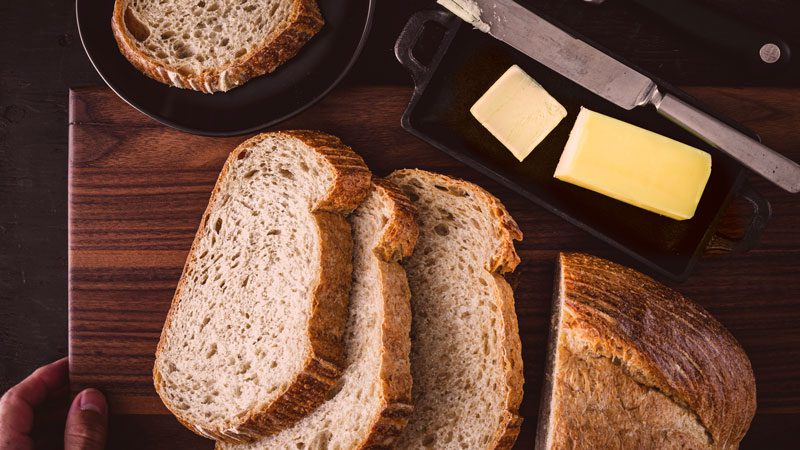 Sourdough starters, those gooey mixtures of microbes, water and flour, act as a natural leaveners. Starters require regular care and feeding; at Sparrow Bakery, the bakers replenish the large bucket of sourdough starter with flour and water daily, after the doughs are mixed and set to rise. During rise time, the complex blend of yeast and good bacteria digest the flour, releasing bubbles of carbon dioxide.
The benefits of sourdough go beyond an airy loaf, according to Keatman. This ancient method involves fermentation, when the microbes produce lactic acid that shifts the bread's flavor and structure. "The starter brings that sour tang and breaks down some of the gluten, so the bread is more nutritious and easier to digest," she explained.
Fermentation– it's not just for beer!
Whether in beverages or food, fermentation happens when good microbes (probiotics) metabolize carbohydrates to create enzyme and acids that transform the food's flavors and nutritional profiles. From sourdough and yogurt to kimchi and tempeh, fermented foods are found in cuisines around the globe. Before refrigeration, fermentation was essential to extend foods' shelf life. Today, foodies appreciate the umami undertones of fermented foods, as well the impact of probiotics on digestive health, mental clarity and mood stability.
Paul Trendler and Sarah Frost-McKee, of Bend, became enamored with fermented vegetables when their son was born. "Our veggie ferments ramped up nutrition for all three of us. The diverse array of nutrients from the probiotics and prebiotics—they play a vital role in resiliency for the gut-mind connection," Trendler said. Science backs up that connection: regular consumption of probiotic-rich food helps moderate blood sugar, boost liver function and lower cholesterol. Just as importantly, fermented foods influence the gut-brain connection. By supporting the production of neurotransmitters like serotonin, probiotics can lower anxiety and boost cognitive function.
Trendler and Frost-McKee grew their passion into two businesses: Local Culture, which offers a variety of fermented vegetables, and Super Belly Ferments, for their line of salad dressings made from fermented ingredients. "Drizzling a bit onto salad or vegetables makes it easy for any person, from toddlers to grandparents, to get probiotics into their diet," Trendler said.
Bringing protein to the vegan plate
Long before mass-produced meat substitutes landed in grocery store freezers, fermented soybeans known as tempeh provided a high-protein meat alternative. Tempeh is an Indonesian dish that involves soybeans wrapped in banana leaves, along with a type of fungus culture called Rhizopus. This process grows a mesh of mycelium around the beans, and binds them together. The lacto-fermentation process, started by the fungus, keeps undesirable microbes from thriving.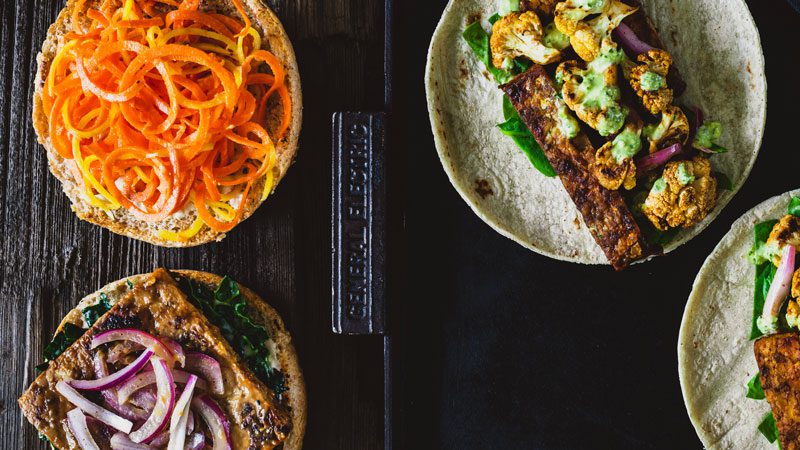 At Root Down Kitchen in Bend, owner and chef Nicole Precone appreciates tempeh's meaty texture and flexible flavor. She starts with slabs of tempeh made in Eugene, cuts them into portion sizes, and marinates the pieces overnight. Her menu offers sandwiches layered with Dijon-glazed tempeh and vegetables (above), and tacos stuffed with hoison tempeh and roasted cauliflower (right). "Tempeh is a traditional protein, not processed like soy protein isolate. The beans themselves have great nutrients and fiber, but when you add the fermented culture, it's a powerhouse," Precone said.
Preserving the flavor, respecting the land
Sauerkraut may be the most well-known fermented dish, but it's spicier cousin kimchi has a growing fanbase. Kay Declercq, of Root Cellar Staples in Bend, makes both by hand in small batches. She slices napa cabbage for the kimchi and green cabbage for the sauerkraut, then salts the cabbage generously to draw out liquids. The salty brine supports the growth of lactobacteria on the cabbage surface, so no extra water or culture starter is needed.
After adding a slurry of spices and herbs, Declercq transfers the mixture to a fermentation vessel with a special lid that allows bubbling gases to escape. As the lactic acid concentration rises, Declercq monitors the pH carefully. "The right acidity is what keeps the food stable. It's a beautiful way to preserve food in its natural state," Declercq said. While pickling vegetables with vinegar and salt can produce a sharp acidity similar to fermented brine, pickling does not involve probiotics, she clarified.
Beyond the health benefits of fermented foods, Declercq views fermentation through a sustainability lens. "Preserving food through fermentation honors the work of the farmers that grew it. Instead of letting fresh veggies go to waste, fermentation makes them even more dense with nutrients. It's a way to respect the farms and the soil," she said.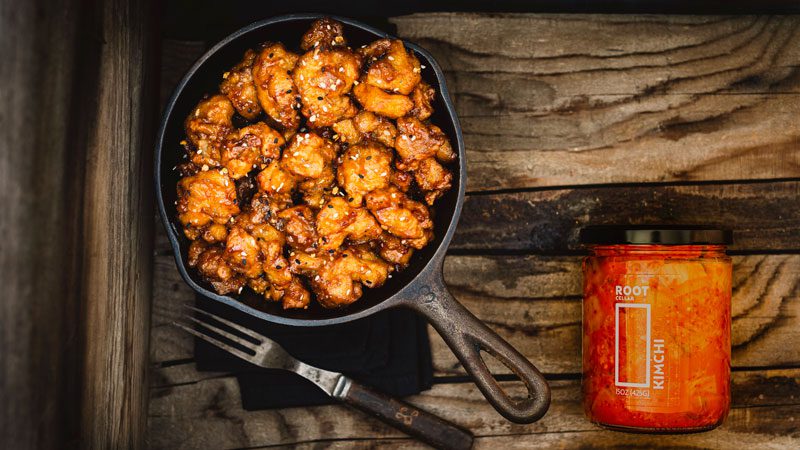 DIY fermentation
Even with a wide range of probiotic-rich foods available in Central Oregon, making fermented foods at home appeals to many adventurous amateur chefs. As Declercq noted, any vegetable can be added to a batch of sauerkraut or kimchi, reducing the food waste at home. And as for the sourdough starter, Keatman advises people to worry less about the details, and just give it a try. As she said, "If it fails, just start over. The results are so worth the effort."