Artist Dawn Emerson used her past life in the circus as inspiration for her latest art.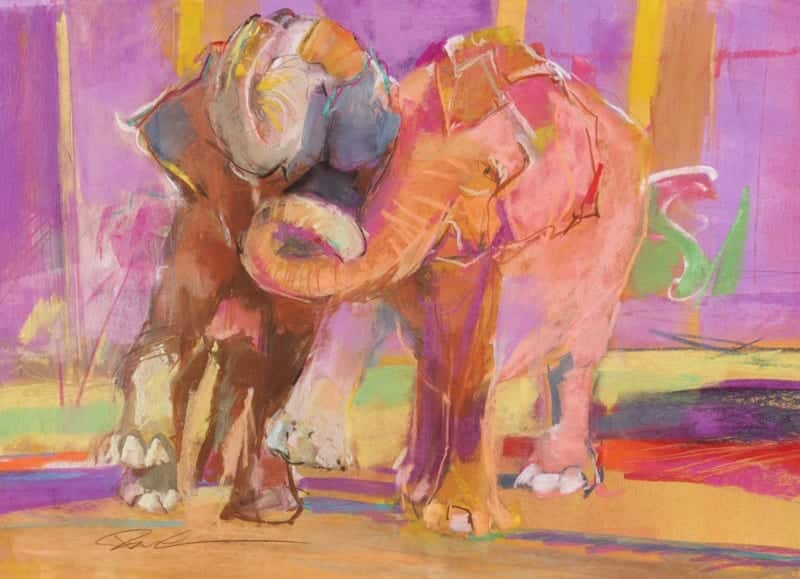 When Ringling Bros. and Barnum & Baily Circus closed in 2017, it revived memories of Terrebonne artist Dawn Emerson's summer of 1975. "I loved elephants and wanted to run away with the circus," she recalled. "I joined a third-rate, no maybe fourth-rate circus with crusty clowns as a synchronized swimmer between my sophomore and junior years of college."
The pools were dirty, and she nearly drowned in four feet of water. "We were never really synchronized," she said with a laugh. She left the circus and returned to school as planned but never forgot the mood and vibrancy of life under the big top.
Four decades later, Emerson recreated images of this bygone era in "Cirque d'Art," a body of work exhibited last fall at the Bend Art Center. The program guide stated that by "using simple cutouts, textured materials, layers of color and different printmaking processes, Emerson captures a time, place and feeling that lives on in our imagination."
Emerson sees the circus as a metaphor for life. "It's serious, magical and humorous," she said. "We all have to learn to juggle, take leaps of faith and figure out what's in our own tents."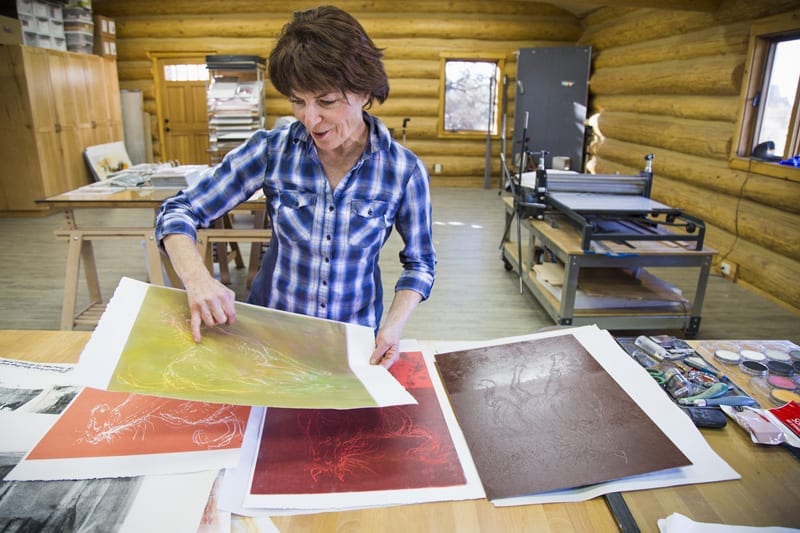 Emerson's own tent turned out to be art and the creation of mixed media pieces, printmaking, book writing, illustration and pastel paintings inspired by French Impressionist Edgar Degas. She also discovered a love for teaching children and adults how to express themselves through art. She spent five years as an artist in residence in the local public schools in the early 1990s, designing an art curriculum for kindergartners through twelfth graders. "Kindergartners are the hardest to teach," she said, "but they taught me how to make art come alive."
In 1992, she started painting with pastels and enrolled in workshops to learn from the best pastel artists in the country. She won awards for her pastels and exhibited in galleries across the country, including at Bend's Mockingbird Gallery where she still shows her work.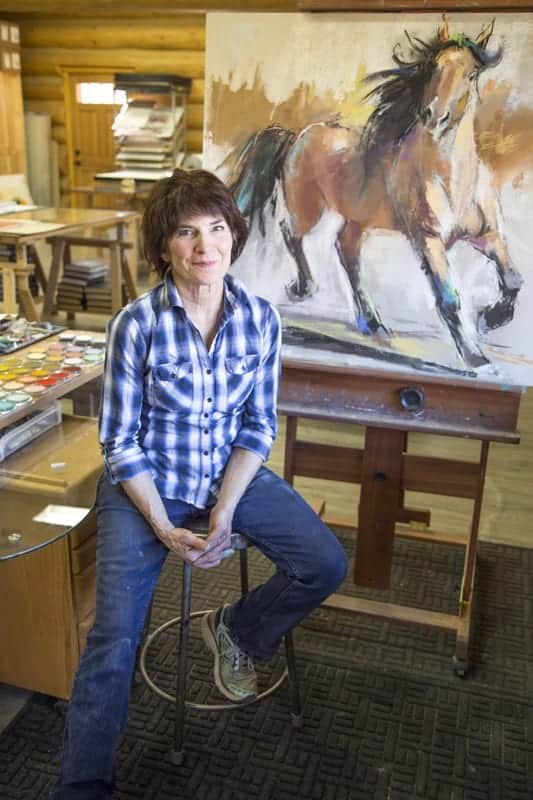 In 2008, she met mentor and printmaker Pat Clark, founder of Atelier 6000 studio (the education component of the Bend Art Center). Clark introduced Emerson to monoprinting, a process that results in a single print made with ink and a roller, often called a "painterly print." After years of working in pastel, Emerson said the new medium caused her to "throw everything out and start anew."
"The studio inspired a different voice in her work," said Clark. "She conquered everything that was thrown at her in methods and media."
Instead of working in small format, the two women created huge plates and then "ran over them" with steam rollers like those used in road building. Clark said Emerson became so skilled with ink that she created her own mixed-media techniques, combining monoprints with pastels. "She's in the top two percent of American artists who work in pastels. She's sought after as a workshop instructor and an art show juror," said Clark.
Today, Emerson continues to challenge and reinvent herself as an artist. Her husband, Bruce, built her a large studio adjacent to their home in Terrebonne. She wrote and illustrated the book Pastel Innovations. And with a growing national reputation, she teaches about ten workshops a year across the country. But unlike her summer with the circus, the spotlight is on her and helping others find their own tents.