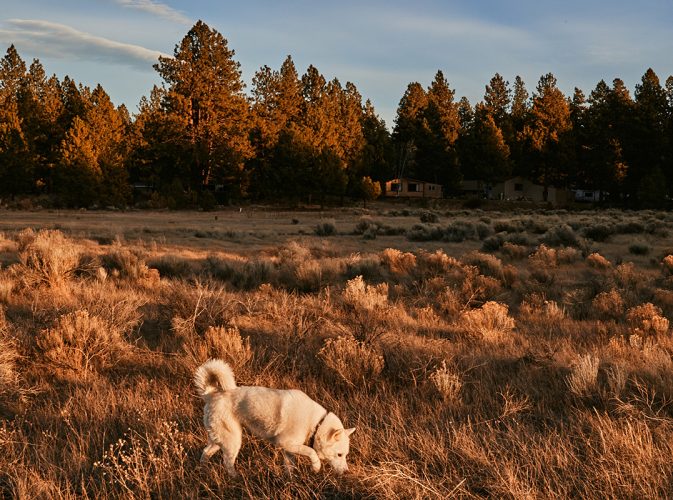 Patrick Trowbridge and his wife Karrie own twenty-four acres on a pumice butte with 360-degree views from Mount Bachelor to Mount Jefferson, Lava and Pilot buttes to the Ochoco Mountains, and Awbrey Butte to Smith Rock. It's a unique property in Deschutes River Woods, an area not generally recognized for its views. Patrick said it was "the de facto neighborhood park" before they acquired the property in 2012.
A quarter-mile south of Bend's city limits, Deschutes River Woods, or "DRW," was developed in the early 1960s as an unincorporated part of Deschutes County. Its main entry points are from Brookswood Avenue in southwest Bend and the Baker Road exit off south Highway 97.
In the past, it was known as a place where Bend's working class could buy larger parcels of almost an acre in an unmanicured environment and with no design requirements. People built homes pursuant to their own desires and tastes, leading to a diversity of home styles and types. In the early days, the east boundary along the railroad and Highway 97 attracted a rough crowd, and the community over the years earned a reputation for run-down properties.
As Central Oregon grew in recent decades, DRW gradually improved its status as a livable place for families close to Bend but far enough out to retain its original character with large lots, dense pine forests and privacy. Apartment complexes, condos and other high-density housing is almost nonexistent in this rural development. The 2020 census showed a population of 5,532 people.
The Trowbridge's family story illustrates how far this neighborhood has come in just the past decade. The couple moved to Bend in 2000 from Valley Forge, Pennsylvania, and spent ten years in downtown Bend, where they could walk to most places. In 2010, they wanted more space. As a broker with Knightsbridge International Real Estate, Patrick saw opportunity in the oft-forgotten DRW neighborhood. The family bought a 5.6-acre property for $204,000 and renovated it while getting a feel for the area. (They sold the house three years later for $425,000, and it sold again this past December for $1.1 million.) "We met people out here and really liked it," he said. "The neighbors are down to earth."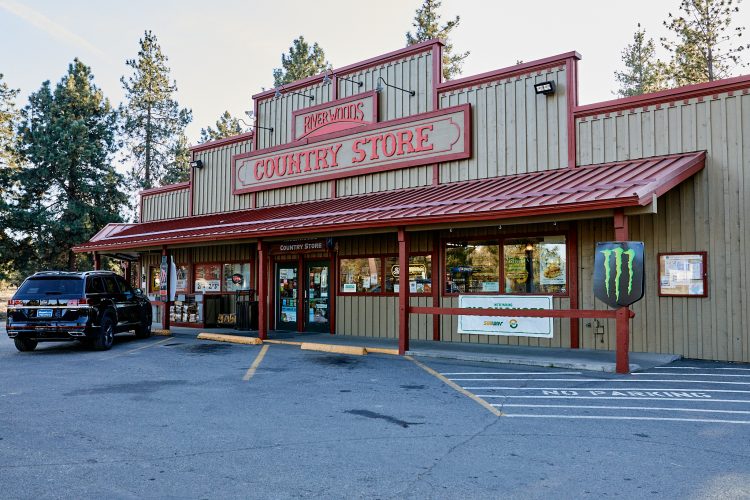 "DRW used to have a bad rap, but I think it's changed now," said Leslie Graff, another resident who, along with her husband Dan, bought a lot with a manufactured home in 2000 and have been steadily improving the property. "We almost bought a teeny, tiny fixer-upper house off Franklin Avenue (in Bend's core) with a postage stamp of a yard on a very busy street," she recalled. "We've always been thankful we decided on DRW. We've seen a lot of change in the twenty-two years that we've lived here. We're in a good pocket with the greatest neighbors. It feels like we're living in the country, and yet we're just a hop, skip and a jump away from the city."
The area still has buildable lots, but the supply is dwindling, according to Trowbridge. Recent sales show a mix of new but primarily older homes where values are on pace with the rest of Central Oregon's hot real estate market. A home built in 2004 on the Graffs' quiet, dirt road sold in 2017 for $370,000 and is now listed for $749,000. Realtor.com shows the median price for a sold home was $525,000 in September, with thirty-one listed homes ranging in price from $329,900 to $2 million.
The western edge of DRW is bounded by the Deschutes River where homes with low-bank frontage are valued in the $1- to $2-million range and look across the river to Lava Island Falls and Meadow Camp. "People are starting to realize that parts of DRW offer gorgeous home sites," Trowbridge said.
Google Maps reveals one of the more unusual aspects of the neighborhood—ancient lava flows that comprise an impenetrable southern border. Several main streets dead end at the lava flows that form part of Newberry Volcanic National Monument. Although there are no parks in DRW, residents can access trails that lead to Lava Butte within the national monument.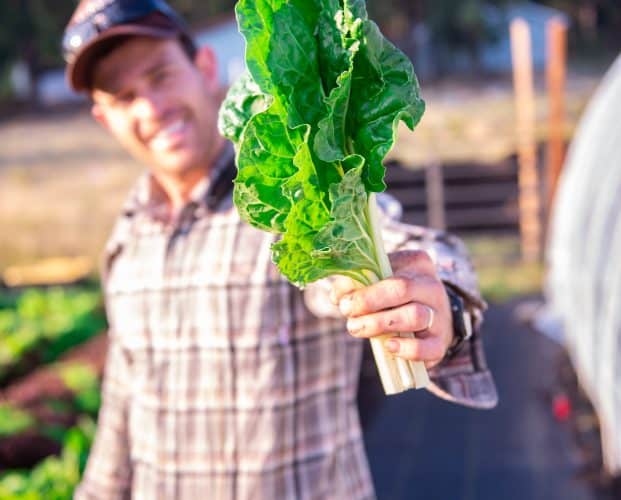 Several businesses operate out of DRW, including the Alker Family Farm, a small-scale organic vegetable farm, Bend Pine Nursery, High Desert Mulching, Motokidz Motorsports, a dog groomer and boarder, an upholstery shop and others, along with a private Christian school and two churches. Riverwoods Country Store near the Baker Road exit and C. E. Lovejoy's Market off Brookswood are the nearest convenience and grocery stores.
Deschutes River Woods today is a community in transition, where you can find a jumble of RVs, jalopies and tractors in some yards, farm animals and gardens in others, gated driveways, quiet streets with little traffic, parents who walk kids home from their bus stops, and most residents loving the rural environment where they and their pets have room to roam.