There is no denying that the street taco craze has hit Central Oregon. All across the region, chefs can be found serving up tacos, often adding personal touches such as lightly crisping the shell, incorporating cheese or a slaw of some sort, and using meats and salsas more familiar to the American palate. However, when someone wants to find an authentic taco, where can they go? And what exactly makes a taco authentic or not? Read on to learn about three Mexican eateries that keep old traditions alive, and discover what makes authentic Mexican food, authentic.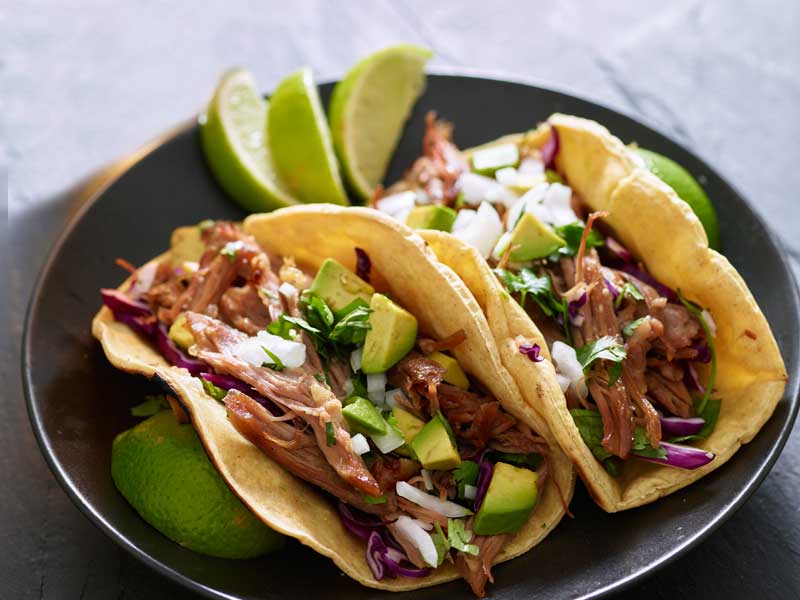 The Basics
The word "taco" comes from the old Nahuatl word tlahco which means "half or in the middle,'' referring to the way Aztecs wrapped veggies, meats and spices in tortillas. It is believed that these early tacos actually evolved from the diet of the Olmec, also known as La Cultura Madre. This society created many practices still found in Mexico today, including the creation of masa for tortillas.
"The most authentic piece of a taco is a handmade tortilla," said Hansel Chavez, who co-owns the El Taquero food truck with his fiance, Hanna Cain. "That's the base it's all built on. It's a key piece of our tacos that we can't do without." This sentiment is shared by the owners of the other two authentic eateries featured here, Omar Florez and Crystal Jimenez of the Alebrije Oaxaca food truck and Rosalba Villicana of La Frontera.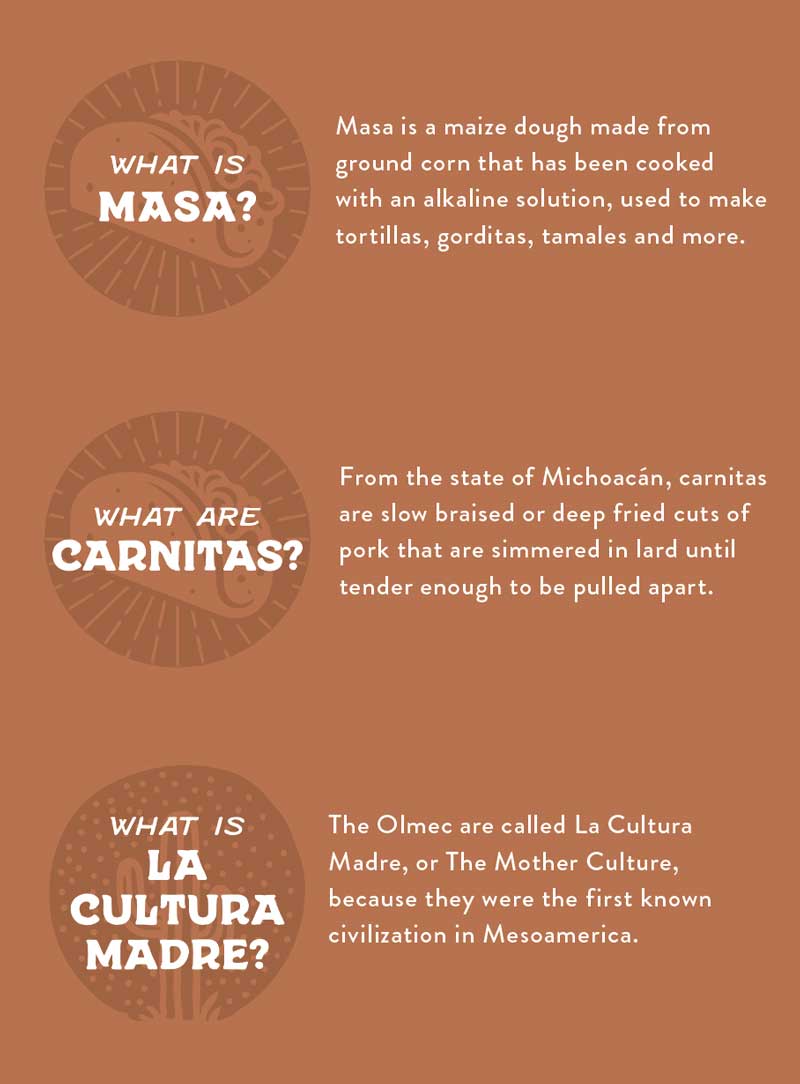 Each also said this: an authentic and traditional taco has a handmade tortilla (corn, not flour), meat, freshly chopped onion and cilantro, a squeeze of lime and a dash of a hot, homemade salsa. 
What is the final word on authenticity? Consumer response. Each owner said that when a customer comes from Mexico, whether they lived there or just traveled there, and reports that one of these restaurant's tacos tastes exactly like the ones served in Mexico, the chef knows she or he has done it right.
Carnitas at La Frontera
Rosalba Villicana prepares the masa and salsas fresh daily. "I was born in Michoacán. When you're little in Mexico, they teach you how to cook, and I always loved it," said Villicana, who was taught to cook by her aunt and her mother, although most of the recipes served at La Frontera are her own creation.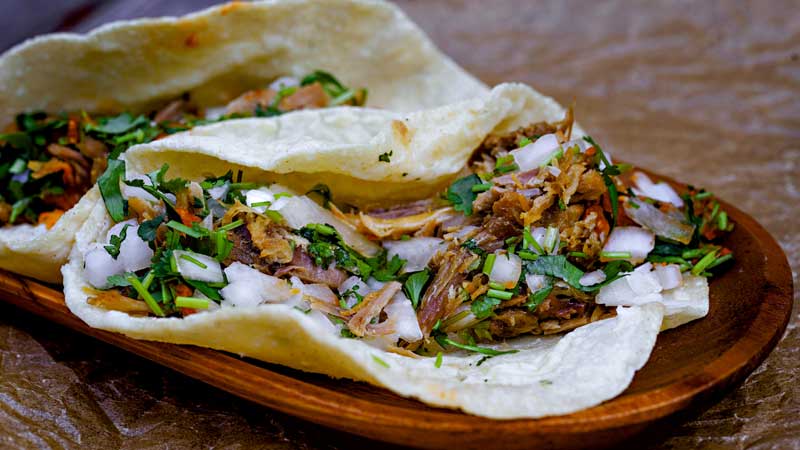 Villicana said that carnitas are a staple dish in Michoacán, and her recipe remains extremely similar to the carnitas tacos that she ate growing up. Similar to American pulled pork, carnitas start with a fatty pork shoulder slow-cooked for a minimum of two hours, usually longer. The pork fat slowly cooks out into a liquid that helps the meat fry, and adds a deeply rich and savory flavor to the meat, which ends up being incredibly juicy, while still being crispy. 
Sticking to her roots, Villicana portions the carnitas onto a handmade tortilla and tops them with onion, cilantro, lime and some of her supremely spicy salsas. "Salsa needs to be spicy, very spicy," she remarked, with a laugh.
La Frontera | 2330 South Highway 97, #8873, Redmond
Quesotacos at El Taquero
The quesotaco proves that authenticity is a tough thing to define. The quesotaco proves that authenticity is a tough thing to define. "It's not what most people consider authentic, but it was also created in Tijuana using authentic ingredients," said Chavez. "A lot of our older Mexican clientele don't see that as a real taco at first because of the cheese, but when they try it and recognize the authentic flavors in the meat, salsas and tortilla, they usually change their minds."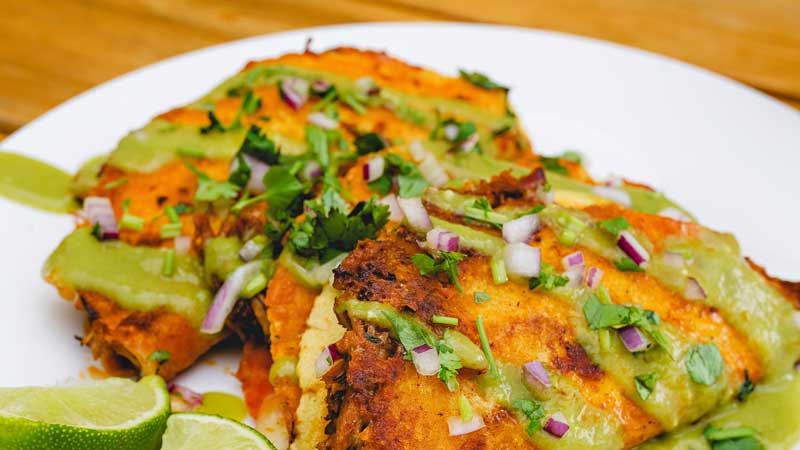 Making the quesotaco begins early in the morning to prepare the birria. The recipe belongs to Chavez's mother, who always makes the stew by heart with no steps or measurements written down. Twelve different spices, peppers and veggies are blended together to create the consomé broth that the diezmillo or chuck steak cooks in for a minimum of four hours. 
The resulting meat is incredibly tender, and is removed from the stew to be placed in a handmade tortilla with Oaxacan cheese, onions and cilantro. The taco is then grilled on a flat top with a bit of the consomé to aid in the frying process. The end product is a crispy shell filled with cheese and meat that seem to melt together and encapsulate the onion and cilantro. Try them with a cup of consomé for dipping and some of Chavez's mother's salsa for a kick.

Pork Adobada
 

at Alebrije Oaxaca

Serving cuisine specifically from the state of Oaxaca in Mexico, Alebrije Oaxaca specializes in dishes like mole enchiladas, memelitas and of course, tacos. One of the owners, Omar Florez, was born and raised in Oaxaca and strives to bring to Central Oregon the same flavors he grew up with by using recipes that come straight from Oaxaca.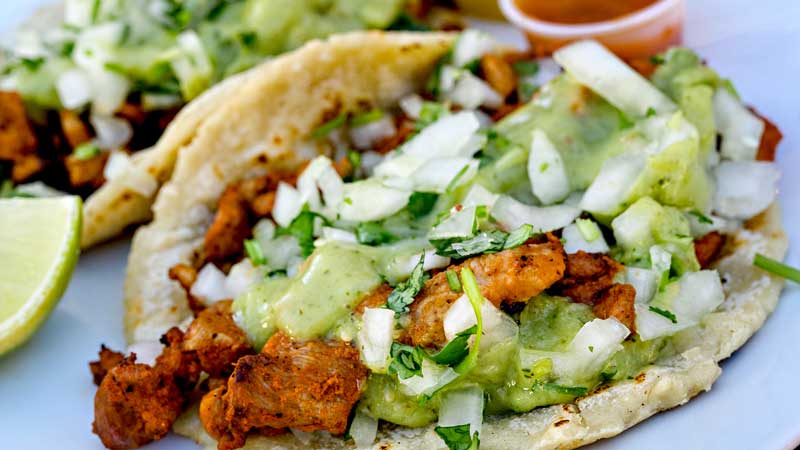 Adobada translates to "marinated" in English, but pork adobada typically follows a loose recipe. Cuts of pork shoulder are left to marinate in a red chile sauce with notes of citrus and vinegar for hours, before the meat is dropped onto a searingly hot grill and quickly cooked to a crisp. The resulting meat is crispy on the outside with a tender and juicy interior with just enough fat to add a rich flavor, like bacon. You can probably guess what goes on this authentic taco: cilantro, onion and lime with a splash of hot salsa, all held together on a handmade tortilla. 
A common theme found in these authentic Mexican tacos is this: instead of trying to add new touches to each dish, Mexican food strives to take simple ingredients, as fresh and as high quality as possible, and make the most out of them by sticking with traditional cooking methods and recipes that have been passed down for generations.
Chavez said, "It is important to us to keep these traditions alive, because not too many people do that anymore."