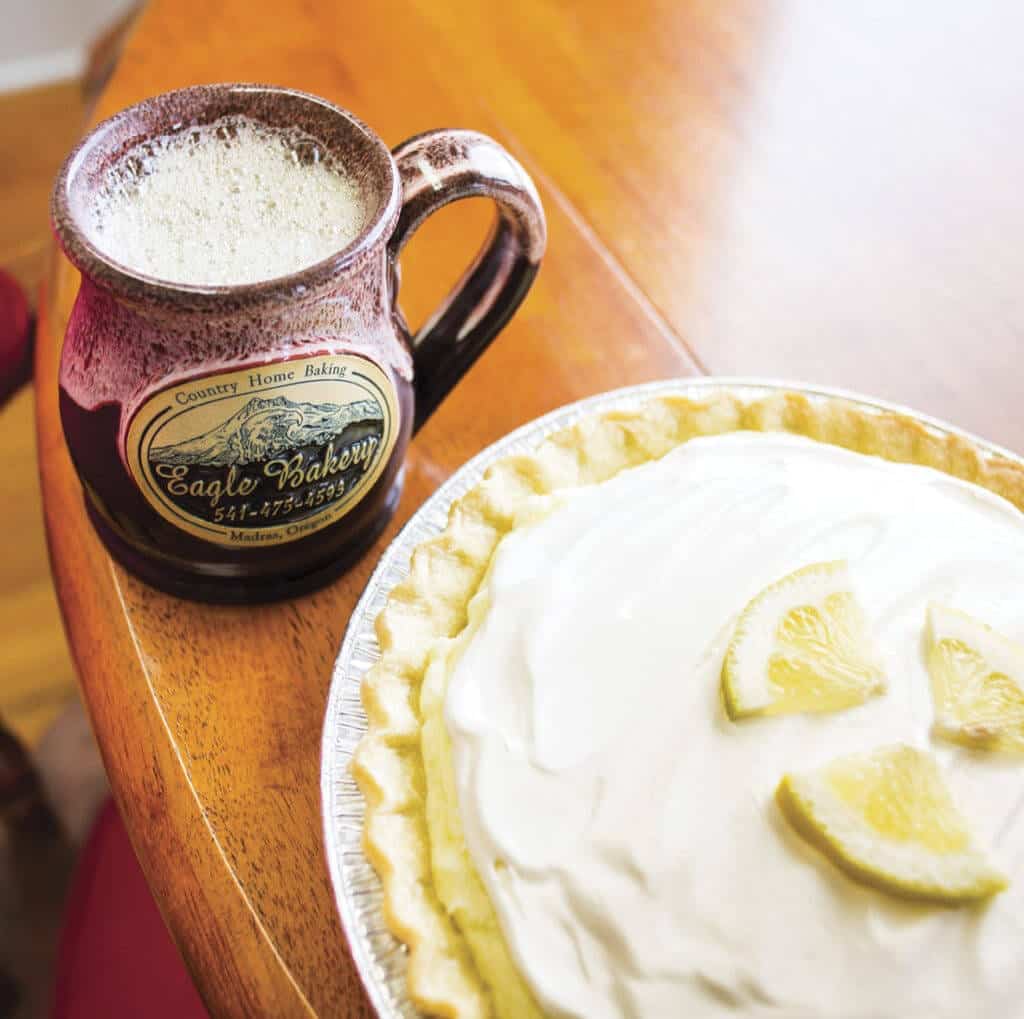 The secret sauce is a browned butter maple frosting. Larger than your hand, Eagle Bakery's classic-style cinnamon rolls are enhanced by spirals of mild cinnamon warmth and puffy dough that strides the line between an airy dinner roll and a denser, yeasty bread. On the cinnamon roll spectrum, these buns land on the sweeter end and butter is clearly a chief ingredient—which makes them essentially flawless. In fact, all the bakery's scratch-made goods are a swirl above the average treat, but the experience reaches beyond gluten and a sugar rush.
The concept that you can taste the love that goes into food preparation is a reach. Still, food seems to taste better when the experience is enjoyed holistically. A stop by the idyllic converted home on a quiet Madras side street is half the treat.
Run by Mennonite minister and handyman Rob Birky and his family since 2004, the Mennonite ethos of strong community and working with one's hands is readily apparent at Eagle Bakery. Clients of Birky's handyman business are also bakery regulars. As the charismatic face of the operation, Birky is often found handing out samples, welcoming locals by name and engaging new customers in relaxed conversation. Throughout the day, a steady stream of customers stop by, exiting with trays of rolls, pies and other specialty baked goods—or a bowl of Friday's clam chowder. Coffee is always hot and complimentary.
Birky is clearly proud of the goods his wife, co-owner Faye, produces from a mix of bulk supplies and Bob's Red Mill ingredients from a commercial kitchen on the family farm, north of Madras. Birky's son Kelvin and niece Lorna (pictured) help Birky run the storefront, which has thrived since the family made the move from selling at the local farmers' market to running a retail space on their farm to opening a brick-and-mortar location in 2009.
Ready to indulge? You will need to plan your week around a visit to the bakery, since the business is only open on Fridays and Saturdays. En route to Portland for the weekend? Pick up a lemon pie for your hosts. Coming back to Deschutes County empty-handed from a fishing trip on at Trout Creek? Bring your family a pan of cinnamon rolls to devour instead. Eagle Bakery is a sweet secret worth spreading.
Eagle Bakery | 123 SW H Street, Madras | 541.475.4593 | eaglebakery.net