Sponsored Content
It all started in a garage for Bend's Baldhead Cabinets, which is today a designer and manufacturer of heavy-duty, high-quality garage cabinetry. In the 1980s, Eric and Bobbie Fleming started a metal manufacturing company in their Costa Mesa, California, garage—creating heavy-duty metal security boxes to protect change receptacles in laundry machines. The boxes were sold to laundromats as the couple began to explore other forms of metal manufacturing.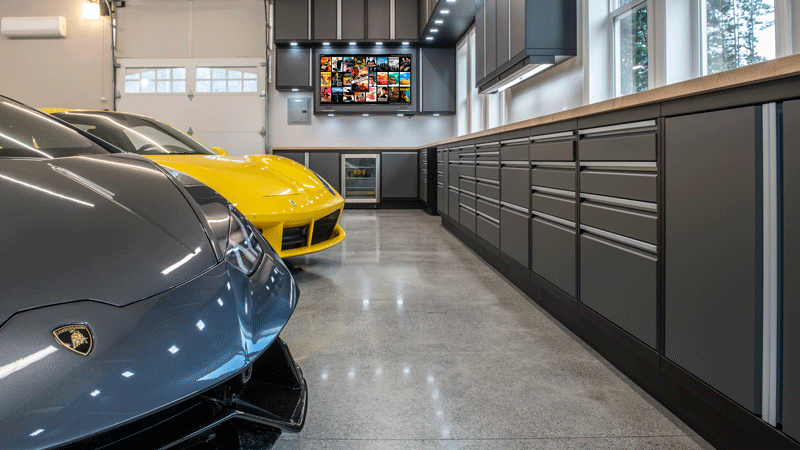 Fast forward to the year 2000, when the Flemings were remodeling their garage, and a new idea popped into Bobbie's head to create metal cabinetry. "It was my mom's idea to make cabinets out of metal for the garage," said Peter Fleming, the couple's son, who was a teenager at the time. The cabinetry the Flemings created for their own garage was somewhere between a Snap-on tool chest and custom kitchen cabinets, built to the highest of standards using metal. "They thought, if we're going to make a cabinet, we're going to make a really nice cabinet," Peter said. "The idea was to have a nice countertop, space for tools and plenty of storage cabinets." When the project was complete, the Flemings took photos and shared them in a local Southern California magazine, which caught the attention of some potential customers looking to outfit their own garages. 
Growing the Business
Once the Flemings zeroed in on cabinet manufacturing, their business began to grow slowly but organically through Southern California and beyond. Calling the business "Fleming Cabinets'" didn't seem catchy enough, so the Flemings instead opted for the more memorable name "Baldhead," after an engineer who has worked with them from the start who was bald. "The name stuck, it's a name people don't forget and people usually get a bit of a chuckle out of hearing it," Peter said. 
Since the beginning, the products and the experience of designing, creating and installing custom cabinetry has been something that appealed to a small, niche audience, Peter said. "This has never been something for your average garage," he said. "This is the one percent of the garage market, not the masses." In the early years of growing the cabinetry business, the company visited automotive trade shows and advertised nationally, aiming to appeal to customers looking to elevate their garages with high-quality cabinetry. Over time, the business grew organically and through advertising, attracting new customers and repeat clients looking to outfit another garage or car storage space. "It's a huge compliment to have repeat clients," Peter said. 
It was a cabinetry customer in Bend that first enticed the family to move to Central Oregon, after they visited for an installation in the early 2000s. "The customers were absolutely head over heels for Bend, and were sharing all their favorite spots and things to do," said Peter, who was getting ready to start college at the time. It took a few years to determine whether a move north to Central Oregon made sense for the company, but ultimately it was the right call and the business migrated to Bend in 2005. The business moved out of a 20,000-square-foot facility in Southern California into a new, comparably priced, 55,000-square-foot space in northeast Bend. There's ample space here for ongoing cabinet manufacturing, as well as other metal manufacturing that's still a part of the business today.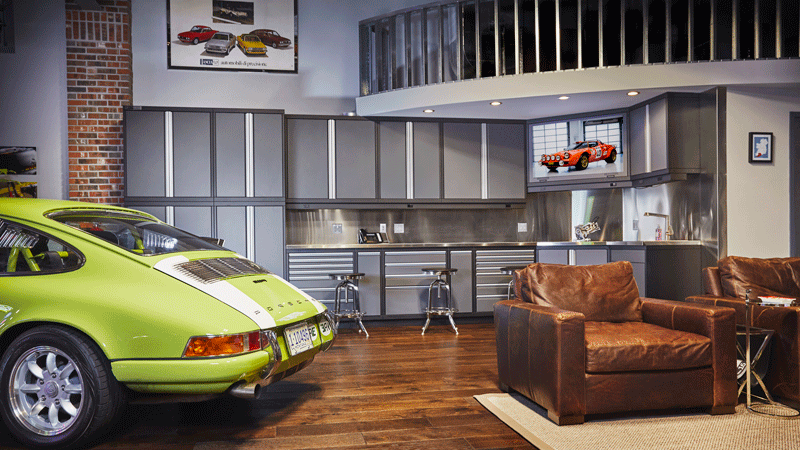 A Concierge Experience
Clients are drawn to Baldhead Cabinets for not only the quality cabinets, but for the experience from start to finish with an established company that's rooted in the United States, said Peter, who is today part of the company's management team, along with his parents and other managers. Peter explained that each project is designed and engineered with input from a customer, with cabinets created specifically for their garage. A series of consultations and communication builds repertoire and trust even before the transaction is made or cabinets are built.
When it comes time, the Baldhead Cabinets team is available to visit each home in-person for installation, ensuring the final product is up to a homeowner's standards. "A lot of what we are selling is the whole experience," Peter said. "At the end, people will say 'I knew they were going to be good, but I didn't know it would be this good.'" Over the years, the company has considered delving into more garage accessories, but has instead decided to keep its focus narrow, truly specializing in what they do best, cabinets. "We want to really focus on what we do, and do it well," Peter said. "We take a lot of pride in what we do, and creating a product that we'd want in our own garage."