Sponsored Content
"Manuel Baptista knows his business," said Steve Bennett, a long-time builder of luxury homes in Central Oregon. "Hands down, he and his people are good to work with and their work shows it, too."
The genesis for Baptista Tile and Stone Gallery started when company founder Manuel Baptista discovered he liked to work with his hands. While still at Redmond High School he learned the basics of tile and, after graduating in 1976, moved to Portland to master the many facets of the tile and flooring industry. In 1978 he returned to Central Oregon with his contractor license.
In 2003, he opened a storefront and hired a small installation crew and design staff. In 2007, the company opened the current showroom on Bend's SE Business Way. The facility has since expanded to include tile installation and design areas, onsite fabrication and a warehouse. The team has also grown to a staff of almost fifty to address all aspects of tile, stonework (including granite, quartz and quartzite), hardwood flooring and carpeting. The company also offers complimentary design services to its customers.
"When I started in the business, contractors were hands on, working on each aspect of their projects," Baptista said. "Now, the complexity of the work that's involved—with construction so vast—a contractor has to have experts in every aspect of their business to oversee multiple projects. The number of liabilities that can happen on a project is critical to avoid, so you want to have good people handling your projects. My goal has always been to make our customers happy by providing the best materials and quality installation."
The Baptista staff attends tradeshows and manufacturer sites to keep abreast of the latest developments in product offerings, trends and technologies. Baptista offers exclusive product lines, such as Portland-based Pratt + Larson. Pratt + Larson offers a wide range of tile designs, sizes and finishes. It manufactures tile specifically for each customer's installation and even gives customers the opportunity to create their own colorways.
"We hold trainings for the Baptista staff here in Portland," explained Arthur Moloian, director of business development and showroom at Pratt + Larson. "We also go to Bend to work with them. It's a real back and forth," he said.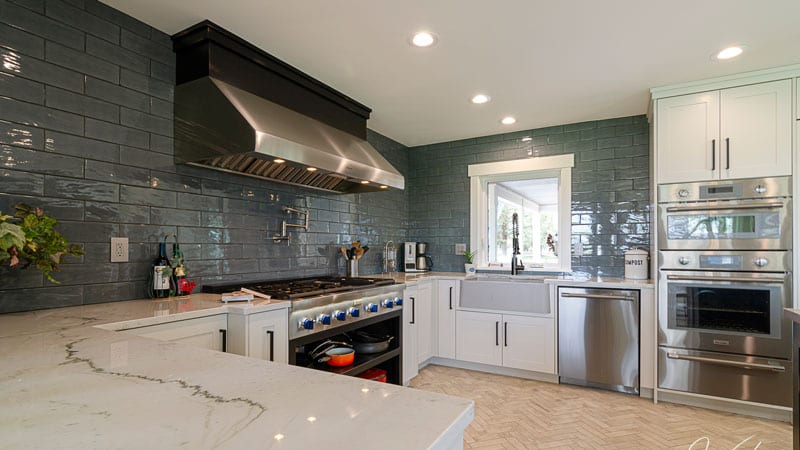 Among the many benefits of working so closely with vendors is the range of products which Baptista carries or has access, including items manufactured in Portland or on the other side of the world.
When Ilene Smith and her husband returned to Central Oregon after living overseas for twenty years, they realized the home they had left behind needed a major update. Working with contractor Ed Arnold, owner of Bend Originals, and the design and installation crews at Baptista, the couple replaced existing Saltillo tile that ran throughout the first floor with a herringbone-patterned Italian porcelain tile. Other changes on the first floor included a new kitchen with Mt. White quartzite counters and an Italian blue-gray tile, Manhattan Smoke, on the backsplash. The new fireplace and television surround feature the same smoke tile. Elsewhere in the house, the couple remodeled the master bath to incorporate marble, Mont Blanc quartzite and a Japanese soaking tub set at one end of the new steam shower.
"I love the veining in the quartzites, and that we have pieces that no one else has, and I love how the smoke tile looks blue or gray depending on light," Smith said. "Barbara's [Baptista designer Barbara Souza] attention to detail was meticulous. The process was overwhelming at the start, but they were really good about explaining everything and providing very detailed information. I was in good hands, and it all went very smoothly."
As he continues to run the business, Baptista said he's most grateful for his staff, from the sales team to installers and others, who all play a role in the success of the company. That success becomes evident by the customers who return. "One of the best feelings is when a client comes into our showroom and says, 'thirty years ago Manuel installed the tile in our home. We are working on another project and are glad you are here!' Continually inviting us into your house to enhance your home says something."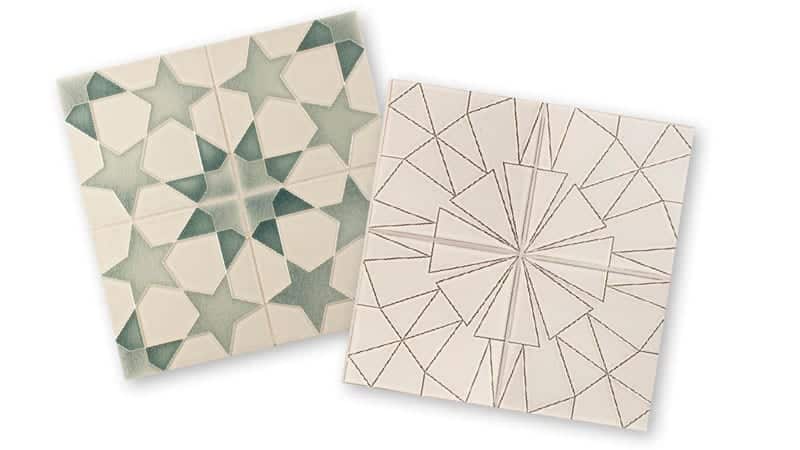 Baptista Tile & Stone Gallery | Open by appointment only to best address the needs of customers | 611SE Business Way, Ste. 101 | baptistatile.com | 541-919-6560